Introduction
A mentor from my distant past once downplayed some wise idea that I had impudently ventured with the following: "opinions are like A???????, everyone has one." I kept the particular gem that had earned this riposte to myself from that point on. I have long since forgotten my opinion that began that particular conversation. I think back to this dismissive response whenever opinions start flowing too freely for my taste.
I have recently been reminded of this salty rejoinder as so many have ventured their outlooks for Gilead's (NASDAQ:GILD) earnings, which many expect to disappoint. In the case of Gilead's upcoming earnings, I'm going to join the everybody's out there and go on the record with my own opinion prior to Gilead's earnings announcement.
The Setup
Stuck towards the middle of an unwieldy comment stream in a previous article, two commenters - mindthief and vittoconta - traded opposite opinions on the question of Gilead's upcoming earnings. Mindthief expressed an opinion that earnings would be a big disappointment. Vittoconta helpfully demurred. I played the middle ground, encouraged that these opposing opinions would make for a healthy market, one buyer, one seller.
Then, vittocanta asked for my opinion. In response, I promised this article which sets my firm opinion.
Gilead's Predicament
Gilead landed itself in a fine pickle during past earnings seasons, particularly its 2015 earnings seasons. Somewhat analogously to Apple's (NASDAQ:AAPL) success with the iPhone, Gilead launched its Sovaldi/Harvoni cure for HCV. The difference was that the iPhone's success took years to mature. Gilead's phenom was comparably instantaneous. Its revenues from Harvoni for Q1-Q3 2014 were $20 million. Gilead's revenues from Harvoni for Q4 2014 were $2.107 billion. Revenues for the balance of 2015 and Q1 2016 are shown on the slide below: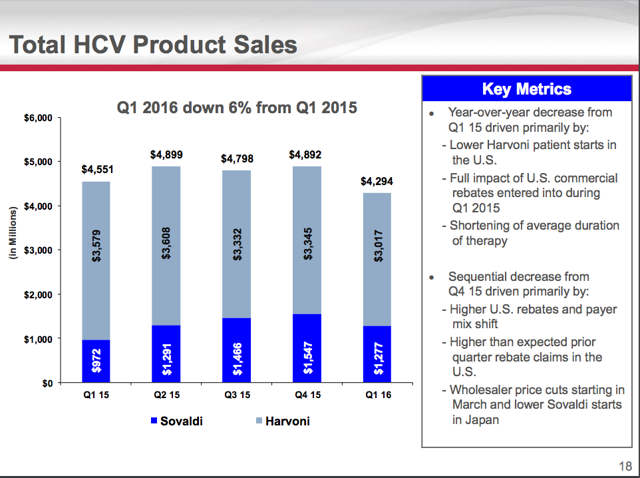 Click to enlarge
Yes, revenues are declining. Margins are declining also.
However, several factors which are unlikely to change on any quarterly basis make these declines of small consequence in my view.
These factors that are enduring beyond quarterly reports are:
Harvoni and Sovaldi continue to bring in huge revenues and profits. Their decline is from such a high base that Gilead will easily fund activities necessary to maintain its pipeline and acquisitions and partnerships as needed.
Gilead's HIV franchise is thriving.
Gilead has nurtured a culture that thrives on development of promising drugs and taking them through required approval processes around the world. This assures that it will realize maximum potential from its pipeline and will be maximally attractive to potential JV partners.
Gilead's track record in this latter regard may be matched by one or more of this big world's other pharma companies. No other company is superior to Gilead.
Conclusion
Gilead is well set for whatever obstacles the future may throw its way. It has ample cash and an unparalleled ability to generate more.
Gilead is selling at a reasonable earnings multiple compared to its peers, except there are those who find it to be selling at an unreasonably low multiple. It is highly unlikely that Gilead's upcoming earnings in any of the next several quarters will show a material deviation from this investment thesis.
Disclosure: I am/we are long GILD AND AAPL.
I wrote this article myself, and it expresses my own opinions. I am not receiving compensation for it (other than from Seeking Alpha). I have no business relationship with any company whose stock is mentioned in this article.