Concordia Healthcare Corp. (NASDAQ:CXRX) will release its second quarter results on Friday, August 12.
I have written an article on CXRX that shows, under a conservative scenario, the company could still achieve timely deleveraging and potential for 3.0x-5.0x return within 5 years as debt is paid off. As Q2 is coming up, we will be getting a second full quarter of results for AMCo, the crown jewel of CXRX. Institutional investors and others will get more comfortable with AMCo's performance. If Q2 performs, it could be a catalyst for short interest leaving the name and institutional money buying in. Management has exemplified transparency and commitment to communication. The company website has recently been redesigned, a small step but shows CXRX's global ambition and IR strategy.
It is important to establish a framework to evaluate CXRX and whether this battered name offers outsized risk/return.
I think about CXRX's situation as a two-part question:
1) How much is CXRX worth? Today and one year, two years, 5 years from now?
2) Is the current share price reflective of CXRX's risk/return profile? Is there money to be made here by being a patient contrarian here?
Before we answer the two questions above, let's make sure we understand something: when the share price is low enough, most companies, good or bad, could be an attractive investment. If CXRX is trading at $1, it would be a no-brainer for all of us to pile in. To invest in CXRX, we are not only discussing whether this name has risk, whether it should trade at a discount, whether the share price should not return to the $100 level. At the end of the day, we only care about whether its share price offers outsized return considering its risks.
#1 How much is CXRX worth?
Lots of debate and some articles on SA have been negative, focusing on CXRX's similarity with Valeant (NYSE:VRX), and its high leverage. It's a fact that CXRX has a highly levered balance sheet, which leads to its depressed trading multiples.
We have already seen the share price of CXRX getting punished and my previous article includes analysis that shows CXRX is trading at ~8.0x on an EV/EBITDA basis. It's broadly in line, although at the low end, with its peers given the healthcare sector's overall challenges. When we look at the P/E multiple, we found something interesting: CXRX trades at less than 5.0x P/E multiple, which seems very low.
The reason for this disconnect between EV/EBITDA and P/E is the capital structure of CXRX. With ~6.0x levered, CXRX's equity value has been greatly depressed. More than three quarters of the EV are debt, thus the low P/E multiple. If CXRX were to trade at 8.0x P/E, it would be around ~$50.
We shouldn't invest in companies solely based on the assumption of everything goes as planned. Using extremely conservative assumptions, I have arrived at ~C$50 based on DCF.
CXRX's equity value will be greatly enhanced over 5 years as debt is paid off and capital structure returns to more normalized levels. CXRX will likely trade at C$70-C$80 in 5 years.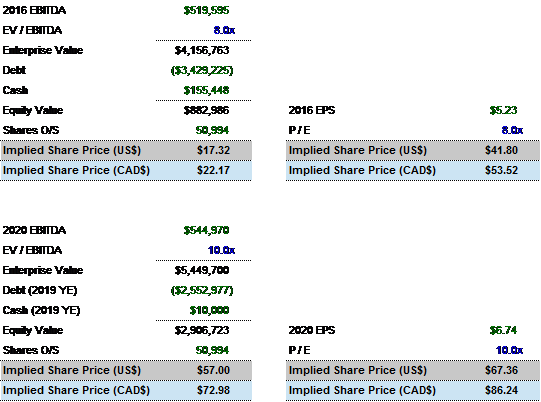 Now that we have established some views on CXRX's valuation, let's look at the second question.
#2 Is the current share price reflective of CXRX's risk/return profile? Is there money to be made here by being a patient contrarian?
Clearly, CXRX's current trading does not reflect the growth profile that the management has confirmed in a number of occasions. If you believe in management's case, CXRX's share could be worth C$120-C$130 by 2020.
There have been attacks on CXRX's business model, growth, leverage, etc. As an investor, you should look through the noise and stick to your principles. This company has no bankruptcy risk, has levers of growth and a clear path to deleverage. Ahead of 2016 Q2, I would be looking at the following indicators:
1) AMCo performance, including new product launches and volume growth (most of the growth coming from here, also currency impact).
2) Earnout payments (deleverage won't accelerate until earnouts are paid off in 2016, but shouldn't be the reason to wait).
3) Currency exposure (look for any hedges, 2016 is largely naturally hedged due to earnouts to be paid in GBP. After 2016, exposure is enlarged).
I also see less likelihood of a buyout deal happening in the near term. Management has fiduciary duty to protect investor interests, including themselves as large shareholders. At the current depressed share price, a class-action suit is not impossible if management sells at a 20%-30% premium to the current price. Large institutions will be angry to have to hold the name and only be sold at huge losses.
On the other side, buyout investors won't pay up when they can easily accumulate shares at current levels. It is only natural for both sides to wait, and if the business performs OR trading returns to more normalized levels, a deal is unlikely to happen. Any investment decision should not be based on speculation that a deal could happen.
CXRX shares will respond to this quarter more than ever because we will be seeing a second full quarter of AMCo performance. AMCo is the driver of growth for CXRX, and management has guided to low teens growth at AMCo.
I have assumed 5.0% growth at AMCo and 0% growth for other segments, which gives me C$50 share price. Large institutions need more than one quarter to assess AMCo's performance, and this quarter could provide the boost of confidence that they need to make this name part of their portfolio.
Disclosure: I am/we are long CXRX.
I wrote this article myself, and it expresses my own opinions. I am not receiving compensation for it (other than from Seeking Alpha). I have no business relationship with any company whose stock is mentioned in this article.