On Monday, Gilead (NASDAQ:GILD) announced its second-quarter results, beating estimates for the bottom line and hitting estimates for the top line. I'll look at the key facts for the most recent quarter and the first half of 2016.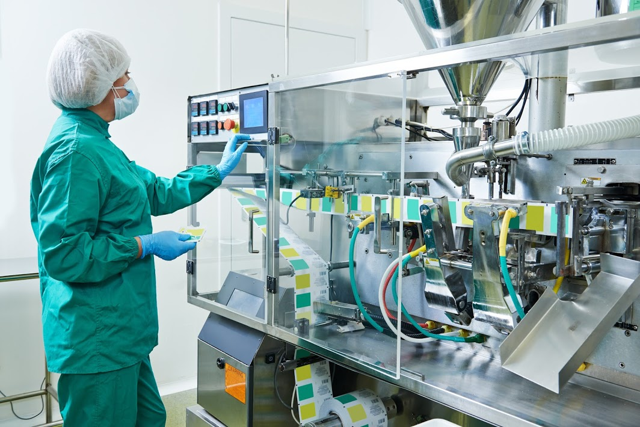 Gilead grossed revenues of $7.8 billion, hitting the analyst estimate. The number was flat in comparison to this year's first quarter, and down slightly from last year's second quarter.
Let's first look at Gilead's biggest top-line contributor, the company's HCV business: Product sales totaled $4.0 billion, which were down significantly from the prior year's $4.9 billion for Sovaldi, Harvoni and Epclusa (Epclusa only included in this year's Q2).
This was based on a huge drop in Harvoni revenues in the US (down to $1.5 billion from $2.8 billion), partially offset by Harvoni growth in Japan (up $400 million) and growth from Sovaldi in the US, Japan and other international markets. Epclusa, Gilead's newest HCV drug which can be used to treat all genotypes, totaled sales of $64 million, but was only available in the US, and not over the whole quarter. The coming ramp-up of this drug could mean higher HCV revenues again since there probably was some warehousing before the drug got approved very recently (i.e. in some cases, patients did not get Harvoni or Sovaldi, but did rather wait to get treated with Epclusa in the next quarters).
Especially for patients with genotypes 2 and 3, Epclusa looks like an attractive drug since patients won't have to take Ribavirin when using Epclusa instead of any other approved HCV drug for these two genotypes. The Harvoni drop in the US was massive (down $1.3 billion), but apart from that, the HCV franchise looks pretty stable, and with the pretty new Epclusa ramping up, HCV sales will likely not continue to drop at the current pace, although HCV sales will not reach the range we have seen in the last year for the foreseeable future (this could change when one of Gilead's HCV drugs gets approved in China, Epclusa is the most probable, since it would not require genotype testing).
Gilead's HIV franchise grossed revenues of $3.1 billion, up from $2.7 billion in last year's second quarter. This was based on higher sales for Truvada (up $100 million), some declines for Atripla and Stribild and a fast ramp-up of Genvoya sales. Genvoya grossed revenues of slightly more than $300 million, which is a strong sales run rate for a drug that got approved just half a year ago. Genvoya sales doubled from the level seen in this year's first quarter; we can expect the drug to keep growing at a substantial pace over the foreseeable future. The fact that HIV sales are growing is a positive for the company, I believe, since it means Gilead gets less dependent on its HCV franchise over time. Additionally HIV sales are pretty stable, rather easy to forecast, which will bring stability to Gilead's revenue (and earnings) stream.
Gilead's other products grossed revenues of $525 million, which is not much at all in comparison to the two dominant franchises, but which reflects a yoy growth rate of a little more than five percent. Letairis and Ranexa, the two biggest drugs in the other products category, grew at above-average paces; Zydelig sales were up on a year-on-year basis but down in comparison to the first quarter. With Letairis and Ranexa showing encouraging growth, the segment can continue to grow, which would be a positive for the company, as it helps diversify its operations. The impact of Gilead's other drugs will remain limited in comparison to HCV and HIV, though, unless Gilead makes a sizeable acquisition or hits a huge success with one of its drug candidates it has in its pipeline.
Gilead has still not made any meaningful acquisitions in the last quarters, but continues to be able to. The company's cash balance stands at $24.6 billion, which is more than its total long-term debt, and which would be enough to make one (or more) sizeable acquisition in the near future.
Gilead has made some changes to its FY 2016 guidance, lowering the revenue estimate by $0.5 billion and adjusting the estimate for R&D expenses as well as for SG&A expenses.
With a revenue estimate of $30.0 billion, a gross margin estimate of 89%, R&D expenses seen at $3.7 billion and SG&A expenses seen at $3.2 billion, Gilead expects to earn $19.8 billion before taxes, which means an after-tax profit of $16.0 billion (non-GAAP number). Using the current share count of 1.33 billion shares, this gets us to an EPS estimate of $12.06, which means Gilead trades at about 7.0 times forward earnings right now.
Despite net income dropping to $4.0 billion, Gilead's cash flow remains very high; the company produced operating cash flows of $4.9 billion in the second quarter. $1.0 billion was utilized for share repurchases, which is a lot less than in the previous quarters, but which helped build Gilead's cash balance. This could be a sign that the company is planning to engage in M&A activity during the second half of the year and is building its cash balance for that reason.
Gilead, as most other companies, reports GAAP results as well as adjusted (non-GAAP) results. When we look at the adjustments Gilead makes, we see that the biggest position is related to acquisitions Gilead has made: Acquisition-related amortization of purchased intangibles and acquired IP R&D. Since those are non-cash costs that do not hurt Gilead's operations, I feel it is okay to adjust for those expenses. Stock-based compensation expenses totaled $70 million. Those should not be excluded in the non-GAAP number, I believe, since those expenses are a real cost for Gilead's owners, after all they are responsible for share count dilution (or rather offset some of the share repurchases), thus have an impact on each share's worth. These costs were pretty small, however, both in comparison to Gilead's total earnings and the other adjustments (such as amortization of intangibles). I do understand that some people don't like non-GAAP numbers at all and prefer the company to make no adjustments, but the quality of Gilead's earnings is very high and the adjustments don't look problematic - if they were, Gilead's cash flows would not be as high as they are since those are not as easy to "fake".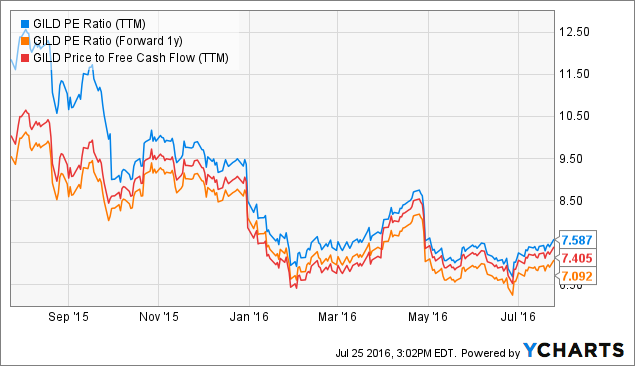 Gilead's valuation remains very low, the company trades at 7.5 times trailing earnings and just 7.1 times forward earnings. Gilead offers a free cash flow yield of about 14% to its owners, which is a valuation we don't see very often, especially in today's rather expensive market. At the time of writing, Gilead's shares are down 3.8% in the afterhours, but trading is volatile and Gilead's shares have changed hands for higher and lower prices in the past hour. Tuesday's price action is likely more reflective of the broad market's view on Gilead's results. For those eager to enter a position, the current afterhours price of $85 could be attractive though.
Takeaway
After missing estimates with the first-quarter report, Gilead is back to beating (at least on the bottom line). With the exception of US Harvoni sales, the company's drugs are doing fine, and especially the growth of Gilead's HIV franchise is a big positive.
The fact that Gilead has lowered its share repurchase pace and has added to its cash reserves could mean an acquisition is likely in the near future, but this is in no way guaranteed.
Gilead's earnings are of a high quality, which can be seen when we look at the adjustments GILD makes to its GAAP numbers, as well as when we look at the huge cash flows it keeps generating.
Author's note: Dear readers, if you enjoyed this article and would like to read more from me, you can hit the follow button at the top of the page, right next to my name and icon, to get informed about new articles.
Disclosure: I am/we are long GILD.
I wrote this article myself, and it expresses my own opinions. I am not receiving compensation for it (other than from Seeking Alpha). I have no business relationship with any company whose stock is mentioned in this article.