Anadarko Petroleum (NYSE:APC) will release its second quarter earnings report after the market close on July 26. To paint the picture of what is known today, in anticipation of the release, I will first examine recent trends in the company's production and profitability metrics. As it is still early in the earnings season for energy companies, little is known thus far about performance of Anadarko's peers. However, one comparable upstream oil producer has indeed released its earnings already. In the second half of this article, I will compare the business strategy of that E&P company to Anadarko's in search for clues about how to perform well in today's market. The discussion will also highlight several points of strategy to look for in the forthcoming conference call.
Will production decline as per guidance?
In recent weeks, it was not unusual for E&P companies to report or issue guidance towards the increased production, given the recovery in oil prices since February. Noble Energy (NYSE:NBL) guided higher on July 7, and so did Encana Corporation (NYSE:ECA) which has just released its Q2 earnings last week. I will discuss Encana below to search for clues about what Anadarko might reveal. Compared to these two strong performers, Anadarko displayed a lack of a clear production trend over the recent quarters. The first big question about the forthcoming earnings release is how much the company produced in the preceding quarter. As the chart below shows, production varied erratically over the past two years. While the average daily production in Q1 was 827 MBoe/d, the company guided lower for the year during the J.P. Morgan Energy Equity Conference in June. The annual 2016 guidance of 282-286 MMBoe translates to 773-784 MBoe per day. Hence, there is a possibility of a quarter-on-quarter drop in Q2.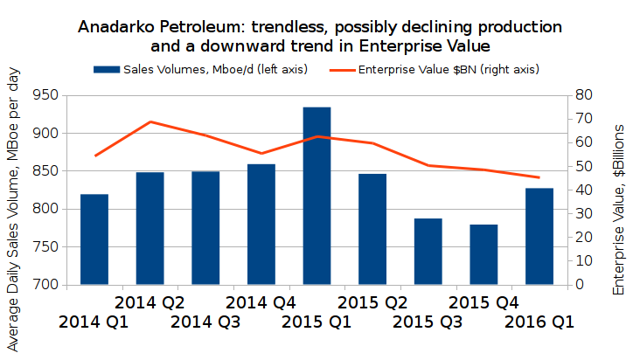 Click to enlarge
Source: Anadarko Petroleum's filings and author's analysis
Even EBITDAX, an artificially-enhanced non-GAAP measure, is in decline
The above chart also shows a decline trend in enterprise value (EV). This is consistent with lack of profitability over the same time period. There have been mounting GAAP losses. Even EBITDAX, a non-GAAP measure usually charitable to the company's performance and used to sway attention away from GAAP losses, has been shrinking. Anadarko has reported a profit before income taxes in only one of six recent quarters (Q4 2014 to Q1 2016). It is difficult to feel sanguine about a company that consistently loses money, so E&P companies tend to act as if ongoing GAAP losses were normal and try to draw analysts' attention towards non-GAAP measures such as EBITDAX. A weakness of EBITDAX is that each company feels free to define it in its own idiosyncratic way. Anadarko included large ad-hoc adjustments to its reported EBITDAX at different points in time. Yet even this "let's ignore billions in cashflow that are being invested for the yet-to-come profitable future" measure fails to portray an optimistic picture. Anadarko's EBITDAX declined in every quarter but one since Q3 2014.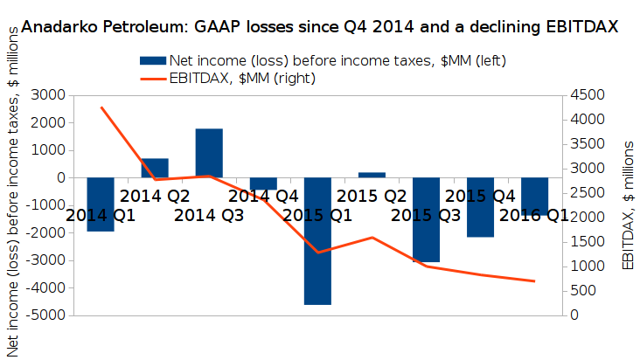 Click to enlarge
Source: Anadarko Petroleum's filings and author's analysis
The above chart incorporates EBITDAX figures, reported by Anadarko itself, in its Q1 2016, Q1 2015 and Q1 2014 Forms 10-Q. The rest were computed by the author using the approach from Anadarko's filings and an investor presentation. Interestingly, there are inconsistencies in Anadarko's own reporting. For example, Q1 2016 Form 10-Q reports "Adjusted EBITDAX" for Q1 2015 to be $1,286 million while the original filing, Q1 2015 Form 10-Q reported it to be $952 million. A change from under a billion to over a billion and a quarter is a rather large restatement. It turns out that it was made by recognizing, and excluding, a $334 million loss on divestitures in Q1 2015. In Q1 2016 the firm likewise added back a smaller loss on divestitures. Another inconsistency is that the company does not always exclude divestitures by adding back related losses and subtracting gains. A Q1 2014 gain of $1,459 million was silently omitted from the EBITDAX calculation. "Losses we add back, gains we keep away" does not appear to be a sound approach.
Valuation has been stretched, regardless of short-term oil price trends
It is easy to argue that the company might not be doing well due to weak oil prices. However, both uptrends and downtrends have been seen in the last two years. One way to look at valuation over time is to examine the ratio of EV to EBITDAX. The chart of this ratio, below, portrays a worrisome picture.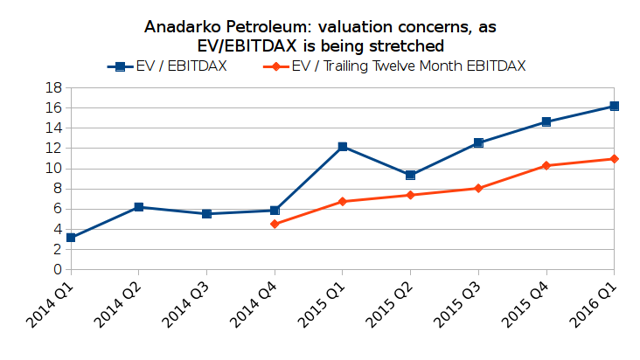 Click to enlarge
Source: author's analysis
The takeaway from the above is that the stock appears to have been getting progressively more expensive in recent quarters.
Findings from Encana's earnings and strategy

We are still early in this earnings season for E&P companies. There is, however, one company that has already reported its Q2 performance last Thursday - Encana Corporation . While Encana is nominally Canadian, more than half of its business is US-based. It has a fair bit in common, geographically, with Anadarko as both companies operate in the DJ Basin as well as the Permian Basin. On the surface, Encana's stock did exceptionally well, rising by over 8% on the news. Encana managed to achieve an operating profit in Q2. This is an accomplishment that Anadarko is unlikely to match. On the other hand, the outperformance was caused by the ongoing decline of 30-40% year-on-year in drilling and completion costs. This was likely an industry-wide phenomenon and Anadarko is likely to benefit as well.
Is Anadarko doing what Encana seems to be doing right?
Drilling deeper, questions about strategy arise that concern changes in CapEx and preferred basins where CapEx is spent, as well as about drilled but uncompleted wells (DUCs).
Reporting the first quarter results in May, Anadarko was very guarded about any chances of near-term expansion:
Do not expect us to increase our capital spending this year, even if oil exceeds $50. ... We'll be very patient as we look beyond 2016 to a sustained higher-price environment to increase capital and return to a growth mode, if warranted.
As recently as June, Anadarko guided to "Reduce Capital Program ~50% YOY". This differs as night and day from the aggressive expansion planned by Encana as it raised the CapEx guidance to become, possibly, the first company to do so this season. Encana is not only still drilling but indeed, intends to drill more: "add 50% more wells to our 2016 program for only 20% more capital."
A related question is where CapEx is most optimally spent - for example, if choosing between the DJ Basin and the Permian Basin. Encana is moving resources away from DJ and into Permian as it is about to close an asset divestiture in DJ, while Permian will receive the greatest share of the additional capital. So, Encana views Permian Basin as its best and specifically, as more promising than DJ Basin. In comparison, Anadarko planned to spend the same CapEx amount in DJ Basin and in the Permian in 2016. Might this not the best decision? To be fair, at the time of discussing the first quarter's earnings in May, Anadarko indeed intended to allocate more capital to the Permian: "we'll find things to reduce our capital intensity. As such, we would redeploy that primarily into the Delaware Basin and West Texas". A natural follow-up question is: has Anadarko done anything about this?
Finally, another difference in strategy concerns DUCs. Anadarko appears to be focused on producing DUCs in the Delaware basin to add to its already not-insubstantial DUC inventory. The company has the same 1+ frac crews there as in the DJ Basin, yet they have 4+ rigs in the Delaware basin versus 1+ rig in DJ basin. In contrast, Encana's approach is "we've never been build-the-DUC inventory believer".
Conclusion
Given Anadarko's scale, it takes a lot of successful projects to move the needle on earnings. It is possible, as demonstrated by its smaller peer Encana, to not only grow production but also to actually earn a profit in today's market. For the coming Q2 earnings release, besides the obvious figures of production and EBITDAX, the qualitative parameters to watch are whether Anadarko might be shifting to a more aggressive posture regarding CapEx, the geographic allocation of CapEx, any increase or reallocation of the frack crews and the company's completion activity with respect to its DUC inventory. In big-picture terms, it would be encouraging for the company to show more agility in adapting its strategy to the uptick in oil prices.
Note from author: Thank you for reading. If you like this article, please follow me by clicking the "Follow" link at the top of this page.
Disclaimer: Opinions expressed herein by the author are not an investment recommendation and are not meant to be relied upon in investment decisions. The author is not acting in an investment, tax, legal or any other advisory capacity. This is not an investment research report. The author's opinions expressed herein address only select aspects of potential investment in securities of the companies mentioned and cannot be a substitute for comprehensive investment analysis. Any analysis presented herein is illustrative in nature, limited in scope, based on an incomplete set of information, and has limitations to its accuracy. The author recommends that potential and existing investors conduct thorough investment research of their own, including detailed review of the companies' SEC filings and consult a qualified investment advisor. The information upon which this material is based was obtained from sources believed to be reliable, but has not been independently verified. Therefore, the author cannot guarantee its accuracy. Any opinions or estimates constitute the author's best judgment as of the date of publication and are subject to change without notice. The author explicitly disclaims any liability that may arise from the use of this material.
Disclosure: I/we have no positions in any stocks mentioned, and no plans to initiate any positions within the next 72 hours.
I wrote this article myself, and it expresses my own opinions. I am not receiving compensation for it (other than from Seeking Alpha). I have no business relationship with any company whose stock is mentioned in this article.