My first purchase of Canadian National Railway TSX:CNR or (NYSE:CNI)
was January 29, 2013 for a split-adjusted $47.08. Additional purchases on May 7th and June 18th in 2015, doubled the holding.
After listening in on the January 2016 conference call, which clearly predicted challenges ahead I became increasingly unsure of continued upward motion in the share price. I wrote a covered call,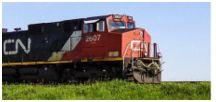 which was triggered on February 22nd. I immediately entered a limit order (cannot write puts in that account) to repurchase the shares at a 10% discount, but it did not fill. Despite what I thought was a very cautionary report in April, the share price did not fall significantly. I eventually bought back in again in May, selling last week for a small gain ahead of these earnings.
My expectations were pretty low going into the call and the results were much like what I expected. Lower revenues but also lower expenses. CNR is a very expertly managed company, but how long can even the best management create efficiencies and lower costs in a challenging market?
I took some screen shots during the call, which can probably be found now on their website presentation. The operating highlights below show the proficiency of the performance: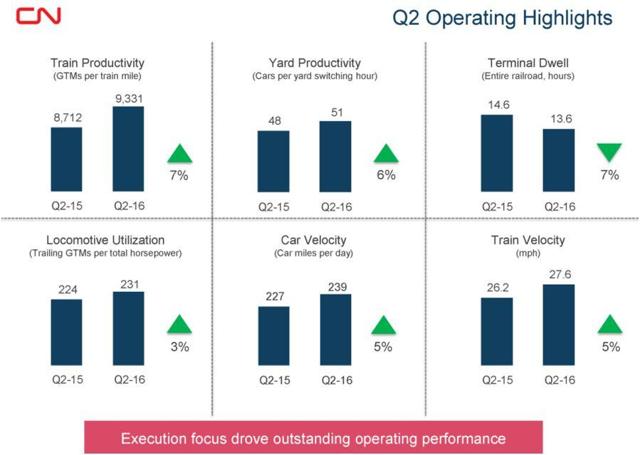 Click to enlarge
Even with all this, earnings per share was $1.11, down 3% year over year.
Margins improved despite the challenging revenue conditions and the company stated this was a "solid performance". Q2 had a record operating ratio of 54.5%. This almost makes me feel guilty for being a bit negative on the stock.
Volumes were a significant problem this quarter and directly effected revenues which were down 9%. The screenshot from the call is far more effective in demonstrating this than the paragraph I wrote: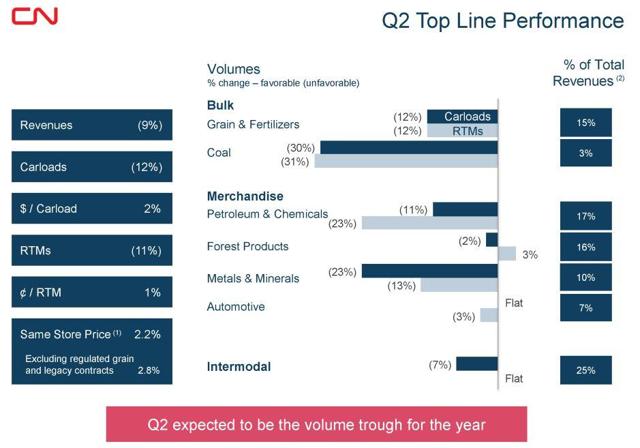 Click to enlarge
Notes from the call on this chart included:
Lumber and panel up 12%
Vehicles look to be at a peak, down 4%
Crude by rail down 55%
Frac sand down 40%
Grain was down 17% but a very large and early crop is expected in Canada, likely one of largest Canadian crops on record. US grain was down by 8% in Q2, but is expected to be up as well next quarter.
The secular downward trend in Potash is expected to continue.
Multiple times on the call it was stated that volumes reached the bottom in Q2. Management was eager to communicate that things will move upwards from here and there is evidence that agrees with them, despite some obvious headwinds to come.
With all this, how did CNR post only a 3% drop in earnings? More notes from the call:
Lower expenses. Lower volumes required less overtime and a lower employee count.
Lower pension expenses this quarter, which are expected to increase next quarter.
Fuel expense 29% lower than last year.
There were a few other sound bites that did not sit well with me.
Expect energy related shipments at lowest volumes.
Expect decline in carload volumes.
Still a challenging environment.
But meanwhile, the management remains positive. This glossy page reflects their positive attitude: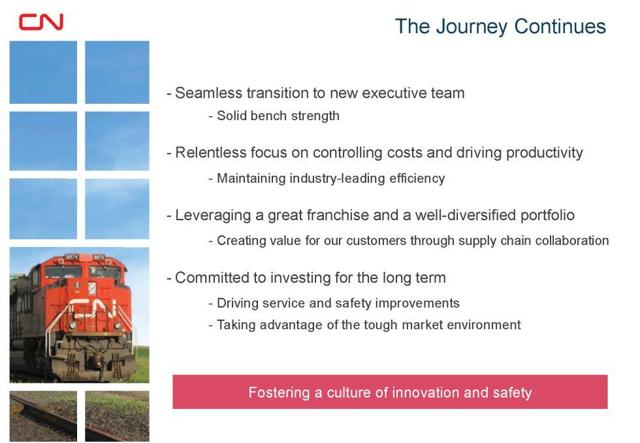 Click to enlarge
Regarding the dividend, management restated that their goal is still to gradually move to a 35% payout ratio. In January the dividend was increased by 20%. Today's payout ratio is 28.6% according to TD, so there is still some room to move, but I would hope that conditions would improve before that happens. For the last 3 years, dividend raises have been announced in January.
CNR is an excellent company and has provided excellent returns in the past. This chart from FAST Graphs (used with permission) shows what an investment of $10,000 when CNR became a public company would look like now. Despite being a low dividend company, those dividends do grow!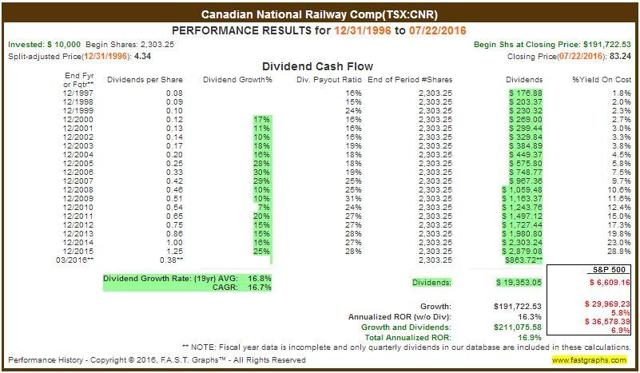 Click to enlarge
The 10 year FAST Graph clearly shows the current range-bound chart. This is definitely not an undervalued company trading at a discount due to the current macro economic conditions. This is what has me leery about a CNR investment. The market clearly prices in a premium for the excellent performance of management even in difficult conditions.
Today's close of $83.99 is the 52-week high. My problem is that buying here means that I believe the headwinds will obviously abate and the company will continue to execute flawlessly. I am not sure I am willing to commit to that.
Today's close is only $3.71 or 4.23% lower than the all-time high. I cannot justify paying something so close to all-time highs when company conditions are not at all close to all-time highs. I think investors should expect CNR to show that rail volumes should at least be moving upward before expecting an all-time high share price.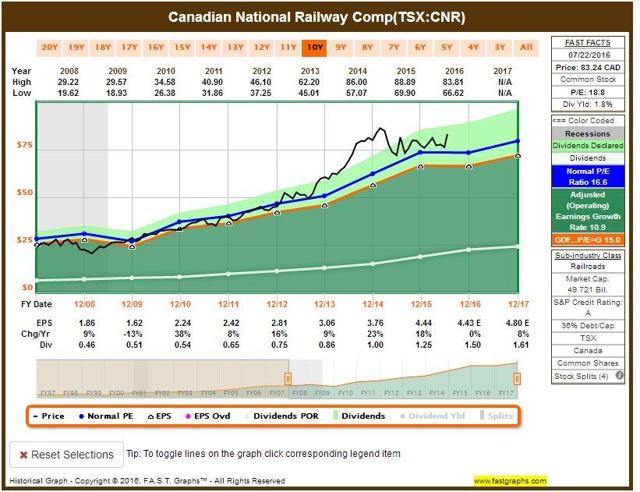 Click to enlarge
The stock chart shows the range the shares have been trading in for the last two years - approximately from $70-$80. Investors may not have done that well, but a quick frequent trader may have been very happy with CNR.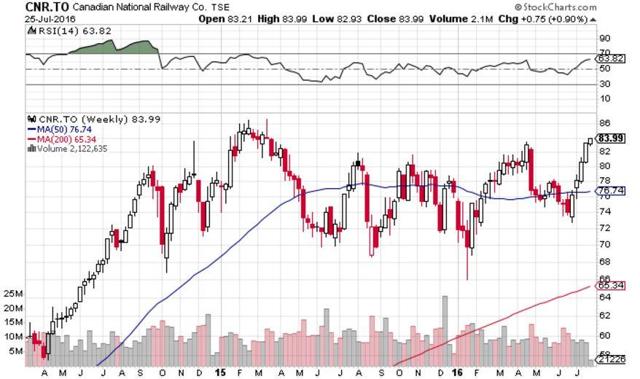 Click to enlarge
What do I do now? Once again, I am thinking of putting in a limit order for the price I am willing to pay, but I do not have much faith that it would fill. Though CNR is far from a turn-around story, I am much more interested in a company with significant headwinds, whose numbers need to head in the right direction, when it comes with a nice dividend after the share price has dropped. CNR does not even offer that carrot as the share price has not dropped and the dividend is still small. To get a modest 2% dividend from my purchase, the share price needs to drop below $75. That may be possible. 2.5% would be $60. That is very unlikely.
With not much else to offer in the near term, I may just sit on the sidelines hoping for a summer slump. Or, if the market dislikes this report as much as I did, even though expected, the share price may fall somewhat. If that happens, I may look into some put options that will provide the price I want to pay, even if the share price does not quite get there. Or I may just move on, and look at other opportunities the market is offering such as AltaGas TSX:ALA or (OTCPK:ATGFF) or Manulife (NYSE:MFC), my more recent purchases and current favorites.
My CNR investment has done very well for me, but maybe it is time to just move on - at least for a while.
Is this a company you hold? Would you be buying on a 10% correction?

Click to enlarge
Disclosure: I am/we are long ATGFF, MFC.
I wrote this article myself, and it expresses my own opinions. I am not receiving compensation for it (other than from Seeking Alpha). I have no business relationship with any company whose stock is mentioned in this article.