Click to enlarge
Source: Citigroup
Over the past year US mega-banks such as Citigroup (NYSE:C), JPMorgan Chase (NYSE:JPM), Wells Fargo, (NYSE:WFC), and Bank of America (NYSE:BAC), have all underperformed the market.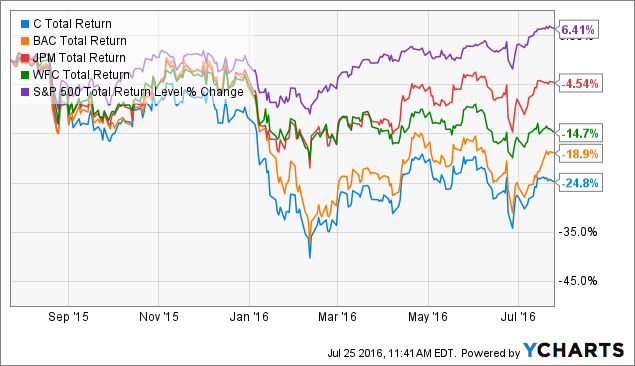 C Total Return Price data by YCharts
Of course that poor short-term performance means a potentially excellent long-term opportunity for value focused dividend investors to profit from Citigroup's ongoing turnaround story. Let's look at five key factors, including the company's latest earnings results, to see whether or not dividend investors are likely to be rewarded for taking a risk on this historically volatile, and troubled banking giant in the coming years.
Turnaround since financial crisis has been impressive
Source: Morningstar

| | | | |
| --- | --- | --- | --- |
| Bank | 2009-TTM Interest Income Change | 2009-TTM Interest Expense Change | 2009-TTM Net Interest Income Change |
| Citigroup | -24.2% | -57.3% | -5.4% |
| JPMorgan Chase | -21.7% | -41.0% | -13.6% |
| Bank of America | -36.4% | -65.7% | -17.2% |
| Wells Fargo | -10.6% | -56.7% | -0.7% |
The financial devastation, and numerous new banking regulations under Dodd-Frank have resulted in all four mega-banks suffering decreased net interest income over the past seven years. However, as you can see, Citigroup has done relatively better than Bank of America and JPMorgan Chase, and is now approaching the same level of net interest income it generated in 2009.
Much of that success has been due to CEO Michael Corbat's efforts since taking the top job in 2012. While his predecessor, Vikram Pandit had a background in investment banking and hedge funds, Corbat's long tenure at Citigroup has been far more balanced, and focused mostly on core banking businesses. In fact, Corbat has been instrumental in Citigroup's turnaround efforts, selling off the kinds of complex and volatile businesses that made the bank such an incomprehensible, and unwieldy behemoth back in 2007.
Solid Q2 results show turnaround remains on track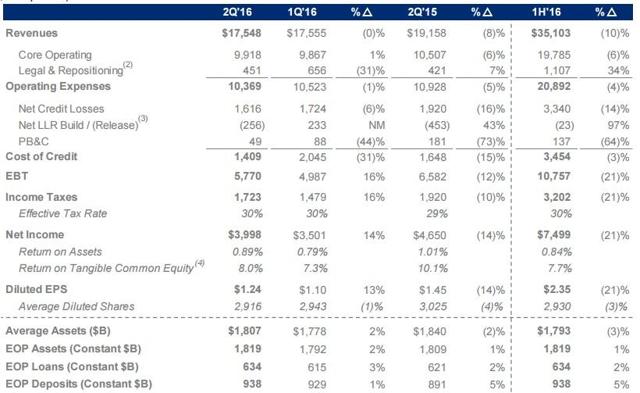 Click to enlarge
Source: Citigroup Q2 2016 earnings presentation.
While growth focused investors might focus on Citigroup's falling revenues and profits, personally I take a longer-term view which is why I think the bank's most recent earnings results were a tour de force.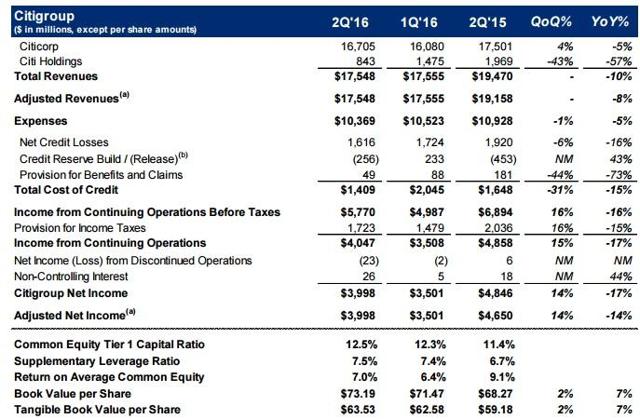 Click to enlarge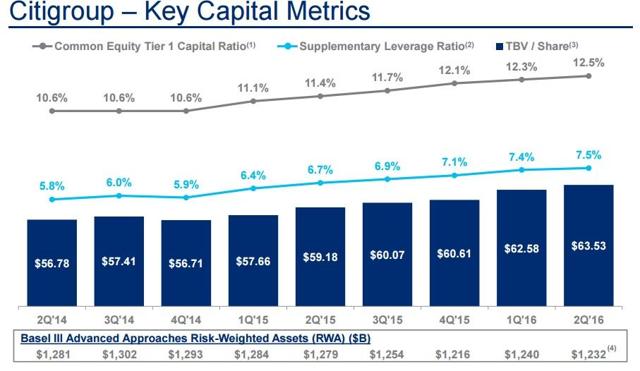 Click to enlarge
Source: Citigroup Q2 2016 earnings presentation.
After all, its tier-1 capital ratio increased 9.6%, to an all time high of 12.5%. This means its balance sheet is the strongest it's ever been, and likely strong enough to handle almost any potential economic downturn the bank may face in the future.
What's more operating expenses continue to fall, down 5% year-over-year. Loan loss provisions also declined to 1.96%, compared to 2.25% of loan value in Q2 of 2015. On the consumer credit front things were even better, as nonaccrual loans plummeted 30%. That more than offset the 6% increase in nonaccrual corporate loans, which were mostly a result of ongoing distress in the oil & gas sector. This shows management's continued focus on increasing its credit quality to avoid the kind of losses it faced in previous banking crises.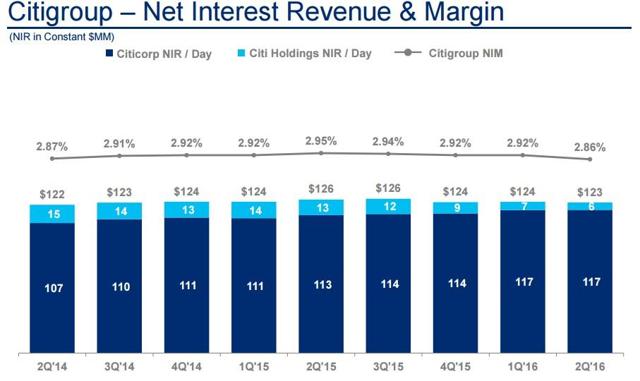 Click to enlarge
Source: Citigroup Q2 2016 earnings presentation.
In addition, the fact that Citigroup has been able to keep its net interest margin relative stable, and its book value growing, given the ultra-low interest rate environment, and global economic growth headwinds facing the bank, is most impressive. Book value is one of the more important things for investors to focus on since it's a major driver of long-term share price appreciation. Thus, Citigroup's 7% growth in tangible book value per share should give Citigroup investors increased confidence about the future of their bank under the current management team.
Strong global catalysts provide long potential growth runway...if a highly volatile one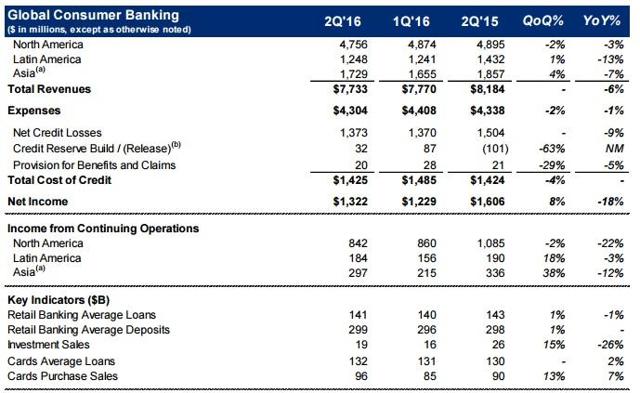 Click to enlarge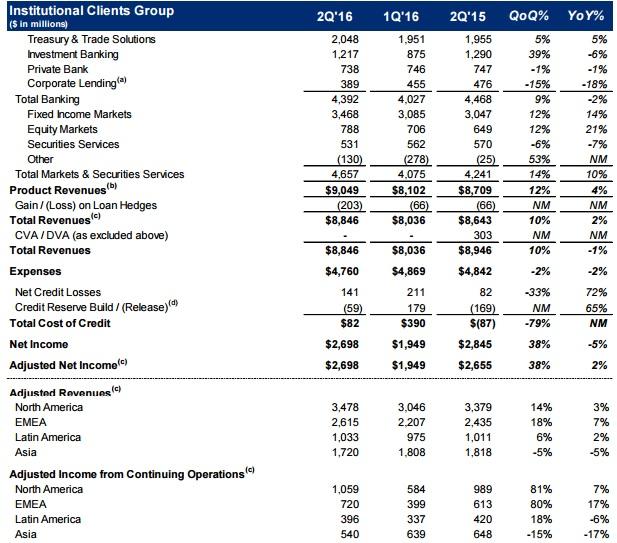 Source: Citigroup Q2 2016 earnings presentation.
While Citigroup's exposure to global consumer and investment banking was a drag on its stronger North American business this quarter, I remain confident that it will ultimately serve as a great long-term growth catalyst for the bank. Of course that's assuming that management continues to evolve the corporate culture to one that emphasizes strong, conservative, long-term profitability as opposed to more speculative, short-term earnings growth.
However, at least under Michael Corbat, this appears to be the case. Which is why, despite ongoing weakness in the global economy that might continue to hurt these business segments' profits in the short-term, I view Citigroup's global and investment banking arms as competitive advantages that differentiate it from its large, mega-bank peers.
After all, at some point global economic growth is likely to return, and occur fastest in developing markets such as Latin America, and Asia. Strong economic growth is likely to result in booming capital markets, meaning increased business for Citigroup's investment banking arm. Similarly, the rise of consumer cultures from fast growing middle classes in countries such as China, India, and Brazil means that Citigroup should be able to earn higher margin profits from lending to this important future target audience.
Dividend Profile is massively improved after recent dividend hike
Source: Yahoo Finance, Fastgraphs, Factset Research, Multpl.com, Moneychimp.com

| | | | | |
| --- | --- | --- | --- | --- |
| Bank | Yield | TTM Payout Ratio | 10 Year Projected Dividend Growth | 10 Year Projected Total Return |
| Citigroup | 1.4% | 12.8% | 8.5% | 9.9% |
| JPMorgan Chase | 3.0% | 32.5% | 4.6% | 7.6% |
| Bank of America | 1.4% | 15.7% | 14.4% | 15.8% |
| Wells Fargo | 3.1% | 47.2% | 5.6% | 8.7% |
| S&P 500 | 2.0% | 39.1% | 5.8% | 9.1% |
While not offering the generous yield of Wells Fargo or JPMorgan Chase, Citigroup's dividend growth potential is likely to be far larger considering its low payout ratio. Combined with its chronic undervaluation this means that it could potentially offer a better long-term total return opportunity than its higher-yielding peers. However, as with all long-term Wall Street analyst forecasts you always need to be skeptical, because the banking industry is one in which projecting earnings growth can be exceptionally challenging. That's because it's very sensitive to both domestic, and international economic cycles which can't be predicted in the short-term with any accuracy.
Then there's the fact that Citigroup's ability to raise the amount of capital it returns to shareholders is limited by its ability to pass the Fed's annual stress test, which it has struggled with in the past. That explains why its recent tripling of the quarterly dividend from $0.05/share to $0.16/share is only the second time since the financial crisis that the bank has raised its dividend payout.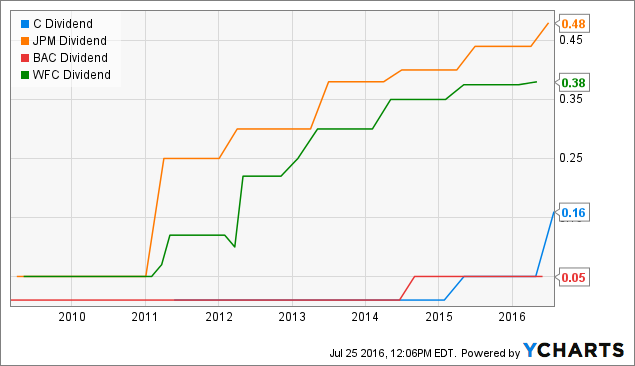 C Dividend data by YCharts
However, thanks to management's renewed focus on maintaining a fortress like balance sheet, I'm confident that Citigroup's days of failing the stress test and being unable to increase its dividend are behind it. And since the rule of thumb for estimating long-term total returns is yield + dividend growth, I'm increasingly confident that Citigroup should be able to reward patient, and risk happy dividend investors with market beating total returns in the years to come.
Of course, dividend lovers can't forget that, due to the volatile earnings nature of the banking industry, management might choose to continue devoting the vast majority of its capital return program to share buybacks. That's especially true if Citigroup continues to trade at a substantial discount to its tangible book value. That's not necessarily a bad thing, since such actions are highly accretive to book value per share, and help to keep the payout ratio low enough to make faster long-term, and sustainable dividend growth chugging along in the future.
Citigroup remains the most undervalued big bank...BUT for good reason
Sources: Fastgraphs, Ycharts, Yahoo Finance

| | | | | | | | |
| --- | --- | --- | --- | --- | --- | --- | --- |
| Bank | Yield | 5 Year Average Yield | PE | 7 Year Average PE | P/TBV | 7 Year Median P/TBV | Average Historical Discount |
| Citigroup | 1.4% | 0.2% | 8.9 | 12.6 | 0.71 | 0.89 | 24.8% |
| JPMorgan Chase | 3.0% | 2.6% | 11.0 | 10.4 | 1.35 | 1.46 | 0.1% |
| Bank of America | 1.4% | 0.6% | 11.0 | 37.2 | 0.89 | 1.12 | 45.5% |
| Wells Fargo | 3.1% | 2.3% | 11.8 | 11.9 | 1.78 | 2.07 | 7.5% |
Citigroup has been cheap ever since it was saved from the grave by the Federal government in 2008. Yet even by the historically low multiples it's been trading at over the past seven years, the bank is especially undervalued today.
Sources: Morningstar, Fastgraphs, Gurufocus

| | | | | | |
| --- | --- | --- | --- | --- | --- |
| Bank | TTM EPS | Projected 10 Year Growth | DCF Fair Value Estimate | Reverse DCF Implied Growth Rate | Margin of Safety |
| Citigroup | $4.99 | 4.4% | $126.85 | -50% | 65% |
| JPMorgan Chase | $5.90 | 4.7% | $125.03 | -20.1% | 49% |
| Bank of America | $1.27 | 6.0% | $34.47 | -50% | 58% |
| Wells Fargo | $4.07 | 6.4% | $87.35 | -9.9% | 45% |
When we consider Citigroup's potential growth over the next 20 years, the long-term investment thesis for the bank becomes even stronger. In fact, assuming a 4.4% growth rate over the next decade, and 4% for the 10 years after that, as well as a discount rate equal to the S&P 500's historical 9.1% CAGR since 1871, Citigroup is trading at a 65% discount to its intrinsic value.
While that kind of margin of safety might make Citigroup seem like a "can't miss, sure thing" investment, you need to keep three things in mind. First, no discounted cash flow analysis should EVER be the sole basis for any buy, sell, or hold decision. That's because it's based on extremely long-term analyst projections that are, at best, educated guesstimates.
Second, Citigroup has a long track record of experiencing periodic financial catastrophes, such as massive losses on emerging markets in the 1980's, commercial real estate in the 90's, and the sub-prime mortgage debacle that almost killed it in 2008. Today's high exposure to fast growing, but volatile economies in Asia, and Latin America, means that, though the strongest balance sheet in the bank's history is likely to keep it from going under, investors must expect continued earnings volatility going forward. Which largely explains why the bank is trading at both such a large discount to its tangible book value.
All of which means that any DCF analysis must be taken with an especially large grain of salt. That being said, according to Morningstar analyst Jim Sinegal, Citigroup is currently the most undervalued of the US mega-banks at around a 35% discount to fair value.
Source: Morningstar

| | | | |
| --- | --- | --- | --- |
| Bank | Morningstar Fair Value Estimate | Current Share Price | Discount to Fair Value |
| Citigroup | $68 | $44.30 | 34.9% |
| JPMorgan Chase | $66 | $64.04 | 3.0% |
| Bank of America | $18 | $14.38 | 20.1% |
| Wells Fargo | $61 | $48.32 | 20.8% |
Again, no single analyst valuation should be the main reason for investing in any company. However, Morningstar has a good track record of approaching their valuations from a fundamentals focused, long-term, buy and hold perspective. Which is why I put far more stock in its analysts' opinions than those of short-sighted Wall Street sell side analysts whose one year price targets have very little connection to a company's long-term intrinsic value.
In this case, Mr. Sinegal's valuation is based on expected 3% asset growth over the coming years, as well as ongoing cost cutting efforts at Citigroup that will bring its efficiency ratio down to 53% by 2019. Which means that Citigroup still has a ways to go in its turnaround efforts. But based on management's impressive performance to date, as well as its strong potential international growth catalyst, I think those targets are both reasonable, and achievable.
Of course, investors must also remember that mega-banks will always face high political risk, both abroad and here at home. For example, the 2016 Republican Party platform actually calls for the reinstatement of the 1933 Glass-Steagall act, which prohibits the combination of commercial and investment banking. While the changes of Glass-Steagall being resurrected are probably small, none the less this surprising proposal would effectively kill Citigroup in its present form if it were to ever become law.
Bottom line: Citigroup represents a potentially excellent long-term dividend growth stock...BUT only high risk investors need apply
Thanks to its "too big to fail" status Citigroup isn't ever likely to generate the kinds of strong returns on investor capital, and equity as it did in the boom years prior to the financial implosion of 2008. However, thanks to its current far more conservative, and long-term focused management, Citigroup could very well prove to be one of the best dividend growth investments of the next few years.
With strong, but manageable exposure to the fast growing international emerging markets, Citigroup is potentially set to experience strong, long-term growth that might prove far better than its large, more US-centric rivals. That being said, Citigroup is never going to be a "Sleep Well at Night" or SWAN banking stock, such as is the case with Wells Fargo. Which is why only dividend investors with high risk tolerance should consider initiating or adding to their positions; even at today's ridiculously undervalued levels.
Disclosure: I/we have no positions in any stocks mentioned, and no plans to initiate any positions within the next 72 hours.
I wrote this article myself, and it expresses my own opinions. I am not receiving compensation for it (other than from Seeking Alpha). I have no business relationship with any company whose stock is mentioned in this article.