Fabrinet (NYSE:FN) has been turning heads this year as shares are up 123% over the past 12 months due to robust revenue growth caused by the industry shifting from 10-gigabit and 40-gigabit solutions to 100-gig solutions. The telecommunications and data communications segment at Fabrinet (under the umbrella optical communications division) saw top line growth of 29% and 60% respectively, which have boosted EPS and share prices: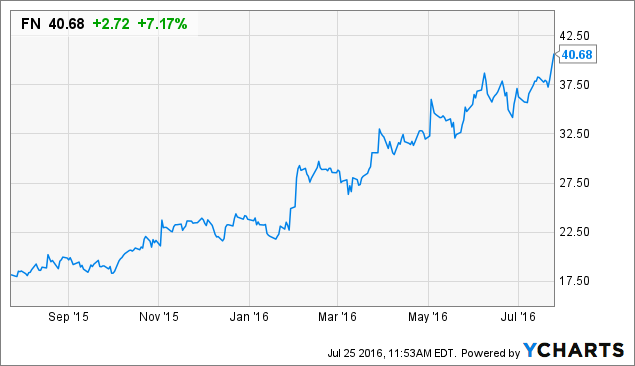 Back in May, I wrote an article on Fabrinet which was an in-depth, comprehensive analysis of the company and its business. If you are not yet familiar with Fabrinet or my take on the stock, that article can be found here.
With fourth quarter earnings approaching in August, I want to again revisit Fabrinet and take a look at where the stock might go from here. As I write this piece, FN is up 7% after Needham analyst Alex Henderson reiterated a Buy rating on the stock and boosted his price target from $45 to $48. Mr. Henderson cites strong demand, orders from Chinese customers, and the datacom center upgrade cycle as catalysts for growth.
There are many ways to describe Fabrinet's recent revenue growth, but it really boils down to one specific product class: 100 gigabit per second optical communication. The telecom and datacom segments have received a major boost from the rapid shift towards 100-gig equipment and away from 10-gig and 40-gig solutions, which are no longer up to snuff for current technological applications. 100-gig is now the industry standard, which has contributed to its rapid growth and Fabrinet's success.
100-gig solutions will continue to drive top line growth as its adoption is still in its early stages: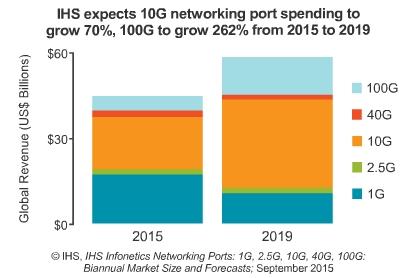 Both 10-gig and 40-gig are getting cannibalized by 100-gig, but higher selling prices for the latter is allowing Fabrinet to get ahead despite the deterioration in demand for the former two. Barring any unforeseen obstacles, the company will almost certainly cross $1 billion in revenue in full-year 2017. Considering the market capitalization of FN is about $1.5 billion, I think the market has yet to fully realize the potential upside here for the stock. With a forward P/E of just over 16, which is likely conservative because of Fabrinet's tendency to beat estimates (which I will detail shortly) and because of the company's rapid ongoing growth, FN appears to be a low-risk, high-reward opportunity. In the next couple of paragraphs I will take a look at Fabrinet's past earnings performance and what the implications might be for Q4 2016.
Of the past 15 earnings reports Fabrinet has released, the company has beaten consensus analyst EPS estimates in 14 out of 15 of them (93%) and has beaten on both the top and bottom lines in seven straight quarters. Since analyst estimates are in part based on management's guidance, I think it's fair to say that the company tends to guide on the conservative side.
Fabrinet trumped estimates last quarter by guiding for EPS between $0.59 and $0.61 and revenue of $260 million-$264 million, which was well above what analysts were expecting. Analyst estimates, per Reuters, put revenue and EPS estimates smack dab in the middle of management's Q4 2016 guidance. Considering management's conservative guidance, it appears to me that they have set the company up for another beat-and-raise quarter, which could send the stock soaring like it did after Q3 when FN rose 12%.
Fabrinet is perfectly positioned to reap the benefits of the shift to 100-gig optical communication and its share price has reflected this over the past 12 months. However, FN's current valuation is not factoring in the enormous growth potential the company has going forward and I believe there is still upside of which investors can take advantage. Buying FN before earnings could net a solid gain due to, in the short-term, the company's propensity to beat estimates and, in the mid to long-term, the potential revenue growth provided by the telecom and datacom segments on the back of the rise of 100-gig solutions.
If you want to stay up-to-date on my articles, you can Follow me by going to my author page or by clicking "Follow" at the top of this page.
Thanks for reading!
Disclosure: I/we have no positions in any stocks mentioned, and no plans to initiate any positions within the next 72 hours.
I wrote this article myself, and it expresses my own opinions. I am not receiving compensation for it (other than from Seeking Alpha). I have no business relationship with any company whose stock is mentioned in this article.