Introduction
Golden Star Resources (NYSEMKT:GSS) seemed to be heading towards an almost-certain death just a few years ago as its low-margin gold mines in Africa weren't sufficiently 'lean and mean' to continue to help the company to execute its plans, but the situation has now completely changed. The gold price is higher, and the company's mines have reached a crucial point as the higher-grade underground zones will help to reduce the production costs per ounce of gold.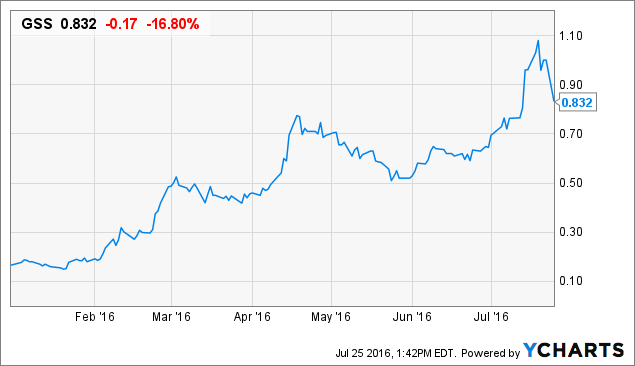 Golden Star no longer is the garbage can it used to be a few years ago
Golden Star isn't a small producer as the company produced in excess of 42,000 ounces of gold during the quarter, at an operating cost of $959/oz and an all-in sustaining cost of $1185/oz. The AISC did drop by approximately 7% compared to Q2 2015, but this emphasizes the high-cost nature of the operations just one year ago when the all-in cost was approximately $1275/oz.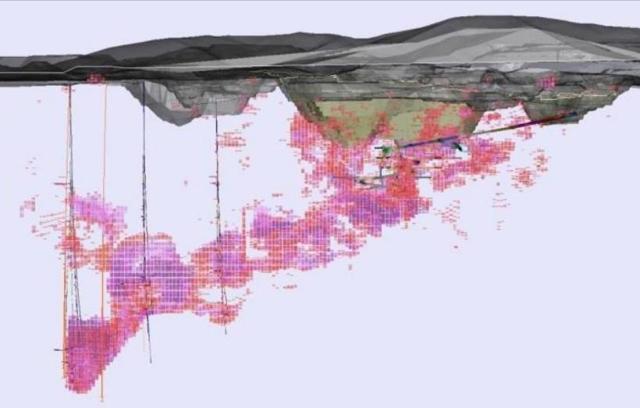 Click to enlarge
Source: company presentation
Both the Wassa and Prestea gold mines contributed approximately 50% of Golden Star's total production, and the cash costs were also quite similar, with the Wassa operating cost being just 3% higher than the cash operating cost at the Prestea mine.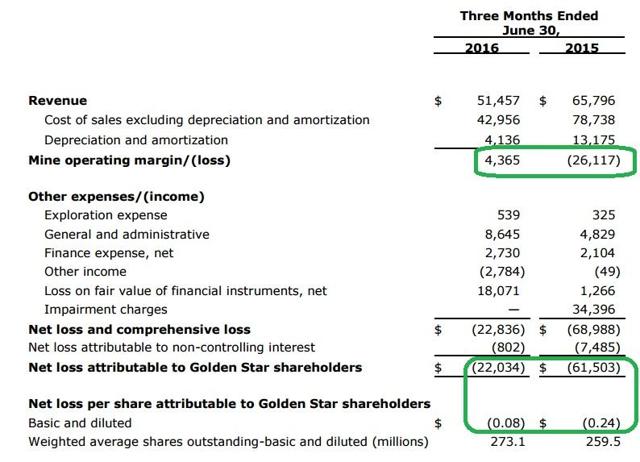 Click to enlarge
Source: press release
The total revenue for the quarter was $51.5M, and thanks to a substantial reduction of the operating costs associated with mining the gold, Golden Star was able to publish a positive mine operating income of $4.4M, compared to a loss of in excess of $26M in the second quarter of the previous financial year. That being said, Golden Star was unable to be profitable as the substantially higher G&A expenses and the (non cash!) loss on the value of some of its financial instruments pushed the bottom line into the negative territory with a net loss of $22M, or approximately 8 cents per share.
As the net loss was predominantly caused by a non-cash charge, I was very keen to see the company's cash flow statements as I expected those to be substantially better. Indeed, the operating cash flow was $6.1M and after ignoring the impact from changes in Golden Star's working capital position into account, the adjusted operating cash flow was even higher, at $19.3M.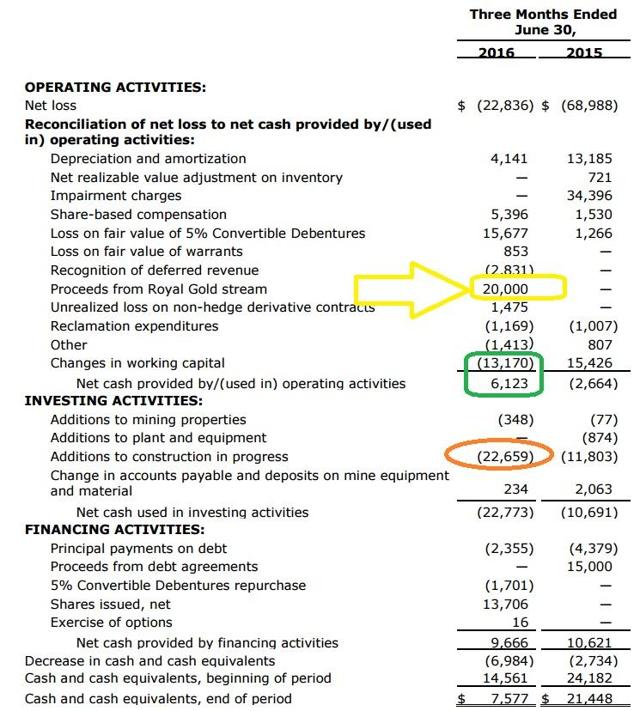 Click to enlarge
Source: press release
That would have been fantastic, but Golden Star's story is like peeling an onion. You need to peel a layer before getting to the bottom of things (and hope you don't start crying). In the company's case, practically the entire positive operating cash flow was caused by recording the $20M payment from Royal Gold (NASDAQ:RGLD) as an operating cash flow, rather than an investing cash low. After all, Royal Gold makes a one-time payment to purchase a gold streaming deal on the asset, and these payments will be non-recurring as soon as Royal Gold has deposited the entire amount.
A new recapitalization plan is being rolled out
So, on an adjusted and sustaining basis, Golden Star didn't generate almost $20M in operating cash flow, but was barely breaking even. This means the company would not have been able to break even on a sustaining basis if it wouldn't have received the payment from Royal Gold, considering the total amount of cash spent on capital expenditures was approximately $22.7M.
But before starting to panic, the majority of this capex bill was related to growth capex, as Golden Star is currently working on reaching higher grade ore zones at both the underground Wassa and Prestea mines. If you would exclude these capex commitments, the sustaining capex was just $4M, and that's very 'workable'.
That being said, Golden Star needed some fresh cash to make sure its balance sheet is still able to handle the growth commitments. Even though the Wassa underground mine should start to gain access to higher grade ore any day now, it's never a bad idea to top up your cash position to arm yourself against potential delays.
That's exactly what Golden Star did, as the company announced a two-step approach to 'repair' its balance sheet. In a first step, Golden Star will issue $65M of convertible debt maturing in 2021 (5 years). This debt issue will consist of getting new cash in the company, but also to swap some of the existing debt maturing in 2017 into the new issue, essentially buying the company some more time to reach the cash flow positive stage.
The exact terms of the convertible debt haven't been announced yet, so the ultimate impact on the financial results and balance sheet are still 'to be determined'. On top of the $65M convertible debt issue, Golden Star is also raising $30M worth of new shares in an underwritten public offering. Again, no exact terms have been defined, but I expect to hear from Golden Star and its underwriter, the Bank of Montreal (NYSE:BMO) within the next few days with the final term sheet.
Investment thesis
The fact the company was unable to generate a positive operating cash flow on an adjusted basis is a little bit disappointing, and the announced equity offering will very likely increase the share count by at least 10%, making the risk/reward ratio less favorable. But on the positive side, it's obviously not a bad idea to raise some cash after your share price increased by 700% in just 6-7 months.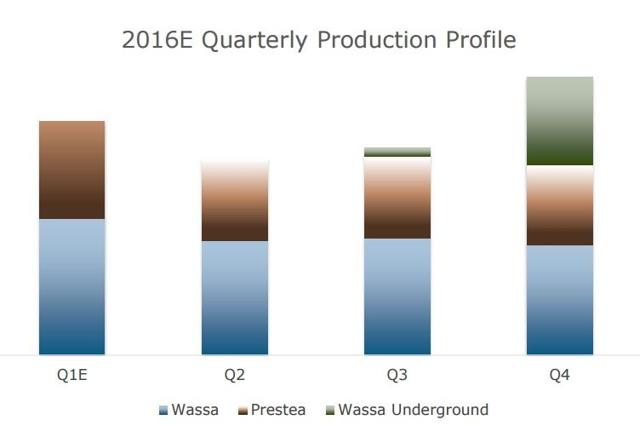 Click to enlarge
Source: company presentation
That being said, the production start at the underground zones of Prestea (90,000 oz per annum at an AISC of just $615/oz during 4.5 years) and Wassa should provide a welcome boost to the cash flow profile as the UG Prestea zone by itself should provide Golden Star with a net cash flow of $63M per year (pre-tax and pre-streaming deal). This should be the final 'tough' quarter for Golden Star as the contribution from the Wassa underground zone from Q4 on should have a noticeable impact on the consolidated production and cost profile.
Disclosure: I/we have no positions in any stocks mentioned, and no plans to initiate any positions within the next 72 hours.
I wrote this article myself, and it expresses my own opinions. I am not receiving compensation for it (other than from Seeking Alpha). I have no business relationship with any company whose stock is mentioned in this article.
Editor's Note: This article covers one or more stocks trading at less than $1 per share and/or with less than a $100 million market cap. Please be aware of the risks associated with these stocks.