Shares of Sprint (NYSE:S) advanced to a 20-month high after the company reported strong results for the first quarter that suggested things might be turning around for the embattled carrier. S has struggled with subscriber losses and a growing debt burden in recent quarters, but now the outlook is more optimistic. Sprint's discounted wireless strategy appears to be paying off. The company added 173,000 postpaid subscribers in Q1, which marked the highest postpaid net additions for a first quarter in nine years. Churn rate (the percentage of subscribers that stop using a company's services) fell to the lowest level in the firm's twenty-year history. Sprint's liquidity and cash flow characteristics showed dramatic improvement (on the surface) over recent quarters. However some of the numbers are misleading. Investors should be primarily concerned with liquidity and free cash flow generation (rather than subscriber growth), which will ultimately determine the success of Sprint's turnaround.
Sprint needs cash more than subscribers right now. The key to the turnaround is whether the company can pay-down its maturing debts ($5.1 billion in short-term obligations) and become self-funding. Due to high capital requirements, financial health is essential for building a moat in the telecoms space, and Sprint is the most highly levered of the major US wireless players. Sprint's challenge is to improve the customer experience without compromising liquidity. The company's poor finances have made it costly to raise capital in the public markets, so the firm has turned to other strategies to grow cash flows. In the latest quarter, Sprint reduced network expenditures, cut costs, and raise proceeds through off-balance sheet financing arrangements. Capex fell from $1.3 billion in prior quarter (and $2.3 billion in Q1 last year) to $900 million, cost of sales declined $300 million year-over-year, and SG&A fell $270 million. But the sale-leaseback transaction with MLS, which generated $1.1 billion in proceeds, was the single biggest reason for the higher cash flow, which grew to $466 million in Q1 (Figure 1).
Figure 1: Cash Flow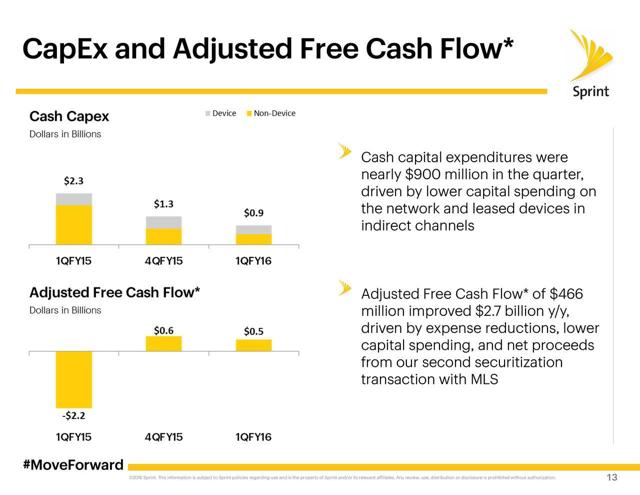 Click to enlarge
Source: Earnings Call
When analyzing a company's liquidity and financial health it is important to distinguish between different types of financing. Sprint's agreement with MLS is an example of off-balance-sheet financing. The agreement allowed Sprint to create a special purpose entity to which it sold devices in exchange for proceeds, using the devices as collateral. In doing so, Sprint was able to obtain better financing terms than it would otherwise be able to get in the public debt markets. More importantly, it allowed Sprint to keep its obligations off the balance sheet, making leverage and liquidity ratios look better than they are in reality. We have concerns about the transparency of Sprint's balance sheet, as the company has relied on a number of similar asset securitization transactions to bolster liquidity. Asset-backed lending was responsible for $3.3 billion of the $11 billion of Sprit's general-purpose liquidity (Figure 2), and securitization will continue to be part of the company's plans going forward. The company intends to raise $2-4 billion by selling receivables in 2016.
Figure 2: Liquidity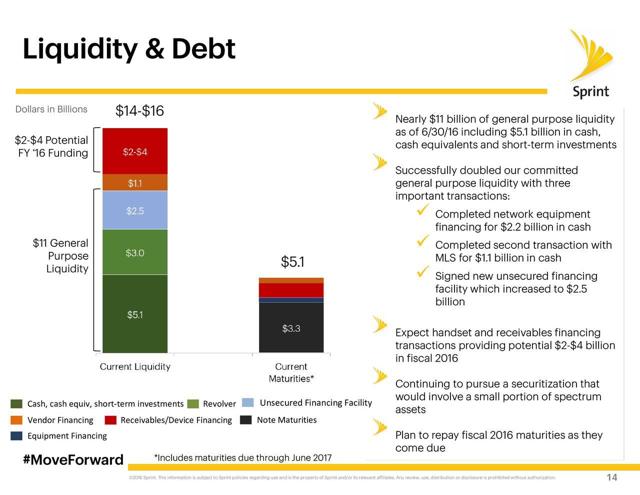 Click to enlarge
Source: Earnings Call
What does this mean for investors? Sprint's leverage and liquidity ratios are misleading. After adjusting for off-balance-sheet financing, financial leverage in the prior quarter increased from 3.99 to 4.79. So while Sprint does have move cash on hand now than it did in prior quarters, the firm's ability to pay off its obligations has not necessarily improved. Much of the funding has come from hidden sources that the company doesn't report on its balance sheet. Ultimately this is not sustainable, and the firm will need to grow free cash flow through OCF rather than borrowing. Cost cuts will help here, as will continued subscriber growth because postpaid contracts are more lucrative and earn higher margins than pay-as-you-go agreements. In order to grow subscribers and remain competitive with Verizon (NYSE:VZ) and AT&T (NYSE:T) over time, however, Sprint will need to invest more in its network, which will strain liquidity. While the latest quarter showed signs of promise, Sprint is still a long ways from becoming a financially healthy, self-funding company.
Conclusion:
Much of the optimism that surrounds Sprint after the latest quarter is based on the perception that liquidity and cash flow has dramatically improved. But Sprint has relied on off-balance sheet financing for cash more than improvements to the underlying business, and the company's finances remain a big problem. We are not suggesting that Sprint is the next Enron, but the company is still a long ways from becoming a healthy, self-funding company.
Disclosure: I/we have no positions in any stocks mentioned, and no plans to initiate any positions within the next 72 hours.
I wrote this article myself, and it expresses my own opinions. I am not receiving compensation for it (other than from Seeking Alpha). I have no business relationship with any company whose stock is mentioned in this article.