OTC Markets Group Incorporated (OTCQX:OTCM) (Previously Pink Sheets & Pink OTC Markets), otherwise referred to as the Over-The-Counter market, is a platform in which approximately 9,800 companies are currently listed. Most have probably heard of companies, which trade on the market as they range from international giants such as Adidas Group (OTCQX:ADDYY) and BNP Paribas (OTCQX:BNPQY) to much smaller companies who found traditional exchanges too expensive.
It operates as a regulated marketplace that is much cheaper to list on compared to a traditional exchange such as the NYSE or Nasdaq. It is simply a technological network that connects buyers and sellers and translates the savings in doing so to each. The company has been consistently growing as it looks to become more of a major player in the global marketplace as well as making its platform the most beneficial to its customers.
Overview
OTC has experienced constant revenue growth through the years and in turn has paid a steadily growing dividend. Below is a description of their three operating segments.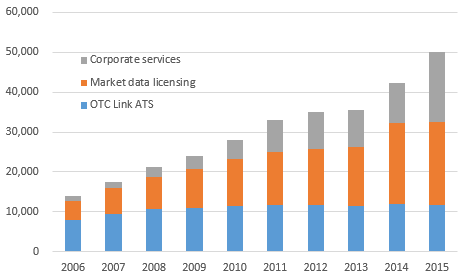 The three segments are OTC Link ATS, Market Data Licensing, & Corporate Services which together combined for $49.9 million in revenue during 2015.
The OTC Link ATS is their quotation and trade messaging service, which accounted for 23.6% of their 2015 revenue. Money is made from brokers having to pay for a monthly license, subscriptions, and other additional costs varying on usage. The segment is operated by OTC Link LLC, which is a wholly-owned subsidiary and a FINRA member broker-dealer. It is also a SEC Registered Alternative Trading System (ATS), and follows Regulation SCI (Systems Compliance and Integrity).
It is broken down into three separate segments. OTCQX, OTCQB, and PINK, with the former being close to a true exchange and standards easing going to the latter.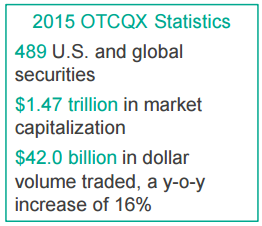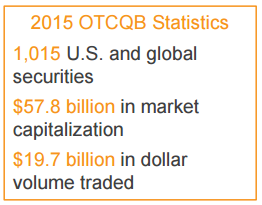 Market data licensing provided the access to extensive market data, which is collected through both the OTC Link ATS and Corporate Services segments. It accounted for 41.3% of 2015 revenues. It receives monthly fees from its users, which are noted as 20,000+ being professional, 9,000+ being non-professional, and another 100+ being enterprises.
Corporate services accounted for 35.1% of revenues and was by far their leading growth segment in 2015, growing 77% due to increased fees. This segment consists of what companies pay to be on the marketplace and other levels of service, which includes a onetime application fee and annual fees thereafter.
One of the crazy things about OTC is their overall net change in cash has been positive every year since 2008. That is not just referring to their free cash flow, but their actual overall change in cash from all three segments. This has helped the company grow their cash to the current level which stands at $22.65 million (Q1 '16) from $2.83 million. With no debt to speak of, the company is financially sound.
The OTC Markets also can act as almost the minor league for stocks as they can be up-listed once they are compliant with requirements of the exchanges for a certain period of time. Over the past three years, over 200 securities graduated to a national exchange.
Opportunity
One of the avenues OTC Markets sees in the future is the ability of smaller companies to come to the market searching for capital. Basically, the next era of crowdfunding as the concept has changed the landscape of backing projects with its simplicity and ease. GoFundMe has been used to raise money for a certain cause and Kickstarter has been used to back a new product or idea.
The next level of crowdfunding could be for small corporate level companies that do not have the ability to raise cost-effective capital through the more traditional avenues. In February of this year (2016), Elio Motors (OTCQX:ELIO) became the first company to raise capital under Regulation A+ and thereafter began trading on OTCQX.
Now why this idea is gaining traction now is due to Title IV of the JOBS Act (Jumpstart Our Business Startups) which was implemented last year. Previously only accredited investors (yearly income of $200,000 or $1 million in assets) have been able allowed to invest in startups. Regulation A+ now allows companies to also receive investments from non-accredited investors.
This is an addition on what was originally just Regulation A, which only allowed $5 million to be raised and was not widely used. Previously only a maximum of 35 non-accredited were allowed to join the funding and only if they were "sophisticated" in the SEC's own words. With 99% of the population being non-accredited investors, a brand new avenue for fundraising may start.
One that goes away from this historical use of angel investors, venture capitalists, and private equity firms. The table below explains more on what the rules and requirements are surrounding the process.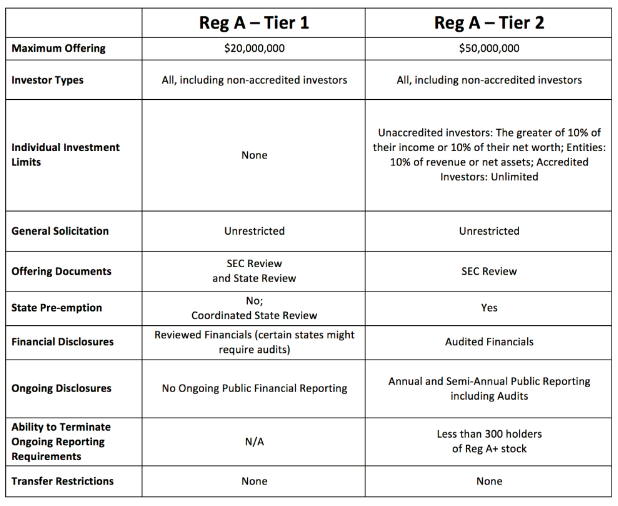 Valuation
To calculate a target price a DDM was used. The company has been paying a quarterly dividend along with a special dividend come year-end the past two years. They easily have the cash to continue paying the special dividend and it should continue. Now coming to a reasonable valuation is a bit tricky and that is due to the differences in calculating their cost of equity using the dividend growth model and CAPM.
DGM
The formula is simple, CoE = (D1 / P) + G
At the current price, assuming 3% growth, the CoE comes out to 9.58%.
CAPM
The formula is CoE = Beta x (ERM - RFR) + RFR
7% is a reasonable market return and 1.57% is used as the RFR. The issue arises when deciding on what to use for the beta. The stock is so illiquid that it rarely moves, but comparing its history to a major index one can see the beta is without a doubt under 1. Numbers varied from 0.17 on FactSet, to 0.64 on Google Finance, and 0.47 on Yahoo Finance to name a few.
Using its continuous returns and comparing them to the S&P 500's dating back to 7/15/2011, the beta comes out to .53 with monthly data and .16 using daily data. With the low volatility, and the 2008 crash having very little effect on their financials, .53 makes sense seeing how the investment is pretty safe.
Using that, the CoE comes out to 5.28%. With a 3% growth rate after a 7% increase this year (the new quarterly rate of $0.14 and the special dividend staying the same) and a 1% terminal growth rate, the stock then prices to $32.04, almost 90% upside in price alone.

Below is a chart showing how the price would react to changes in the cost of equity and dividend growth.

Below is a chart showing how a change in the beta or dividend growth would affect the DDM model. Next to that is how the change in beta would affect the cost of equity.

Click to enlarge
The downside is if the special dividend is no longer distributed. To make up for the extra cash from not paying this special dividend, the growth rate was increased as the quarterly dividend would most likely be larger. At $15.77, the downside would stand at 7%.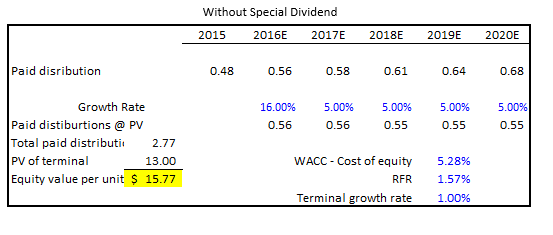 The bottom line is the dividend growth could be much larger than these estimates. FCF has grown at 27.4% CAGR since 2007, with NI having a 23.1% CAGR and EBITDA a 21.4% CAGR. Growth has not slowed either with FCF, NI, and EBITDA growing 28.1%, 30%, and 28.6% respectively last year. Even though growth is supposedly slowing this year, they have the financial strength to raise the dividend.
Also, just looking at the previous dividend trend over the last two years, they have raised the dividend in August by $0.04 and the special dividend by $0.10. If they raised each following their recent history as noted above then that would translate to a 24% increase in the dividend payment from last year.
In a market at such high valuations as it is now, a stock yielding 7%, with great financials, constant growth, and a low beta is a home run. If the market was ever to take a turn down, investors would pour into a stock like this where operations would be minimally affected and that also could pay such a high yield.
Disclosure: I am/we are long OTCM.
I wrote this article myself, and it expresses my own opinions. I am not receiving compensation for it (other than from Seeking Alpha). I have no business relationship with any company whose stock is mentioned in this article.
Editor's Note: This article discusses one or more securities that do not trade on a major U.S. exchange. Please be aware of the risks associated with these stocks.