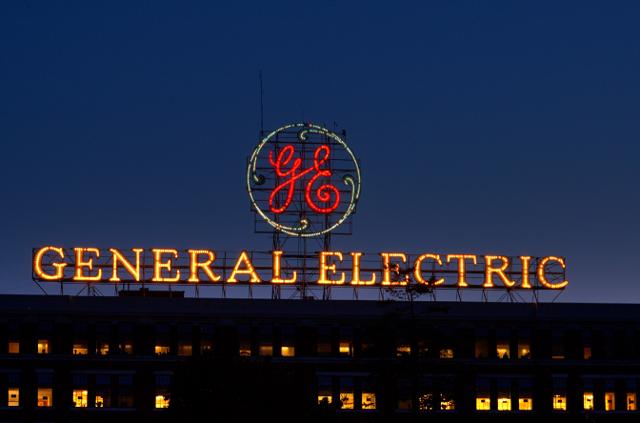 Click to enlarge
I was a long time bull in the past on General Electric (NYSE:GE), liking its diversification of revenue streams as well as its steady dividends. But when the company decided to sell off pieces of its Capital business and shares soared, I flipped to a bearish stance. The two principal reasons for the shift were a feeling that GE was going about exiting Capital in a suboptimal manner and that the stock had become very expensive indeed. GE has continued to defy gravity but after Q2 earnings, analysts are beginning to catch on that the stock is quite expensive considering how difficult it is going to be for GE to grow earnings without its bank.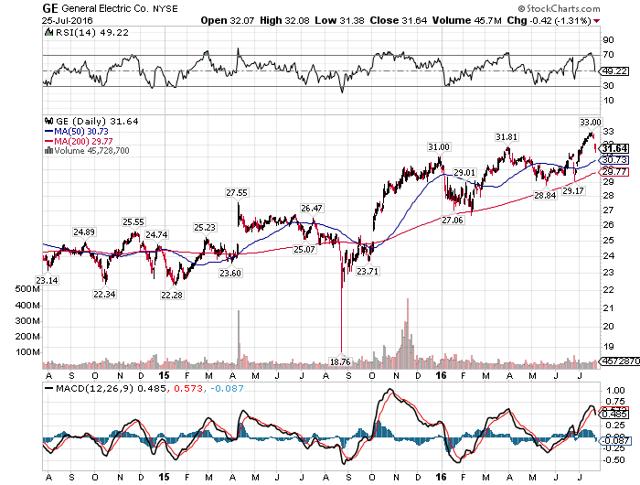 Click to enlarge
GE has soared since making its bottom last fall and has gone from $23 to $31 with only a couple of hiccups in between. And while GE has a terrific industrial business remaining after losing its SIFI designation, I've never thought the industrial company itself was worth $30 or more. That's the problem and I'm concerned that investors are so enamored with the prospect of GE not having the banking regulators hanging over its head any longer and the huge capital returns that come with it that they are turning a blind eye to the most basic valuation of the company's shares.
I won't spend a lot of time on the report itself because you are capable of reading the press release and it has already received a lot of attention here on Seeking Alpha. What I will do is hit a couple of high points that help me illustrate my thesis that GE is too expensive and that irrational exuberance has taken over.
GE's transformation has made its results messy during the transition period but the company does provide us with some key details that help us sort out some key drivers of future growth. GE's headline Industrial revenue number was very strong but when we strip out Alstom, we get a much less robust -1% move in revenue. I've called into question GE's ability to grow revenue in the past and Q2 saw worsening of a trend that began a few quarters ago. GE isn't experiencing a massive loss in revenue by any means and it likely won't; but at the current valuation, -1% is beyond unacceptable. GE's Industrial business may be good but if its order levels are any sort of reliable forecast, its revenue in this segment is going to get worse before it gets better.
GE's backlog is up (again) to a record $320 billion and while it's great that GE has so many paying customers that want its products, this is something else I've long lamented. Why can't GE actually deliver some of these products? Why does the backlog grow every single quarter despite weak new orders? How long will some of these customers wait as GE has years of revenue stored up in the backlog? I worry that the backlog continues to grow despite the fact that GE's new orders are flattish because at some point, people will decide they can go elsewhere for whatever they need. GE has a larger backlog than any other company I'm familiar with and while some backlog is terrific and necessary to maintain steady revenue, a backlog of this magnitude suggests that perhaps GE's execution on those orders is lacking. If it were producing double digit new order growth I would understand the constant growth in the backlog but it is a very long way away from that.
Another reason investors have aggressively bid up GE shares is because the story with the Capital exit was that overall operating margins would rise. The banking business doesn't have great operating margins (news flash, I know) so Capital was dragging down GE's consolidated performance. But even with the renewed focus on the Industrial business, GE's non-GAAP operating margin in the segment was flat in Q2 at 14.2%. GE has segments that produce better margins than that but this kind of performance is certainly not going to get the job done when one considers just how expensive the stock is. Margins need to move into the mid- to high teens for GE to have a chance at growing into a $30 stock price but it isn't close. Once again, it seems the stock is ahead of the fundamentals.
Of course, I'd be remiss if I didn't mention the gargantuan buyback GE is executing due to its new found piggy back in Capital. GE is trying to make up for the lost earnings of Capital by shrinking the share count in a big way and while I applaud using the proceeds to buy back stock, GE is doing so at a tremendously high valuation. This is putting a damper on the effectiveness of the buyback and thus, will dilute the impact it has on future share reductions and EPS. GE has bought back almost $14 billion in shares this year alone and it has much more cash in the pipeline for further purchases. Indeed, I wonder how many investors are bidding up GE stock until the constant volume from the company itself dries up. There is certainly no fundamental case for the current valuation and if anything, Q2 made that worse, not better.
I couldn't more closely share the sentiments of JPMorgan, which came out with the following comments on GE after Q2.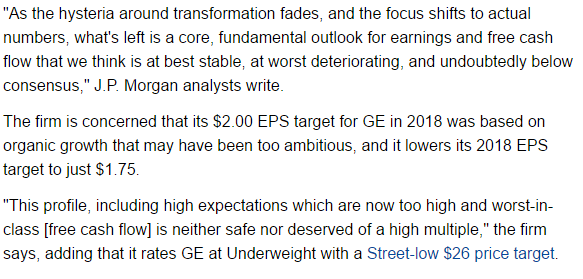 The firm is exactly correct and it apparently shares my concerns that GE isn't transforming the way it intended to with massive share reductions and a better margin and FCF profile. GE is trading for 18.3 times next year's earnings and 21 times this year's number. This, despite the fact that revenue is expected to be flat next year and that GE isn't making the progress on its Industrial margins it had hoped for. And while buybacks will account for a lot of EPS growth, at the current valuation, they aren't as effective as all involved would have hoped. That means GE will either need to spend more than it had anticipated to achieve the desired result or its share reductions will simply disappoint; neither is a good situation.
In short, GE continues to soar despite overwhelming fundamental evidence that it shouldn't. It has produced a string of very weak quarters in terms of orders and margins and with Capital winding down, that profit center is going away. Buybacks are great but only when done against a cheap stock which GE certainly doesn't come close to representing. When other names that have arguably better fundamentals like Honeywell are trading for lower valuations and don't have the circus sideshow of the massive transformation GE is undertaking, I see little reason to own this stock. I'm outright bearish now as the stock has reached euphoric levels and the disconnect between fundamentals and the stock price is striking at this point.
Disclosure: I/we have no positions in any stocks mentioned, but may initiate a short position in GE over the next 72 hours.
I wrote this article myself, and it expresses my own opinions. I am not receiving compensation for it (other than from Seeking Alpha). I have no business relationship with any company whose stock is mentioned in this article.