Johnson & Johnson (NYSE:JNJ) is a stock that has started to liftoff significantly this year, in spite of price remaining more or less stagnant over the past two years. Since January, the stock price has increased from just under $105 to $124.55 at the time of writing: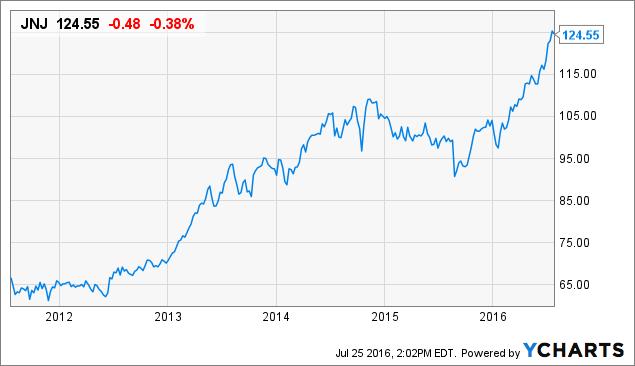 In a previous article, I had argued that patience on this company would indeed pay off eventually. One of my primary reasons for making this assertion was due to the company's track record of being able to increase its free cash flow in spite of decreasing sales. Indeed, the company had shown long-term track record of overall outperformance of free cash flow versus revenues: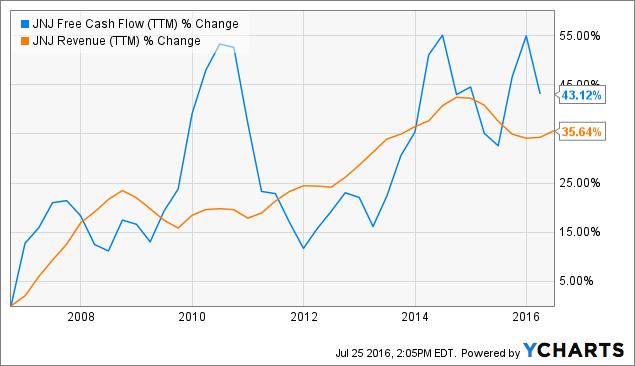 However, Q2 earnings and revenues performance came in above expectations, beating estimates in both regards with revenues coming in at $18.48 billion and EPS coming in at $1.74, above the $1.68 analyst estimate.
Given the fact that Johnson & Johnson has risen by 18% since the beginning of the year, is there a case for waiting for that infamous pullback before getting in? I would not be inclined to do so personally, and might even be inclined to add to my current position at this price. Notwithstanding Johnson & Johnson's strong record of price appreciation this year, my primary motivation for holding the stock is dividend income. With rising sales and earnings, we have seen that free cash flow has been rising in tandem and this has been reflected in a rise in dividends per share from $0.75 to $0.80 per share in April of this year.
Aside from rising yield, whether the stock has room to run from here or not remains to be seen, but I do not envisage a significant dip given recent earnings performance. For instance, I had recently predicted that the company would see EPS of $7.22 in 2016, and $3.34 in DPS (dividends per share). For this year, the company is on track to achieve $6.69 in EPS and $3.15 in DPS. Moreover, at the time of my analysis the estimated terminal P/E ratio was at 18x. With the current P/E ratio trading at just above 23x, this might suggest some overvaluation. However, it might also reflect higher earnings expectations on the part of investors and for this reason I do not see a significant dip materializing. Moreover, should this P/E ratio sustain itself along with the current rate of growth, then it is possible that we could see a longer-term price range at the higher end of $146-150 which I had previously forecasted.
To conclude, I am remaining long Johnson & Johnson and may add to my position in the coming months.
Disclosure: I am/we are long JNJ.
I wrote this article myself, and it expresses my own opinions. I am not receiving compensation for it (other than from Seeking Alpha). I have no business relationship with any company whose stock is mentioned in this article.