This month, I stated my case for a short GBP/NZD position, indicating that I was waiting for consolidation of an upward trend to initiate a position at a more attractive risk-reward ratio.
On a technical basis, we see that:
1. Price is showing rejection of the 21-day EMA, implying that a downtrend could potentially lie ahead.
2. We see that the directional movement indicators on the chart (red and green lines) are crossing over, and this also indicates that a significant shift in direction is underway.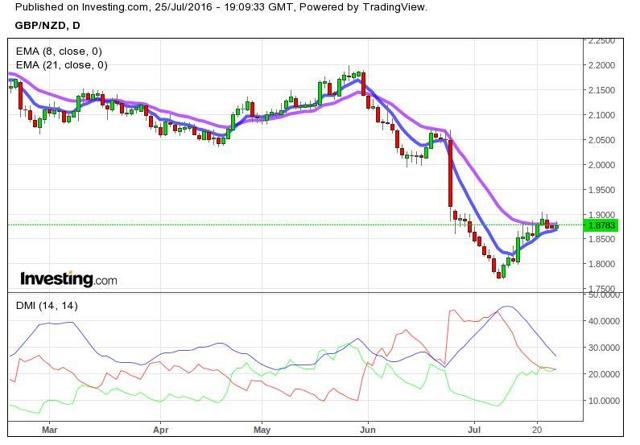 Click to enlarge
After the pound had slumped to a 31-year low, the pound started to regain ground as profit-taking ensued, and a certain amount of stability returned to the markets after Theresa May was elected Prime Minister. However, this in itself does not eliminate the vast uncertainty that still remains regarding Brexit - as in the time at which it will be triggered, the sort of deal that Britain wishes to negotiate with the European Union, among other factors.
Moreover, the trigger for recent consolidation in the pound has primarily been weaker economic data resulting from Brexit. For instance, France has recently overtaken the United Kingdom as the world's fifth-largest economy, and the UK is expected to fall into recession by the end of this year, with a PMI survey of economic activity in the UK showing the largest drop since 2009.
So, why am I going long NZD? Simply put, New Zealand is one of the few economies in the world that is doing well these days, and traditional safe havens such as the Swiss Franc are not so safe anymore as I pointed out in a previous article.
While further easing by the Reserve Bank of New Zealand may be on the cards to accommodate a weaker currency and boost exports, the heating housing market has also placed pressure on the RBNZ to leave rates where they are to curb further borrowing. Indeed, the bank had kept rates on hold at 2.25 percent in June, and cutting interest rates could in fact be detrimental since it would further fuel a potential housing bubble.
Given the technicals, along with macroeconomic considerations in New Zealand and the United Kingdom, I am ready to go short the GBP/NZD and I am looking for a take profit target in the 1.75-1.80 range.
Disclosure: I/we have no positions in any stocks mentioned, but may initiate a short position in GBP/NZD over the next 72 hours.
I wrote this article myself, and it expresses my own opinions. I am not receiving compensation for it (other than from Seeking Alpha). I have no business relationship with any company whose stock is mentioned in this article.
Additional disclosure: Please note that foreign exchange is a fast-moving market, and the above analysis reflects the author's opinion at the time of writing only. The author's stated views/positions should not be taken as any form of investment advice, and the author may subsequently modify his views/positions on the basis of new information.