Mitek Systems, Inc. (NASDAQ: MITK) develops, markets and sells mobile capture and identity verification software solutions. The Company's technology allows users to remotely deposit checks, open accounts, get insurance quotes, pay bills, as well as verify their identity by taking pictures of various documents with camera-equipped smartphones and tablets. MITK is the leader in the space, but it turns out that it's not that difficult for banks to create their own(arguably more advanced) software. MITK also face challenges from businesses such as Daon, which work with banks/other to create their own software that's comparable to Mitek. It's also well known that MITK has attempted to protect its niche through patent infringement cases against USAA and Top Image, who called out MITK's software as ineffective. You may be thinking, "Real Talk, this is all old news. In fact, I also know about all the insider selling that has been so widespread that the audit committee members are now"major holders" relative to other employees. If that's what you're thinking, great! I'm glad we're all caught up.
The information herein was located after a mere few hours of digging. My experience tells me that if you can find dirt in a short period of time, there is more to come. For now, I'll leave some meat on the bone for the small cap short specialists out there. I hope to continue posting on this name, but I make no promises either way.
Real Talk Investments has reason to believe that Mitek has misrepresented publics facts within their proxy statement regarding the evaluation of the ability and/or integrity of their Directors. From the 2016 proxy:

Click to enlarge
Legal Proceedings Contradicting the Proxy:
It turns out that not one, but at least two directors who sit on multiple boards have not only questionable backgrounds, but highly suspect backgrounds that involve legal proceedings that accuse the directors of being involved in earnings manipulation tied to companies with significant amounts of insider selling. This seems like the bar must be pretty low regarding ability/integrity. I hope you've fact checked the significant amount of MITK insider selling, but if not see the next graphic: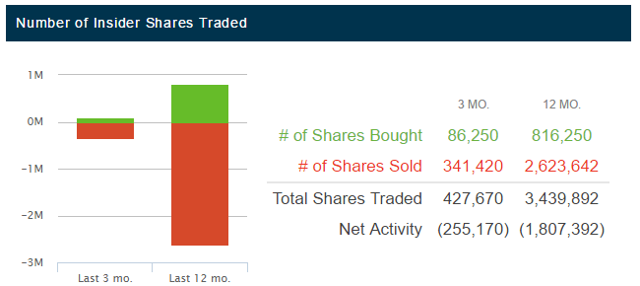 Click to enlarge
Source: nasdaq.com

Click to enlarge
Source: 2016 Proxy
In late 2007, Mr. Aulet (member of the Compensation Committee and the Nominating and Corporate Governance Committee) settled a lawsuit that alleged earnings manipulation in order to garner a credit line and increase the company in question's stock price. Mr. Aulet was the CFO of Viisage Technology during the period in question. The stock tumbled after the following quarters earnings release by 20%, and then tumbled another 20% after BDO issued an adverse opinion. My favorite excerpts are below, please read all the docs yourself (case number is the first graphic):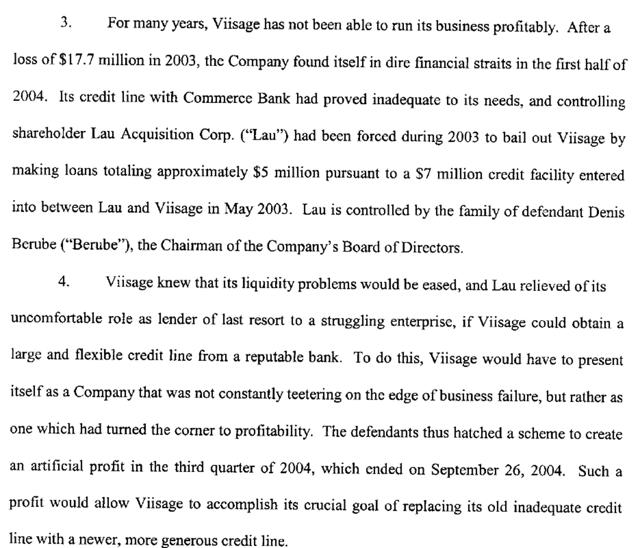 Click to enlarge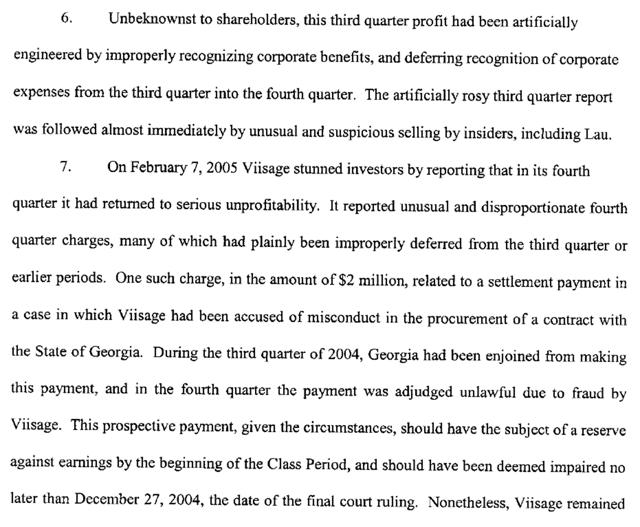 Click to enlarge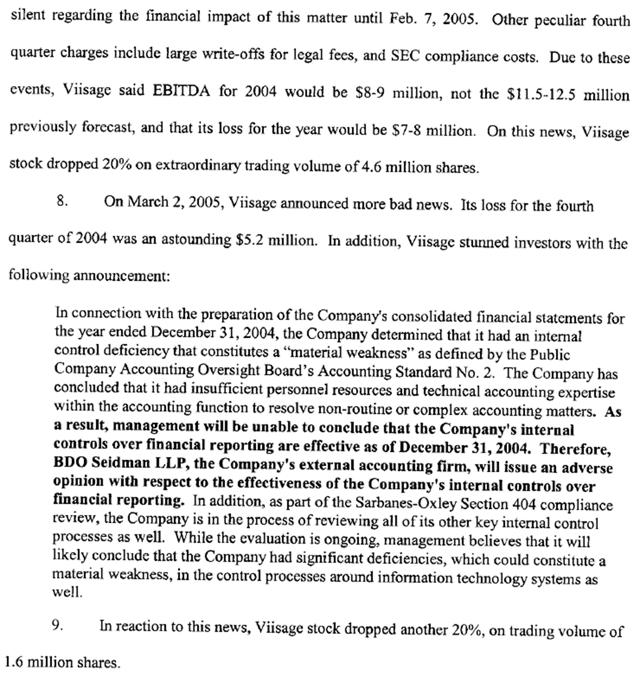 Click to enlarge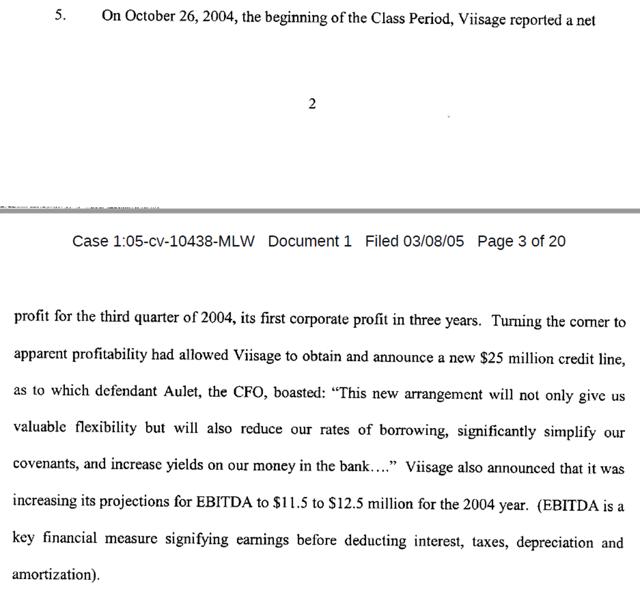 Click to enlarge
Source (all legal postings above): Pacer.gov
This settled lawsuit qualifies as "legal proceedings within the last 10 years" and certainly calls Mr. Aulet's integrity into question, which is in direct contrast to the statement within the Proxy statement (picture above, pg. 8 of the 2016 proxy). This misrepresentation ought to concern shareholders on its own, but when one also considers the heavy insider selling at Mitek, one needs to ask, "is history repeating itself?". Unfortunately for shareholders, Mr. Aulet is not the only director attached to legal proceedings that suggest impropriety.
The other member of the Compensation Committee and Nominating Corporate Governance Committee has an even more recent mark on his resume that calls into question the appropriateness of his appointment to said committees. Do you remember the VeriFone scandal? The SEC formally charged VeriFone for falsifying accounting records to improve margins and income.
Mr. Hart was a member of the team that put VeriFone on the SEC's radar. It turns out that he's currently being sued for ongoing actions that took place AFTER the SEC case. Case number and excerpts: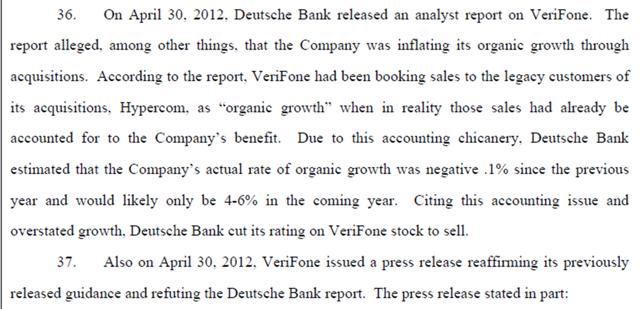 Click to enlarge

Click to enlarge
Source: pacer.gov
Mr. Hart's ties to a committee of a company that was sued by the SEC calls the appropriateness of his appointment into question, but when combined with an ongoing proceeding (in which he is personally being sued), one really ought to think hard about the statement within the proxy on the bottom of page 8 (see above).
Does management not know? If not, why? Did they not look? If not, this ought to concern investors as it relates to competency. Does management know and not care? This ought to concern investors if they feel these lawsuits are relevant to the director's ability/integrity. Either way, this "miss" is a negative for investors.
If I found these proceedings but Mitek insider selling wasn't heavy and the financials looked good... I wouldn't have found enough to convince myself that the stock will continue to decline. But combining these proceedings, with the fact that Mitek insider selling is very high and the financials are less than ideal, RTI is concerned for shareholders.
Financials:
Looking at the financials, it is also a fact that receivables are growing much faster than revenue (~62% 2YCAGR compared to a ~30% 2YCAGR). This is a signal that the quality of the sales is on the decline and that there may be some "channel stuffing" taking place as discussed by the wall street journal and posted by NYU here.

Click to enlarge

Click to enlarge
Source: morningstar.com
Pump & Dump Websites:
Real Talk also has other concerns related to MITK's meteoric rise over the last 8 months . MITK shows up on numerous "pump and dump websites" targeted at unsuspecting retail investors looking to make a quick buck, with little regard for the fundamentals of the business or the industry.
For those who don't know... publishers of these websites often get into these names and push the long thesis though articles, day trading websites, and blogs (Pending:PUMP). When then when momentum slows, they exit their position (dump). This is comparable to what was highlighted within the film "Wolf of Wallstreet".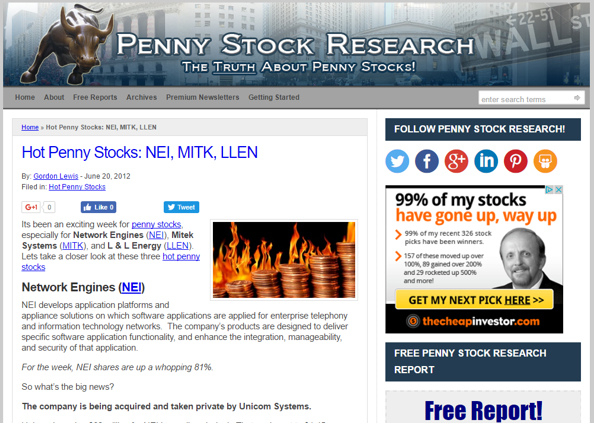 Source: pennystockresearch.com
Auditor:
Another negative sign is that Mitek uses an obscure auditor. Although It's reasonable to use a cost-effective auditor when you're a micro-cap company... it is certainly not a sign of confidence. And at a minimum a "red flag" that warrants further research in order to get comfortable with a long investment. Given some of the media around MITK's auditor (one such article above), RTI believes that the obscure auditor strengthens the MITK bear case.
Conclusion:
Mitek has made a misrepresentation within their 2016 proxy in RTI's opinion. The misrepresentation is material to stock holders because directors of multiple boards have ties to earnings manipulation scandals (amidst high insider selling) within the last 10 years (at least one is ongoing). The parallels are concerning given the high level of insider selling at Mitek along with the fact the financials suggest that management may be "channel stuffing" given the comparison between revenue vs. receivables growth. Further, MITK can be found on numerous "penny-stock" websites (considered by RTI to be platforms for "pump and dump" schemes), and uses an obscure auditor.
RTI Valuation:
This is a clear "buyer beware" situation, and RTI believes the stock will decline to $3-4 (~50%).
Disclosure: I am/we are short MITK.
I wrote this article myself, and it expresses my own opinions. I am not receiving compensation for it (other than from Seeking Alpha). I have no business relationship with any company whose stock is mentioned in this article.
Additional disclosure: I am/we are short MITK. All information for this article was derived from publicly available information. Investors are encouraged to conduct their own due diligence into these factors. Additional disclosure: This article represents the opinion of the author as of the date of this article. The information set forth in this article does not constitute a recommendation to buy or sell any security. This article represents the opinion of the author as of the date of this article. This article contains certain "forward-looking statements," which may be identified by the use of such words as "believe," "expect," "anticipate," "should," "planned," "estimated," "potential," "outlook," "forecast," "plan" and other similar terms. All are subject to various factors, any or all of which could cause actual events to differ materially from projected events. This article is based upon information reasonably available to the author and obtained from sources the author believes to be reliable; however, such information and sources cannot be guaranteed as to their accuracy or completeness. The author makes no representation as to the accuracy or completeness of the information set forth in this article and undertakes no duty to update its contents. The author may also cover his/her short position at any point in time without providing notice. The author encourages all readers to do their own due diligence.