Tobira Therapeutics (NASDAQ: TBRA) announced the one-year results of a Phase 2 (CENTAUR) clinical trial in patients with non-alcoholic steato-hepatitis (NASH) on July 25. The clinical trial missed its primary end-point of at least a 2-point improvement in non-alcoholic fatty liver disease (NAFLD) score without worsening of liver fibrosis. On closer analysis, the study showed significant improvement in liver fibrosis (which is a more advanced stage in NASH and a harder end-point to achieve).
We have earlier published a detailed research report on Tobira (Link), initiating coverage with a Buy rating and first price target (intrinsic value based on enterprise DCF method) = $15. The stock reached a price of $14.34 on June 27 before retracing on the results of the trial.
The purpose of this article is to analyze the results of this trial and present an updated bullish investment thesis for Tobira Therapeutics. We are reiterating a Buy rating on the common stock of Tobira Therapeutics with an updated price target (intrinsic value) of $34.88.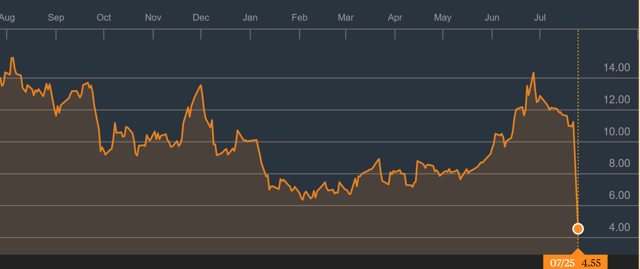 Click to enlarge
Figure 1: Tobira Therapeutics, common stock price chart (from Bloomberg.com).
Discussion of one-year results of phase 2b (CENTAUR) trial (source):
This clinical trial tested Cenicriviroc (CVC), an inhibitor of CCR2 and CCR5, vs. placebo in NASH patients with high-risk NASH population and liver fibrosis. A total of 289 subjects were enrolled in the study in various clinical centers in the U.S., Europe, Australia and Hong Kong. Sixty-seven of enrolled subjects had advanced liver fibrosis (stages F2 and F3). The primary end-point of the trial was at least a 2-point reduction in NAFLD activity score (NAS), which was not achieved in this study.
The FDA has provided two revised study end-points for NASH studies, and at least one of these end-points should be met to consider a drug for approval in treatment of NASH. One of these two end-points is at least a one-stage improvement in liver fibrosis without worsening of NASH. This is a secondary end-point in the CENTAUR study and was achieved. The proportion of study subjects who achieved this end-point was 20% in the CVC arm compared to 10% in the placebo arm (p=0.02). The results were statistically significant. An improvement was seen across all 3 stages of liver fibrosis (F 1-3).
The drug also was safe in this trial after 52 weeks of continuous treatment. The most common adverse events were fatigue (2.8%) and diarrhea (2.4%). These adverse events were similar in the CVC and the placebo treatment arms. The incidence of these adverse events was similar to earlier conducted studies.
More detailed analysis of this trial will be presented at an upcoming scientific meeting (likely at the annual meeting of the American Association for Study in Liver Diseases, AASLD in November 2016). It also appears that CVC has predominant action on liver fibrosis, rather than the earlier NASH stages that may be correlated with metabolic abnormalities like glucose intolerance and dyslipidemia.
CCR3 (chemokine receptor 3) has been shown in some other studies to play a role in fibrotic diseases like scleroderma-associated lung fibrosis and bleomycin-induced lung fibrosis (source). Tobira is also developing a DPP4 inhibitor, Evogliptin in type 2 diabetes. A combination of Evogliptin and CVC may help to target the metabolic abnormalities in NASH as well as liver fibrosis. A Phase 1 combination trial of these two drugs is likely to start in late 2016.
It is notable that liver fibrosis is a more advanced stage in the spectrum of NAFLD (see figure 2). Liver fibrosis is the only histological feature in NAFLD that has been shown to have an independent correlation with poor clinical outcome and increased mortality. CENTAUR is the first prospective, randomized clinical trial that has shown success in meeting this study end-point.
Before this trial, Intercept's (OCA) also showed a 35% rate of reversal in liver fibrosis in the Phase 2 (FLINT) trial. Non-invasive techniques like NAFLD-fibrosis score, FIB-4 index and transient elastography may help in early diagnosis of liver fibrosis without invasive liver biopsy.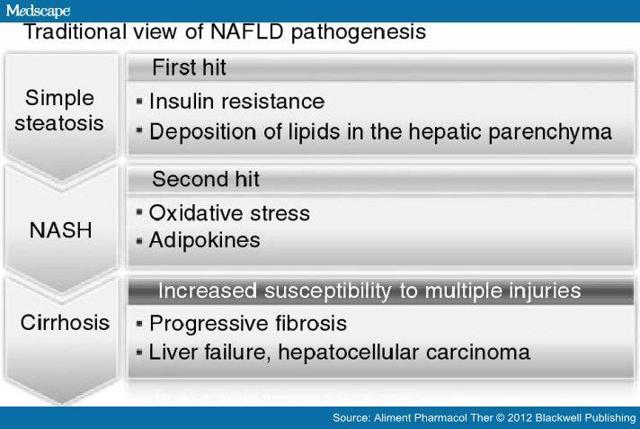 Click to enlarge
Figure 2: 'Multiple-hit' pathogenesis of NAFLD showing the spectrum of NAFLD (source).
Paris-traded Genfit (OTCPK:GNFTF) conducted a post-hoc analysis of a Phase 2 trial of Elafibranor, a dual agonist of PPAR-alpha and delta receptors (GOLDEN-505 study) in NASH patients (without cirrhosis) and showed success in meeting the second revised NASH end-point of NASH resolution without worsening of liver fibrosis. Elafibranor is thus targeting an earlier stage of NAFLD without advanced liver fibrosis. We have earlier published a detailed research report on Genfit, which can be accessed here.
Tobira's management held an investor conference call on July 25, 2016 to discuss these study results. The management showed optimism towards clinical efficacy of CVC to reverse liver fibrosis and plan to advance CVC to a Phase 3 pivotal trial in NASH in the first half of 2017.
Our opinion:
We consider these results to be remarkable since Tobira is now the second NASH company to show a reversal in liver fibrosis, which is a harder end-point to achieve. The clinical significance of these study results is also very high since patients with liver fibrosis in NAFLD are at the highest risk to advance to liver cirrhosis and liver cancer, thus requiring liver transplant. These patients are also at the highest risk of death.
A recent theory called 'Distinct Hit hypothesis' (figure 3) has postulated that rather than a progression along the spectrum from fatty change to steatohepatitis, fibrosis and cirrhosis (multiple hit hypothesis), there might be two distinct types of NAFLD: fatty changes in liver (steatosis) and NASH (steatohepatitis). NASH represents a higher risk type of NAFLD since these patients are at risk of progression to cirrhosis and liver cancer.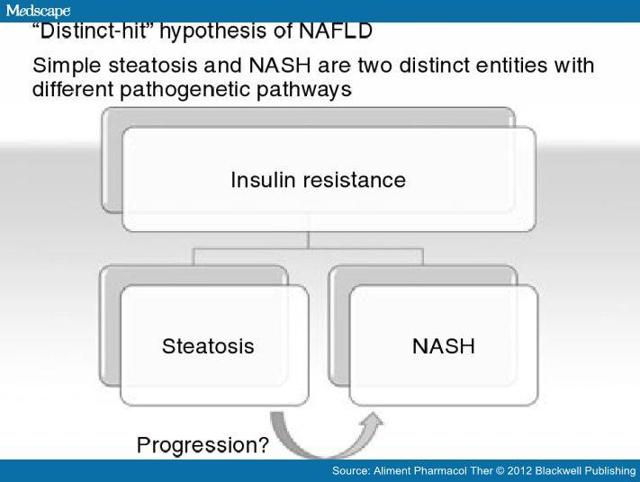 Click to enlarge
Figure 3: 'Distinct-Hit hypothesis' of NAFLD (source).
While these results so far show that CVC may not be an ideal drug for earlier stages of NASH (which together constitute about 95 to 123 million patients in the U.S. alone), the drug could still target about 6-10 million NASH patients in the U.S. alone, who have high-risk NASH with advanced liver fibrosis.
The stock also has several upcoming catalysts over next 12 months. Results of Phase 2 study of CVC in pre-diabetes and diabetes (24-weeks data) are expected later this year. Phase 2 results of CVC in Primary Sclerosing Cholangitis (PSC) are expected to be announced in the first half of 2017. PSC represents another significant future revenue driver for Tobira.
Updated valuation of the common stock:
We updated our DCF valuation for the future forecasted revenue from CVC in NASH with liver fibrosis in the U.S. only. The target market size for CVC was about 10 million patients in the U.S. alone and about 10,000 new patients every year. We input annual drug price for CVC per patient = $10,000. This price is still very conservative compared to Intercept's OCA, which has been priced at about $70k per year to treat primary biliary cirrhosis (PBC).
Conservatively, we modeled peak 2% market share for CVC in this target market segment. Adjusting the revenue with 60% probability (average probability of reaching the market for drugs in Phase 3 after passing Phase 2 is 67%, according to the data from Milken Institute), we modeled risk-adjusted, peak $1.2 billion revenue in 2030 at patent expiry in the U.S. alone.
Using net income = 17.5% of revenue, depreciation and amortization = 7.3% after launch of the drug in 2019, 90% reinvestment rate, discount rate (cost of capital) of 15% initially (then decreasing to 12% and then 10% with time), and diluted common share count of 22.1 million (including warrants and stock options), we calculated the contribution to intrinsic value per common share from this indication = $32.32. The spreadsheet for this calculation can be accessed here.
Our estimates are very conservative, and we increased our price target from the previous article, since the probability of success of reaching the market was increased to 60% after the results of this Phase 2 trial announced today. The potential competitor to Tobira in this NASH market segment is Intercept's OCA. Intercept is trading at an enterprise value of $3.3 billion compared to $174 million for Tobira, even after considering the metabolic adverse effects of OCA like worsening of glucose control and lipid profile. We believe that this represents a significant value gap and significant upside in stock price for Tobira.
The contribution to non-cash assets minus liabilities for Tobira was calculated as $2.56/share after adjusting for deferred tax assets (including operating loss carry-forwards). Diluted share count was used. The spreadsheet for this calculation can be accessed here.
Using the sum-of-the-parts valuation method, we calculated the intrinsic value for each common share of Tobira Therapeutics = $34.88. This represents significant upside from the current stock price. We did not include the contribution of future revenue from other indications like PSC or diabetes in this valuation, which could add to more upside. We will update the valuation as we get more data from these indications later this year.

Click to enlarge
Risks in the investment: This is a high-risk, speculative investment and the risks are similar to those for any emerging biotechnology company with no significant revenue. Various product candidates mentioned above might fail to succeed in clinical trials, side effects might limit their use, regulatory agencies might not approve them and healthcare insurers might not reimburse them. While the cash is enough to last until early 2017 at present, a future capital raise may dilute existing shareholders and put downward pressure on the stock price.
Conclusion: In conclusion, we are reiterating a Buy rating on Tobira Therapeutics with a price target (intrinsic value) per common share = $34.88 using the sum-of-the parts DCF method of valuation. The stock also has upcoming near-term catalysts that could propel the stock higher.
Note: To get more investment ideas like this as soon as they are published, click on my profile and hit the "Follow" button and choose the real-time alerts option.
Disclosure: I am/we are long TBRA, GNFTF.
I wrote this article myself, and it expresses my own opinions. I am not receiving compensation for it (other than from Seeking Alpha). I have no business relationship with any company whose stock is mentioned in this article.
Additional disclosure: This article represents my own opinion and is not a substitute for professional investment advice. It does not represent solicitation to buy or sell any security. Investors should do their own research and consult their financial advisor before making any investment.
Editor's Note: This article covers one or more stocks trading at less than $1 per share and/or with less than a $100 million market cap. Please be aware of the risks associated with these stocks.