With oil prices remaining at low levels, the Aussie dollar has not been impacted as much as I would have expected. For instance, we see that while there have been the inevitable peaks and valleys, the AUD has seen an overall climb since the beginning of June: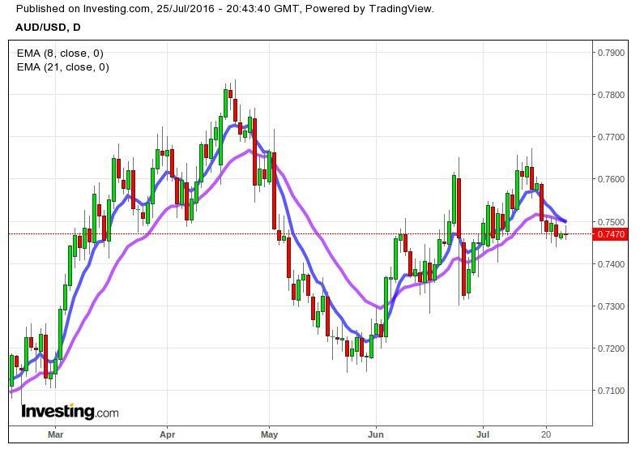 Click to enlarge
Conversely, we see that oil has been heading in the opposite direction, down from over $50 in June to a price of $43.09 at the time of writing: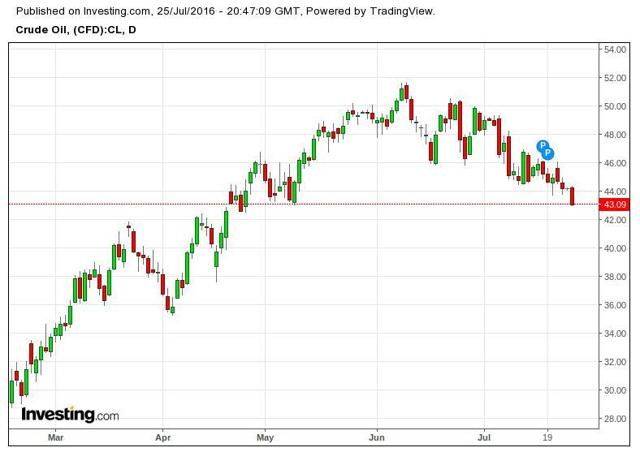 Click to enlarge
As an oil-oriented nation, the Aussie dollar has traditionally followed the price of oil. Should oil prices fall, then the AUD typically follows suit. So, what has changed this time?
Needless to say, with both the pound and the euro under pressure, investors have been looking for diversification as a result of Brexit. Moreover, as a result of depreciation of these currencies, traditional safe havens such as the Swiss franc have not been so safe anymore as the Swiss National Bank continues to buy foreign currency in an attempt to weaken its own.
In this regard, the AUD is still rising in spite of low oil prices. But what about the Australian economy itself?
Australia as a whole is not necessarily as dependent on commodities as one might expect. For instance, it is argued that the mining and commodity boom in Western Australia is reaching a peak, and instead it is areas such as New South Wales and Victoria that are growing economically as a result of housing and population growth. For instance, New South Wales has reportedly shown economic activity running above 13.5 percent above its mean level this decade.
Moreover, over the past five years, we see that in spite of oil price pressures, the manufacturing PMI in Australia has in fact been increasing over a five-year basis: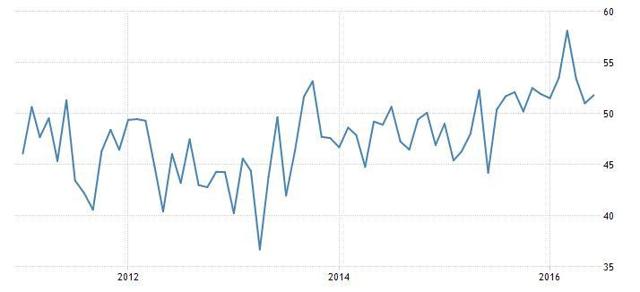 Click to enlarge
In this regard, I suspect that the AUD will come to reflect economic fundamentals rather than oil prices going forward, as investors seek to diversify from Europe in the event of Brexit. While the possibility of a rate cut in August remains on the table, I do not see that this will have a significant impact on the AUD given continued economic growth in the face of uncertainty in Europe.
Disclosure: I/we have no positions in any stocks mentioned, and no plans to initiate any positions within the next 72 hours.
I wrote this article myself, and it expresses my own opinions. I am not receiving compensation for it (other than from Seeking Alpha). I have no business relationship with any company whose stock is mentioned in this article.
Additional disclosure: Please note that foreign exchange is a fast-moving market, and the above analysis reflects the author's opinion at the time of writing only. The author's stated views/positions should not be taken as any form of investment advice, and the author may subsequently modify his views/positions on the basis of new information.