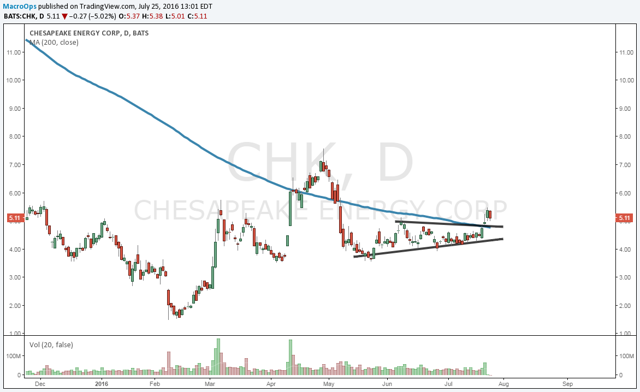 Click to enlarge
Chesapeake Energy (NYSE:CHK) is breaking out of a 10+ week triangle pattern. Price is also breaking above the 200 day moving average, which provides a solid inflection point to deploy risk capital. The confluence of the 200 dma and the breakout's ice line creates good base of support against any potential volatility.
CHK is an upstream natural gas and oil exploration and production company, which makes it a good play on the commodity recovery theme.
To review, the commodity rally has mostly been sentiment driven, with investors flooding into the market with the belief that commodities are oversold and that a bottom has formed. The massive amount of credit injections from the PBoC (to the tune of $1.6 trillion in repos this year alone) has also added legs to the rally. Much of that money has been flooding into the commodity space.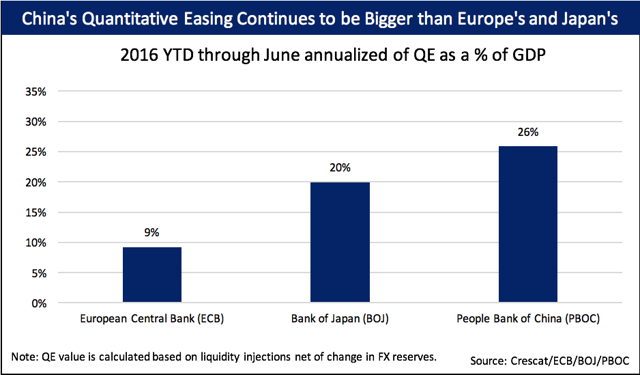 Click to enlarge
CHK in particular benefits from improving oil and natural gas prices. We all know about the oil (NYSEARCA:USO) rebound: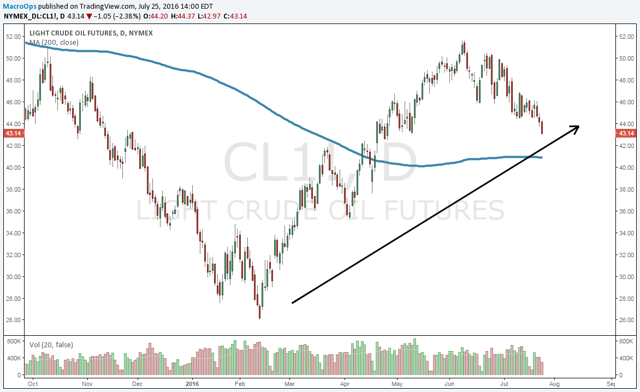 Click to enlarge
But more importantly, natural gas (NYSEARCA:UNG) looks to have made a significant bottom and is now recovering. Natural gas prices are far more important to CHK than oil prices. Oil only accounts for less than 20% of total revenues. The rest comes from natural gas.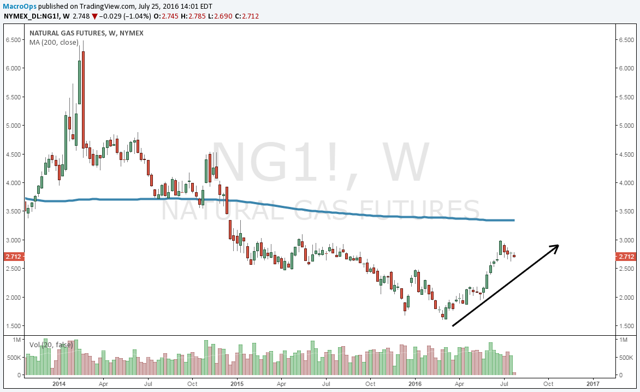 Click to enlarge
NG projections also show that prices are likely to trend higher from here - a positive for CHK.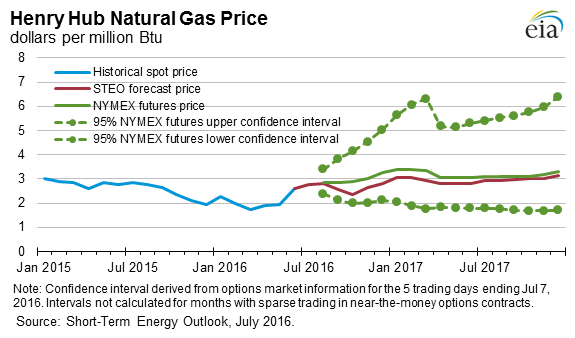 CHK releases earnings on August 4th. And because of the how beaten down expectations already are, there isn't much of a hurdle for the company to overcome.
EPS forecasts have been negative for a while, and as you can see below, CHK has been able to surprise quarter after quarter.

Click to enlarge
The consensus expects another loss of 10 cents per share this coming earnings report.
CHK is great example of taking advantage of a skew in expectations. With analysts projecting so little from CHK, the probability increases of an upside surprise vs a earnings missing. To disappoint, CHK would have to present an exceptionally bad earnings report. This will be difficult to do considering that most of the bad news in the energy space has already been baked into both the earnings and stock price.
This reason makes it easier to establish a position now and hold into earnings. A nice little bump in price next week can be expected after earnings.
Disclosure: I am/we are long CHK.
I wrote this article myself, and it expresses my own opinions. I am not receiving compensation for it (other than from Seeking Alpha). I have no business relationship with any company whose stock is mentioned in this article.