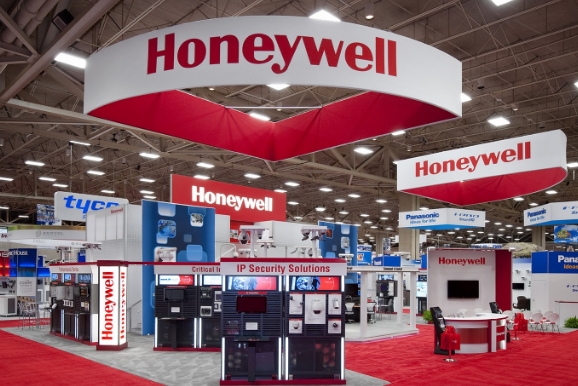 Honeywell (NYSE:HON) is a stock that has grown on me in recent quarters as my love affair with General Electric (NYSE:GE) ended abruptly after that company decided to get out of the banking business. Honeywell is the epitome of steady growth and it has continued to perform beautifully, both from a fundamental and stock price perspective. With HON hitting $120 prior to the Q2 report, optimism was high. But now that the report is out and HON has dipped a bit, I think it may be another buying opportunity.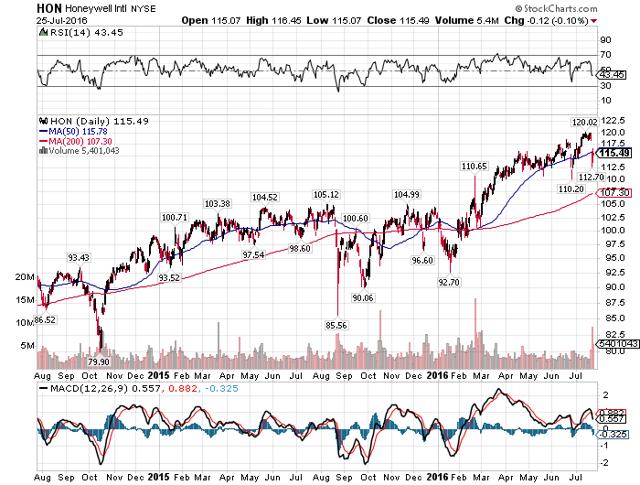 Click to enlarge
While a little less diversified than GE, HON is still very much a conglomerate. That means good things for its total revenue as weakness in one area can be offset by strength in another. Certainly, this is part of the appeal to me when looking at HON and in Q2, that diversification paid off. In addition, Honeywell's relentless pursuit of higher margins has quite literally paid huge dividends over time and in Q2, we saw yet more evidence that effort is continuing unabated.
The Aerospace segment saw a marginal decline in revenue but its operating margins were up 60bps to 20.9%. PMT saw more pronounced weakness as its sales fell 3% and its operating margins also fell 20bps. This led to a decline in segment profits that were more than offset by huge strength in ACS (which is now being split, starting in Q3). Revenue was up 9% and while reported operating margins were down 20bps, excluding acquisitions, that number was up 50bps. While we can't just exclude acquisitions for reporting purposes, it does give us an idea of just how well HON's margin improvement efforts are working. This strong performance in margins led to a higher profit percentage in this year's Q2 compared to last and this has been the long term story for Honeywell.
In Q2, it was business as usual for Honeywell; moderate revenue gains along with excellent cost controls and efficiency efforts produced higher profits. In addition to that, HON's excess FCF allows it to return a ton of cash to shareholders each year via dividends and buybacks. HON's average diluted share count during this year's Q2 was down 20.5 million against last year, good for about 2.6% of the float. That's not earth shattering but every little bit helps and when you combine HON's efficiency efforts with a perpetually lower share count, constantly rising EPS is the result.
HON saw fit to warn on sales for the rest of the year, although the warning was ever so slight. HON lowered its sales range by $300 million and while that's a lot of money where I come from, on HON's $40B+ revenue base, it is basically a rounding error. If the reason the stock sold off was because of the revenue reduction, that makes no sense. At any rate, that gives us another chance to buy HON at a little more reasonable valuation, taking full advantage of its ~13% FCF yield.
Looking forward, HON's prospects are much rosier than that of General Electric, which is struggling to produce even flat Industrial revenue on an organic basis. Analysts see HON hitting steady mid-single digit revenue growth levels for the foreseeable future, something GE certainly envies given its flat-as-a-pancake revenue outlook.
In addition, constant margin improvement and buybacks have HON's EPS trajectory seeing a beautiful upward slope, also superior to GE.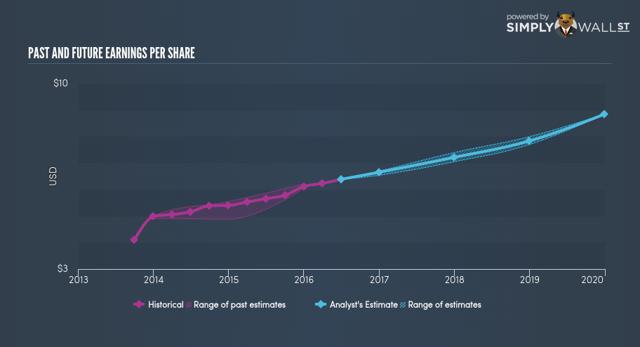 Click to enlarge
Source: Simply Wall St.
HON's EPS is slated to grow at a high single digit rate for the next few years but given any sort of meaningful improvement in revenue, that number could move higher. It assumes the same sort of buyback pace - three or four percent - and roughly the same level of revenue growth. But remember that HON is still seeing sizable improvements in its operating margins - 4.5% in Q2 - so there is certainly some upside possible to those estimates. While 5% operating profit improvements can't last forever, there is absolutely no evidence that HON is slowing down in that space and for that reason, it seems the bias to HON's current EPS estimates is to the upside.
HON is going for only 16 times next year's estimates - far cheaper than GE - and while the latter is likely going to grow EPS at a slightly faster rate thanks to its huge buyback, HON's fundamentals are superior in virtually every way. And with GE already so expensive, it makes little sense to overpay for a similar stock that has less attractive fundamentals. GE is growing EPS via financial engineering; HON is just growing EPS and that's a big difference.
At 16 times next year's earnings and a small sell-off thanks to a meaningless revenue reduction, HON looks very attractive here. The stock still has the support of the rising 200DMA - which is currently at $107 - and to be honest, I want the stock to trade down to that level. Should it do so, it will likely bounce right off of the 200DMA and move higher so I'm hoping for the chance to buy HON at that level. It may not happen but either way, HON is going a lot higher over the long term; this is a stock you can buy for your retirement portfolio and just forget about it. HON is just that good.
Disclosure: I am/we are long HON.
I wrote this article myself, and it expresses my own opinions. I am not receiving compensation for it (other than from Seeking Alpha). I have no business relationship with any company whose stock is mentioned in this article.