Both central bank and economic divergence are the key drivers in the current gold (NYSEARCA:GLD) (NYSEARCA:GDX) (NYSEARCA:GDXJ) markets. The U.S. economy is set for continued strength and improvement. The household debt service payments to income ratio are near 30-year lows. Net worths are at an all-time high and credit growth is strong. Monetary policy is still very accommodative and even with rising rates supportive of expansion.

Click to enlarge

Click to enlarge

Click to enlarge
The Fed may be moving too late and has delayed raising rates. Retail sales, total business sales, stock prices, car sales, household net worth, industrial production, unemployment, durable goods and various measures of credit are near or better than 2007 levels. The Fed has ignored the recovery thus far and excessively high inflation will be the outcome. This would be great for gold, but we are not there yet. On the way to inflation, it would involve continued near-term improvement in the U.S. economy.
The divergence theme and near-term positive view on the dollar, for me, signal great downside risk to investing in gold right now. The rise in the dollar is based on the idea of central banks pursuing divergent monetary policies with the Fed beginning to raise rates, while many other major central banks ease further. The Bank of Japan will launch QE3 at some point and the ECB is considering different ways to more aggressively ease policy such as reducing the quality of the bonds it purchases.
The Fed is correct to normalize policy and the data will allow them to do this over the next 6 to 18 months. There are those who are counting on a safe haven bid for gold in case of global economic risk deterioration, particularly from the Fed raising rates or a hard landing in China. The U.S. economy can withstand rising rates, and strong data and improvement in the economy will provide support to stocks which may face a currency headwind and another pullback in energy and mining.
The main effect of the Fed on China is a strong U.S. dollar which will make China's highly leveraged corporate sector debt denominated in dollars more expensive to service. This depreciating yuan would be beneficial to exporters. I believe Chinese government economic policies, the PBOC's ability to lower rates and long-term private sector debt dynamics make the true hard landing scenario unlikely. China is likely going to manage a semi-orderly decline in the yuan regaining export competitiveness. The PBOC may lower rates and the Chinese government can use foreign exchange reserves to recapitalize banks and companies if need be. The average Chinese household is very lightly indebted, so China is trying to transfer private sector credit growth to the consumer rather than investment. Given the low debt to income ratios in China it is reasonable to believe the rebalancing will succeed over the long term. Chinese government debt is also comparatively low so the Chinese government is more willing to implement tax cuts which would be an effective way to avoid the investment-driven overcapacity problem and increase consumer spending.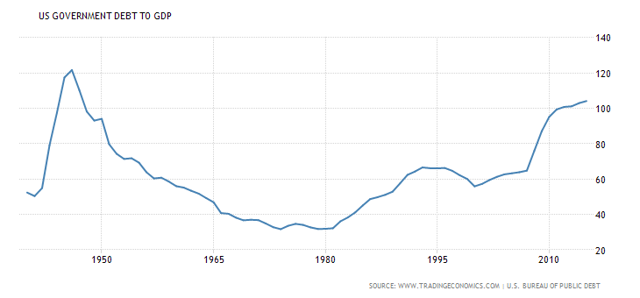 Click to enlarge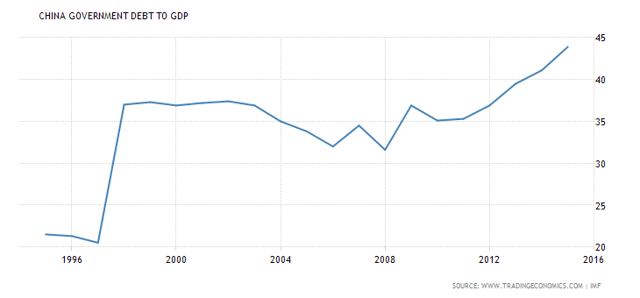 Click to enlarge
Many will point to Japan as an example of sustained slow growth and economic troubles. I think the U.S. is much more resilient than Japan and can point to credit growth as an example. Total credit in the U.S. is above 2007/8 levels signaling growth over the last few years while credit has stagnated in Japan over the last 20 years, fueling deflationary and deleveraging pressures.

Click to enlarge

Click to enlarge
A continued improving U.S. economy and lack of a true economic crisis is the centerpiece of the thesis for lower gold prices. This will allow the USD to rise, interest rates in the U.S. to go up and the global economy to remain intact. This scenario would be extremely bearish for gold. Markets are only pricing in a 14.7% chance of the Fed raising the FFR in September according to CME Group, while I believe a hike at that meeting is likely.
I'm not a permanent gold bear and longer term, in fact I am quite optimistic as an inflation hedge. When gold begins trading up on higher inflation it will signal the true time to buy gold. The idea of going long gold right now is based on any of the following beliefs: that the Fed won't raise rates, that there will be a spike in inflation, or that there will be a global economic downturn. I think all three are unlikely for now, though inflation will probably surge at some point longer term because of QE and an extended period of low rates. In the gold market at the moment higher inflation is counterintuitively bearish for gold as it gives reason for the Fed to raise rates. This proves the unsustainability of the gold rally. It's for the wrong reason. When gold prices begin increasing, not decreasing, on strong inflation data, it will signal a long opportunity. For gold, high inflation will at some point become a primary driver rather than divergence. Until then, economic and policy divergence as well as an appreciating dollar and rising U.S. interest rates could send gold lower.
Disclosure: I am/we are short GDX.
I wrote this article myself, and it expresses my own opinions. I am not receiving compensation for it (other than from Seeking Alpha). I have no business relationship with any company whose stock is mentioned in this article.