After the bell last night biotech stalwart Gilead Sciences (NASDAQ:GILD) reported its second quarterly result in a row that disappointed investors. These were after eight straight quarterly beats since the launch of Sovaldi early in the first quarter of 2014 which was quickly followed by the launch of Harvoni a few months later. The numbers and guidance did not meet investor expectations once again and the stock sold off in after hours Monday and into early trading Tuesday.
However, there were some positives contained within the results and the conference call with management that followed. We take a look at the positives, the negatives and where the stock likely goes through the rest of 2016 below.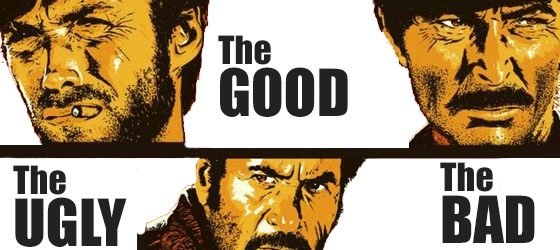 The Good:
Gilead did beat the earnings per share consensus. The company posted $3.08 a share in profit, more than a nickel a share above the consensus. Gilead also managed to do this despite seeing the amount of stock purchased in the quarter fall to $1 billion from $8 billion in the first quarter of the year. Operational cash flow came in at an impressive $4.9 billion equating to more than 15% free cash flow yield on an annual basis.
The company also saw an uptick in R&D expenses which primarily was due to the purchase of a U.S. Food and Drug Administration priority review voucher and the progression of clinical studies. The company saw a strong uptake of its TAF-based regimens that drove 23% year-over-year and an 11% sequential growth of their HIV product sales.
The Bad:
It is becoming increasingly obvious that Gilead is a victim of its own success to a significant extent. Instead of coming up with another maintenance program that requires long-term compliance and continuing sales or a drug that extends life in a rare cancer indication by four to five months at $100,000 a pop, Gilead has come up with a cure for a debilitating and lethal disease that affects millions.
The benefit Sovaldi & Harvoni have brought to hundreds of thousands already can not be overstated. I had a hiking buddy that contracted this disease in college and within a few years he was a husk of his former self, and he eventually took his own life in his late 20s.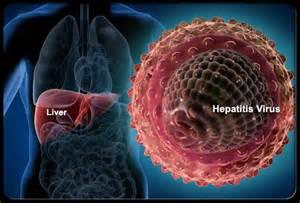 Unfortunately, he did not live in current times as now we cure hepatitis C patients. The numbers are staggering. Sovaldi & Harvoni have successfully treated a half million individuals in the United States, 200,000 in Europe and 100,000 in their short time in Japan.
When General Motors (NYSE:GM) is sued for $10 billion for an ignition problem that has resulted in 124 deaths or a career petty criminal's family gets $6 million due to his accidental death at the hands of police, what is a life worth? Certainly more than ~$50,000 (after rebates/discounts) that Gilead has charged for its hepatitis C cure. Something to keep in mind the next time you see some politician on CNN ranting about drug price gouging this election season.
Unfortunately for Gilead but as a positive for society, the sickest patients have been cured and the company is continuing to lower prices to increase coverage to the less afflicted individuals. These two trends are resulting in lower patient starts and at lower average revenue per regimen.
The Ugly:
There is no way to sugarcoat the falloff that the company is seeing from its HCV revenues across the globe. HCV sales were down 33% in the United States and 32% in Europe on a year-over-year basis. In Japan sales of Harvoni & Sovaldi were down 43% sequentially as a result of lower patient starts on Harvoni and the full quarter effect of the mandatory price reductions for both Sovaldi and Harvoni.
As the result of accelerating deterioration in sales from its core HCV franchise, the company lowered full-year revenue guidance to $29.5 to $30 billion from $30 billion to $31 billion. The market has reacted accordingly.
Possible catalysts:
At this time I only see a few potential catalysts to significantly boost the prospects of Gilead's stock. Unfortunately, none are likely in the near term.
1) The company boosts its dividend by at least 50% to get to a 3.5% yield. This gets into Merck (NYSE:MRK) territory as far as yield. This pharma giant has seen five straight years of revenue declines, but still trades about 15 times forward earnings thanks largely to its dividend yield. I would not expect that same type of multiple expansion, but the market would surely give GILD more than the 7-8 forward multiple it now has given the low yield environment of today's stock market.
Unfortunately, I don't see this happening. The company boosted its dividend payout by 10% earlier in the year. Management has noted many times that stock buybacks are more efficient from a tax basis (one of many things that needs to be fixed in any kind of corporate tax reform effort).
2) The company makes a major acquisition. I think any kind of mega merger such as with Celgene (NASDAQ:CELG) is completely off the table thanks both to regulators and it simply is not in Gilead's DNA. The company has said many times it is constantly reviewing possible purchases in the $1 billion to $5 billion range but has yet to make significant moves. I don't see anything in the market within this range that would substantially move the needle as far as Gilead's near term growth prospects unfortunately.
3) Positive developments within its pipeline outside of its core HIV & HCV franchises either through its wholly owned compounds, its collaboration deals or via new acquisitions. The company does have some interesting products in its pipeline including several mid-stage NASH trials ongoing as well as a significant collaboration deal with Galapagos (NASDAQ:GLPG) which we should have some key Phase III readouts in coming quarters. Unfortunately, any game shifting product is probably a couple of years away at best.
Outlook:
Given this view, I will continue to hold Gilead simply because it has been one of the best performing stocks in the NASDAQ over the past two decades. I also like and trust its management to continue to build shareholder value over the long term. In addition, the stock is very cheap even with revenues falling on an earnings and free cash flow perspective. The stock also pays a nice dividend which I expect to continue to go up in coming years. Finally, the company has a rock solid balance sheet.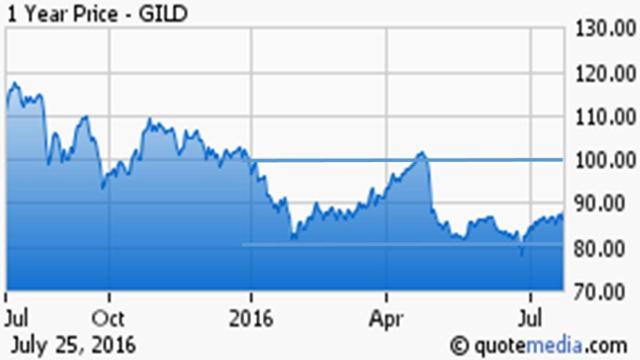 Click to enlarge
I think the shares will continue to be stuck in the same roughly $80 to $100 a share trading range they have been stuck in all year. I plan to collect my dividend and sell some out of the money calls on part of my position the next time shares venture in the low to mid $90s range. This might be my "rinse, wash, repeat" strategy on Gilead over the next year until positive catalysts come to the fore again.
Note: To get these types of articles on attractive biotech and pharma stocks as soon as they are published, just click on my profile and hit the big orange "follow" button and choose the real-time alerts option.
Thank You & Happy Hunting
Bret Jensen
Founder, Biotech Forum
Disclosure: I am/we are long CELG, GILD, GM.
I wrote this article myself, and it expresses my own opinions. I am not receiving compensation for it (other than from Seeking Alpha). I have no business relationship with any company whose stock is mentioned in this article.