At some point, it becomes extraordinarily amazing how most of what Tesla (NASDAQ:TSLA) does is geared toward hyping the company. For instance, today the news is that Tesla doubled the construction crews over at the Gigafactory. This is strange.
Why is it strange? It is strange because the Gigafactory stood for nearly nine months in its present state. Yet, a few weeks from its unveiling is when everything must be rushed. Quite obviously, all of this construction activity was not driven by business considerations - it was driven by the oncoming exposure to cameras.
Let me exemplify how obvious this is. This image is from my September 3, 2015, article titled "Honey, I Shrunk The Gigafactory (And More)":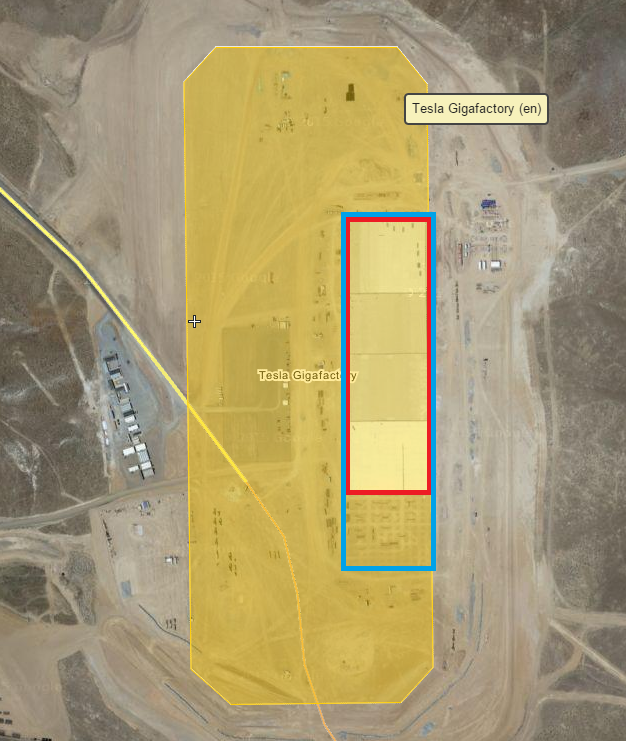 Source: Wikimapia
The four blocks you see in that image are the same which exist today (one of them unfinished since then). At the time a fifth block seemed under construction, but that was never taken forward, either.
From the ground, at about the same time, the exterior walls were being finished. Again, the size was the same as today: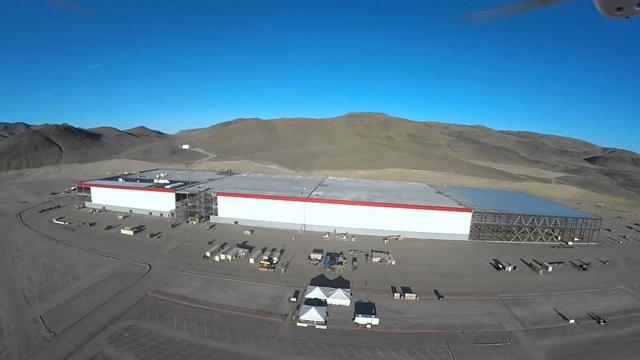 Click to enlarge
Source: Drone video on Youtube, since removed
The following is then an aerial shot taken in mid-June 2016, less than one month ago. Again, about the same as ever: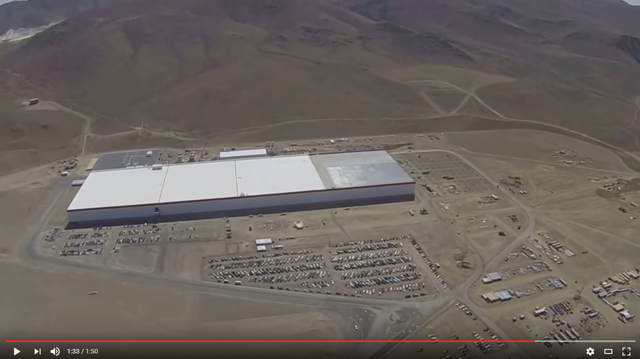 Click to enlarge
Source: Drone video on Youtube
Notice that this was just one month ago, with no signs of activity. No signs of "doubled construction crews on a two shift day seven days a week."
Finally, just one/a couple of weeks before the unveiling, this is what happened: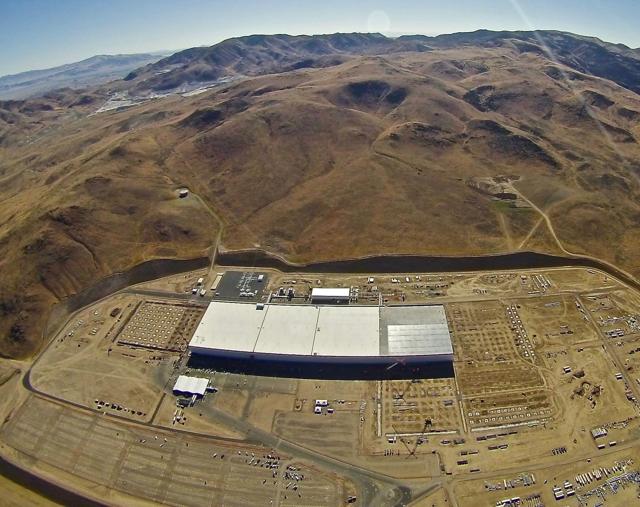 Click to enlarge
Source: Teslarati
Suddenly, all construction hell breaks loose! Double shifts! Seven days a week! The construction stood nearly still for all of nine months, and weeks into an opening event is when all urgency takes place. Plus again, Tesla bills itself as being "ahead of construction plans." Nobody seems to mind that:
Construction plans were for the entire building to be complete by October 2017, as per the incentive agreement filed with the State of Nevada.
All of this new construction took place right before the opening, on time for the unveiling and probably with the sole purpose of being seen during the opening.
It should be understood that doing things this way is uneconomic. Tesla is now building seven days per week on double shifts after not advancing construction for nearly nine months. This urgency is paid at an unnecessary premium.
Tesla is clearly a company now being managed to a media schedule, not a business schedule. It regularly issues deceiving proclamations, such as not meeting near-term deliveries guidance because of how fast it was ramping production. It should be noticed that both deliveries and production fell short, so the production ramp was slower than previously expected - thus negating the whole point.
Conclusion
Tesla's flurry of construction activity on the Gigafactory was timed to the event of unveiling it and not to the need to have the building completed on schedule (October 2017). The Gigafactory lay nearly dormant for a full nine months before the baby started hatching again, just a couple of weeks away from the unveiling media event.
As with everything Tesla, the Gigafactory needs to be taken with a grain of salt. It's unlikely that Tesla will be able to produce at lower costs in Nevada when the entire and cheaper supplier chains are all in Asia. That's the reason why others build their battery cell plants in Asia (whereas battery pack assembly factories can be nearer the car production sites).
Disclosure: I am/we are short TSLA.
I wrote this article myself, and it expresses my own opinions. I am not receiving compensation for it (other than from Seeking Alpha). I have no business relationship with any company whose stock is mentioned in this article.