Stocks sold off modestly yesterday to open the week. However a late-day rally brought tech stocks back to almost flat on the session, and only the Dow (NYSEARCA:DIA) closed with a significant loss.
Futures are pointing to a quiet US open today. This despite some negative developments. Most notably, European bank shares are under fire, and for once, it isn't the Italian firms at the center of the storm. Commerzbank (OTCPK:CRZBY) surprised the market by admitting that its capital position had weakened. Its shares are sharply lower, and other leading banks such as Deutsche Bank (NYSE:DB) are following suit with 4%+ drops in sympathy.
The slide in oil continues, with NYMEX crude (NYSEARCA:USO) hitting $42.50 this morning. Forget $50/barrel, even $45 is starting to fade from view. The divergence between crude and other things it affects, such as high-yield debt and energy stocks, continues to build. At some point the market will care, but for now, the summer bliss continues and speculators can ignore this concern.
To the extent there is anything going on of note, it's mostly been in corporate earnings. This week is an especially busy one, and we'll have a good sense of how the overall earnings picture looks for this quarter by the end of the week.
Biotech: Kadmon IPO Raises Eyebrows
This author has been turning slightly less bearish on biotech (NYSEARCA:XBI) in recent months. I still believe the 2011-15 run in the sector was a bubble that has popped and that valuations aren't going back to the peak anytime soon.
However, the sector has held up relatively well since the February lows, and if the biotechs can get past the election without making new lows, there is a possibility that things will become more constructive heading into 2017. I covered my biotech short last month and am not actively betting on downside at least for the time being.
That said, there are still signs for concern. The recent crop of biotech IPOs has not been especially impressive; there're way too many very early stage companies going public that should probably stay private. Some of the entities IPOing now are so early along in the clinical development progression that it will be exceedingly difficult for investors to experience good returns. Dilution of the equity will weigh heavily even in the event their early-stage drug prospects do find any success.
And apart from that, we've got another seemingly even lower-quality IPO coming now. Kadmon Holdings (Pending:KDMN) is expected to go public this week. A scathing article about the company includes this bit:
"It doesn't make much sense to me," said one longtime biotech investor who has steered clear of the company. "Are there really enough suckers out there?"
Kadmon is a heavily-indebted company formerly run by ex-ImClone CEO Sam Waksal. Waksal was hit with various felony charges after he illegally attempted to dump his own ImClone shares ahead of negative news from the FDA, and he warned friends to do so as well.
Since Sam Waksal is not allowed to lead a public company, the reins have been turned over to his brother, who had a run-in with the law of his own. According to the article linked to above, Harlan Waksal, the CEO and brother of Sam, was found in the Ft. Lauderdale airport years ago with a kilo of cocaine on his person. Harlan described that incident as a "dramatic mistake in judgment."
Xconomy, in an article about Kadmon, describes the "unusual terms" of Kadmon's IPO that will benefit the Waksal family and the company's debtholders rather than equity investors. The company requires that debt since, incredibly enough, it already has more than half a billion dollars of accumulated losses. Putting two and two together, it seems a rather valid question why investors are willing to assign a near billion-dollar valuation to this company indeed. One could even describe it as a "dramatic mistake in judgment."
As for biotech more broadly, I see some positive signs and I want to be more bullish, but developments such as this give me pause. For a sector to bottom and start to rebound, the new IPOs pipeline should completely close, or at the very minimum limit itself to only the highest-quality new firms. A company like Kadmon with questionable prospects that attract fame mostly due to having founders with notorious track records hardly bodes well.
Gilead: Starting To See A Pattern Here
Gilead (NASDAQ:GILD) put out another set of lousy quarterly results. The trend continues to build upon last quarter's similarly lackluster report.
Revenues were down 6% and earnings tanked by more than 20%. These results supposedly were ahead of expectations, but that was mostly sandbagging. The stock sold off to a considerable degree in the after-hours session; people had clearly wanted more.
There was a lot of references to non-GAAP metrics that made the results slightly more palatable, but those are often discussed with an intent to obfuscate. Make no mistake, this is a business that peaked last year and is now suffering a significant decline.
My article Profit From The Pharma Craze: Sell Gilead, Buy Taro noted the dangers that Gilead faced going forward 13 months ago. Even at that point, it was clear that Gilead's growth engine had run out of steam, and earnings would likely be, at best, flat going forward.
The Gilead bulls responded loudly that the stock would hit $160 by year-end as earnings continued to grow and the company made transformative acquisitions with its growing cash hoard. Even if that failed, the share buyback and dividend would convince more investors to get long GILD shares.
Here is the key lesson from the Gilead saga. A lot of investors, particularly of the DGI mindset, looked at Gilead's past results and figured the stock was a sure thing. How many times can you buy stocks that have exploded in value recently at a 10 or lower P/E? The stock had great past performance indeed.
But a careful review of the company's situation as early as June 2015 showed that earnings would be at best flat for a three-year period going forward. And, in fact, that was too optimistic. With pricing pressure hitting the firm hard, earnings are now swiftly declining rather than smoothly plateauing.
As Gilead shares flattened out last fall, the bulls reined in their enthusiasm, but still suggested the stock was way too "cheap" based on the now reduced 8 P/E ratio, along with the buyback, dividend and possible acquisitions.
But it simply wasn't the case. Wall Street is a forward-looking institution; it knows past results don't pay the bills. Gilead's forward prospects were murky; an 8 P/E ratio can in fact be the correct price if there's a good chance earnings are about to plunge.
And boy, did they ever? Flagship drug Harvoni saw revenues skid by 29% year over year this quarter, or fall by more than $1 billion for the quarter in dollar terms. Gilead would need to launch another blockbuster drug just to replace the losses in Harvoni so far - if Harvoni continues its gigantic slide, Gilead would have to pull several big successes out of the pipeline just to offset Harvoni and keep the company's overall revenues flat.
At the new earnings rate of about $2.50/quarter, Gilead's run-rate P/E has moved up from 7 to 9 as of late. And it's done that entirely from falling earnings; the share price has been stuck in the 80s for awhile now.
The company also cut 2016 guidance, suggesting the slowdown will continue. I've been baffled over the past year by the great and persistent love for Gilead, a company that had an unusually strong five-year period based on a hit line of drugs that peaked a full year ago and is now in clear decline: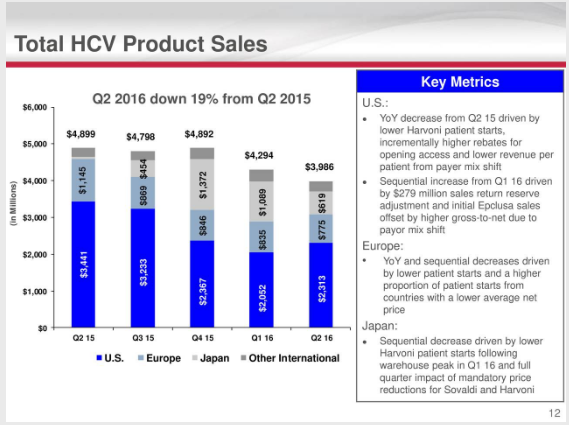 Notice that inside of that span, the Japanese market launched, grew, peaked and has now declined 50% in size without ever helping overall HCV revenues to reach a new peak. The hope is now for "other international" such as China to come through, but based on the past, you can see that sales drop off very quickly once the first wave of patients gets access.
As investors, we must look past the initial story and see the bigger picture. The market is often inefficient, but it's rarely completely out to lunch. If a gigantic company covered by dozens of analysts is trading at a 7 P/E ratio, there's probably a good reason for that. As the latest earnings release shows, P/E will only serve to support a stock price if earnings are stable or rising. If earnings are dropping, the P/E ratio can dip very low indeed as people discount a darkening future.
If you are investing in a company that has had strong past results, it is imperative that you examine the company's business platform and see if those results were more of a fluke or something that can be sustained. If you forego this step of the investment process, you end up buying stocks like Gilead at $120 last year. This - at best - ties up your capital for long stretches without making significant gains as the market rerates the stock lower.
I've previously said that $90 is probably a fair value for the company. At that price, risk and reward are in good alignment. The company is generating an enviable amount of free cash flow, however the coming years will be less plentiful than the past ones were.
If the company deploys that capital well, it can be a great investment going forward. If the company merely buys back stock (recently at prices well above where it trades now) and pays dividends, returns are likely to be lackluster. And acquisitions are a wildcard, they could hit another home run, miss entirely, or achieve various possibilities within that spectrum.
Investing in biotech is a different game from what you get with most dividend growth stocks. You never have a long-run moat (due to patent cliffs), and your results are greatly determined by management's talents. A bunch of hacks could still run a firm like PepsiCo (NYSE:PEP) for many years without destroying it entirely; the same is definitely not true in biotech.
Disclosure: I/we have no positions in any stocks mentioned, and no plans to initiate any positions within the next 72 hours.
I wrote this article myself, and it expresses my own opinions. I am not receiving compensation for it (other than from Seeking Alpha). I have no business relationship with any company whose stock is mentioned in this article.
Editor's Note: This article discusses one or more securities that do not trade on a major U.S. exchange. Please be aware of the risks associated with these stocks.