Existing Home Sales in the US housing market are gradually increasing, which creates a favorable atmosphere for some growth in property prices, as this combination reflects a demand increase. However, the economic activity growth in the US construction industry, in my opinion, will create a negative impact on real estate prices soon.
It is noteworthy the value of the indicator New Privately-Owned Housing Units Completed: Total, which reflects a number of completed houses, reached a record high in June 2016. First, it indicates that the amount of property for sale will increase compared with previous months.
Likewise, the value of the average length of time from start to completion of new privately owned residential buildings indicate that housing corporations will need 5 to 6 months for a construction for sale.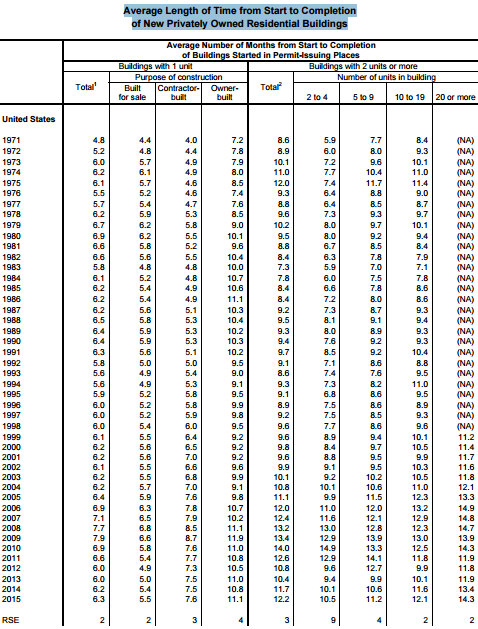 (Source: census.gov)
But the data of US Housing Starts for the February 2016 are the same as for June 2015 and are at the record level. In conjunction, these two indicators point out that the July's value of existing home sales is more likely to be significantly reduced compared to previous months. The drop in existing home sales in November 2015 following a record high of US housing starts in June 2015 increases the likelihood of the above outcome.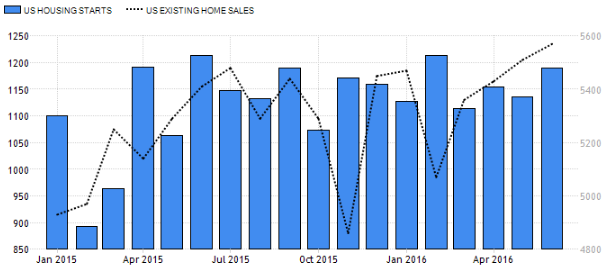 (Source: tradingeconomics)
Moreover, the growth rate in demand for the US residential properties does not show signs of acceleration, which, in my opinion, will put additional pressure on the US housing prices.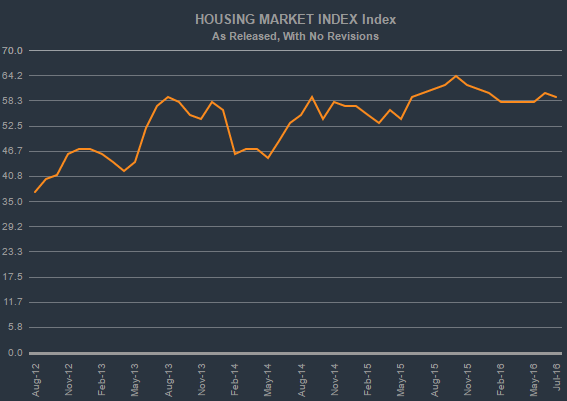 (Source: b-us.econoday)
Conclusion
Thus, the aggregate of the above facts indicates the US housing market will experience the imbalance of supply and demand during Q3 2016. I think the increased supply in conjunction with the stagnating demand will lead to lower prices for the US residential real estate. Therefore, I believe that investments in the US housing market, through REM, REZ, and PSR will be irrational during Q3 2016.
Disclosure: I/we have no positions in any stocks mentioned, and no plans to initiate any positions within the next 72 hours.
I wrote this article myself, and it expresses my own opinions. I am not receiving compensation for it (other than from Seeking Alpha). I have no business relationship with any company whose stock is mentioned in this article.