Dear Pandora Bears,
I hope this note finds you in a limbo, but with an open mind - just before you go short or close your long position in Pandora (NYSE:P) fearing that it will go to $6/share.
I know Pandora's stock price looks bad. Its stock price has declined by ~65% from its 2014 highs. Its near-term upward momentum heavily hinges on an M&A activity, its net income growth potential is questionable and a downside trend is possible.
To make matters worse, by now you must have heard about Pandora's downgrade from Pacific Crest from sector weight to underweight. You must have read about their argument stating that an acquisition of Pandora is unlikely due to Pandora's "business model and declining future profit potential."
"Pandora is burning a significant amount of cash and the challenges to its business model do not appear changeable through scale or a change of ownership," they wrote.
You should also have realized that this call has an implied 50% downside risk with a 12-month average stock price for Pandora of $6/share.
You could also have read and disagreed with bullish articles on Pandora's recent quarter. You could also have seen some of the comments condemning the author for suggesting that this was a good quarter:
To much competition, Spotify being one is taking subscribers from P. I would be careful investing into P.

"loosing almost one million dollars a day and the author calls it a good quarter !!!"
Investment??? for 16 years?? Pandora is a money losing machine.
BTW..they lost another $877,000.00 today.
Maybe you made a comment or liked one bearish comment. I will not be surprised if I'm equally criticized but I just hope you hear me out first.
An acquisition premium is on the horizon
Pandora Media's stock price spiked nearly 6% after a report said that it hired an advisory firm about strategic options that may include a sale. Pandora is reported to have hired Centerview Partners to run a sales process on its behalf. This is not a guarantee for anything and it might drag on for months before anything comes to fruition.
But there are so many reasons and growing pressure for Pandora to quickly explore strategic options. This growing pressure is coming from multiple fronts is making an acquisition more likely.
There is the Corvex effect
First, two months ago the activist firm Corvex Management LP disclosed a 9.95% (including cash-settled swaps) stake in Pandora Inc., expressing concern about Pandora's falling stock price and calling for the Internet radio company to consider a sale.
"Despite its many strengths, the company has been unable to date to translate its great product into a great business with an attractive public market valuation," Corvex said in a letter included in a regulatory filing.
Being the largest shareholder in Pandora, Corvex has an incredible influence to push for a sale of Pandora. Making an acquisition possible.
Pandora is single and looking
Do not miss out on an acquisition premium. There is high likelihood that Pandora can be acquired at a price from $15/share to $20/share.
Pandora has potential to surge by 22% to 63% through an acquisition premium. If you look at where Pandora's stock price has come from, you will realize that Pandora's average stock price in the last five years is $19.78/share.
(Source: Authors analysis with data derived from Nasdaq - Pandora Media Historical Stock Price)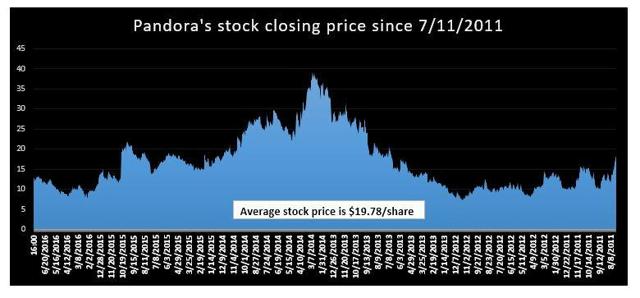 Click to enlarge
The $19.78/share average stock price justifies the decision by Pandora's board to reject the $15/share offer from Liberty Media Group (NASDAQ:LMCA). Recently, Pandora rejected a $15/share (or 22% premium) buyout offer from Liberty because its board believes that the company should be valued at ~$20/share.
This implies that Pandora was not trying to refuse negotiations. The board is only attempting to attract more buyers or to get a fair premium relative to the stock's current trading price.
And based on its $19.78/share five-year average historical stock price, the board's $22/share offer is actually a bargain. Any strategic buyer that has a constructive plan to unleash untapped potential in Pandora will realize this opportunity.
Pandora has not even started to realize its full potential - unexplored markets and unoptimized customer base
Pandora has not even fully realized its potential. It has a profitable core business and a decent balance sheet. According to Pandora, there is still a $128 billion international market opportunity to be tapped into from 2018 onwards. In addition, Pandora is still in its infancy in the $73 billion U.S. market, representing tremendous growth opportunities for the company moving forward.
(Source: Pandora's Investor Presentations Q1CY16)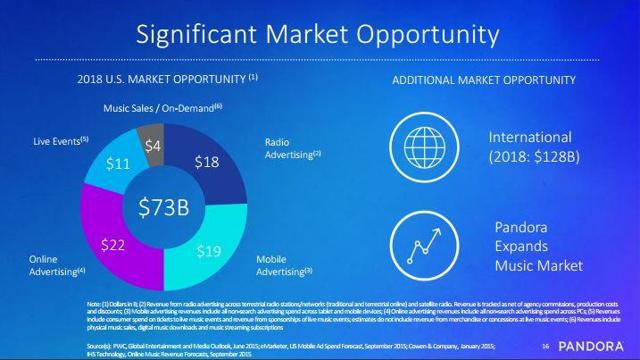 Click to enlarge
Any potential suitor who understands the massive potential ahead for the company, especially if combined with a company that gives it scale, will be able to deliver significant long-term value for shareholders.
Furthermore, Pandora also expanded into a new business with the purchase of ticketing and digital marketing company Ticketfly for ~$450 million. In the grand scheme of things, $450 million might not seem like a lot of money but Pandora is a $3 billion company, and $450 million is 15% of its entire market capitalization. That means Ticketfly can be a great spinoff or a potential new growth area down the line.
Accretive target for Liberty - Scale and Mobile
This is why Liberty Media Group is a good candidate. Liberty Media controls Pandora's biggest competitor Spotify. Pandora and Spotify have a combined 85% market share of total U.S. music streaming hours. Having control of both companies allows Liberty Media to explore options on how to leverage the two platforms' ability to enable people to stay on their platforms for a long time.
(Source: Pandora's Investor Presentations Q1CY16)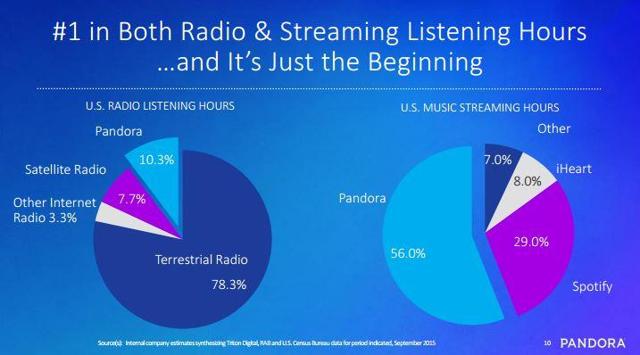 Click to enlarge
Liberty Media Group also controls satellite radio service Sirius XM Holdings (NASDAQ:SIRI). Liberty has the scale and capital to accelerate Pandora's five-year plan to quadruple annual sales to $4 billion by 2020. An acquisition would be a mutually beneficial deal for both parties down the line.
This is why a deal is optimal. Pandora was reported to have hired Morgan Stanley to explore a sale of the company (Morgan Stanley also advised the company on its IPO) and that relationship is still ongoing according to Bloomberg.
Thus, engaging an independent investment bank with a fresh perspective means that there is a potential divide within the firm on the future direction of the company. But whatever the outcome, it is likely to be the most optimal way to maximize shareholder value in Pandora.
Pandora also has a mobile advantage.
Its breakthrough in mobile is amazing. Pandora ranks as having the highest average number of mobile hours spent per user. Mobile users spend an average of 21.3 hours per mobile user per month relative to 13.6 hours per mobile user per month for Facebook.
(Source: Pandora's Investor Presentations Q1CY16)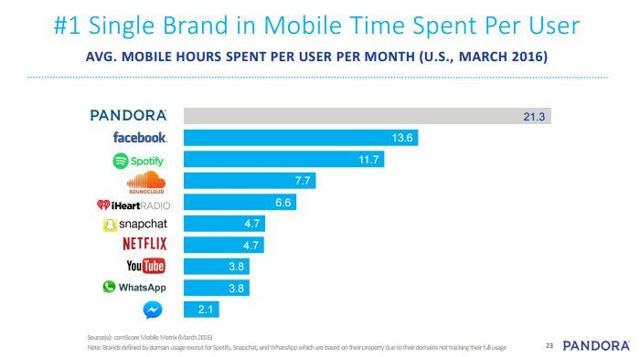 Click to enlarge
As everyone becomes more and more glued to their smartphones, the ability to attract users via mobile is invaluable. The potential to monetize this ability is of enormous value to any buyer who understands that mobile is the future.
Pandora has a board that is open-minded and willing to consider all strategic options
When Corvex first started to increase its position in Pandora, it planned to nominate three board members to advance its agenda. But after talks with Pandora's current Chairman Jim Feuille and former CEO Brian McAndrews, Corvex decided not to nominate any board members because of Pandora's board "openness to considering all paths to enhance shareholder value."
Back in March, Corvex called for Pandora to hire a new bank and seek out any number of buyers. Bringing Centerview into the picture might imply that Pandora is listening to the activist fund. Pandora has started to take the acquisition seriously.
Conclusion
So you see, even though things might look gloomy, it is such a huge risk to short Pandora or close a position now. There is credible evidence pointing to a potential acquisition premium to come.
But do not take my word for it. A Thomson survey of 28 brokers via Yahoo Finance shows different potential stock price ranges for Pandora. It has a low price target of $10/share or 23% downside, mean price target of $14.33 or 10% upside and a high price target of $19/share or 46% upside. Meaning that 28 brokers generally believe that the downside risk for Pandora is low compared to the potential upward potential.
Pandora has great sales growth but bad cost management - its problem is manageable.
Also, do not overlook the tremendous cost synergies an acquisition could unleash. Pandora's sales have been growing at an impressive rate (60% y/y), just 4% more than the growth rate for its total operating expenses as shown below.
(Source: Authors analysis with data derived from Morningstar)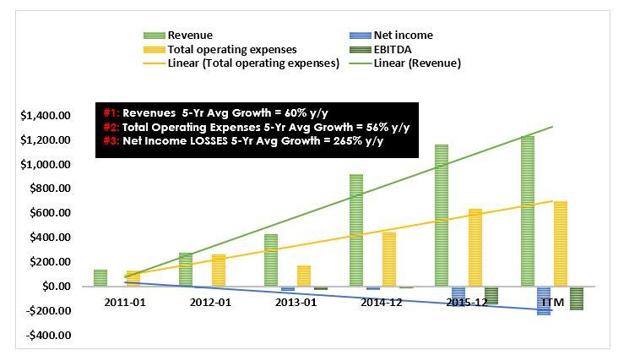 Click to enlarge
This shows that Pandora does not have a sales problem but a cost problem. Notice that negative net income (losses) has grown at a five-year average of 265% y/y. Meaning that if Pandora can better manage its cost structure and realize more of its sales, the potential for margin growth is huge. Making $20/share an attractive offer and Pandora a very accretive acquisition target.
Disclosure: I/we have no positions in any stocks mentioned, and no plans to initiate any positions within the next 72 hours.
I wrote this article myself, and it expresses my own opinions. I am not receiving compensation for it (other than from Seeking Alpha). I have no business relationship with any company whose stock is mentioned in this article.