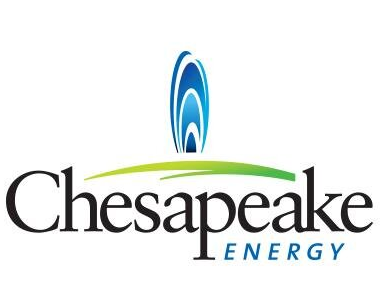 When I disclosed I was short Chesapeake Energy (CHK) on April 13th, I received a mixed response from Seeking Alpha readers. Seeing someone short the stock you own immediately gets investors hackles up.
"No way I would be short CHK," said one commentator.
"Double bull is way to go with CHK no hedges, shorts or puts needed," said another.
But the point of the article "Chesapeake Preferred Stock Asks: Why Don't You Love Me?" was that I was also long the preferred convertible preferred stock CHKDG. Trading a volatile stock like CHK has huge risks. Hedges and arbitrages allow investors to gain from the volatility by minimizing the risk.
Going "double bull" on April 13 could have cost you dearly, with a potential drawdown of over 40% by mid May. Going short also had its perils; as I said in the bullet points, my short had a drawdown of over 20%. There is danger on both sides, but my overall position had a drawdown of less than 2%.
The Trade
The trade was constructed around Chesapeake Energy Corp.'s 5.00% Cumulative Convertible Preferred Stock (CHKDG). This stock has a suspended cumulative dividend of $5 yearly, a par value of $100 and a conversion ratio of 2.7669 shares of CHK (the preferred shares are convertible any time at the holder's option into 2.7669 common shares of CHK).
The premise was that CHKDG "is never supposed to trade lower than its conversion value, because this will result in an obvious arbitrage. The current conversion value of CHKDG is 2.7679*6.05 (closing price of CHK) = 16.75. The closing price of CHKDG is 21.31. This means that CHKDG currently trades $4.56 above its conversion value."
$4.56 above conversion value does not make CHKDG overvalued, because "buying 100 shares of CHKDG and shorting 277 shares of CHK, theoretically, you are buying the perpetual dividend at this price of $4.56. Here is what happens in five years to your position if CHK trades at $6 or higher: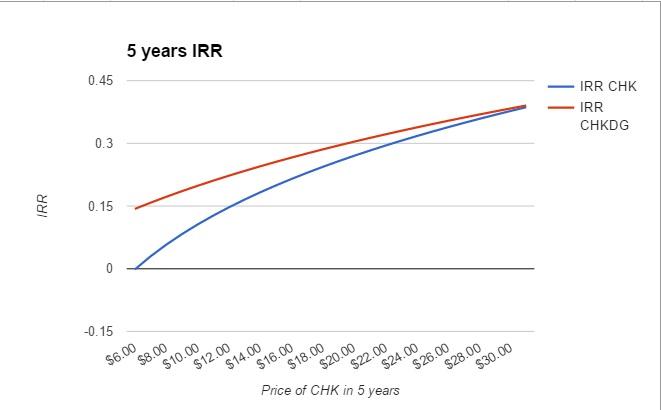 "The model is really simple. We receive the cumulative dividend in the fifth year and both securities pay 0 dividend until the fifth year. Assuming the company survives, this model shows the worst possible scenario for CHKDG, because it assumes that CHKDG has only conversion value after 5 years."
There were a few ways to approach this trade depending on time frame and investment goals. If you were bullish on CHK's long-term survival and on reinstating the dividend, but did not expect CHK common stock to appreciate much, buying 100 shares CHKDG and shorting 277 shares would give you $5 of perpetual dividend for $4.56.
Personally, I was bearish on the common stock, but believed the company would survive -- albeit with lots of dilutions. Therefore, I increased the ratio of the CHK shares: "I managed to buy some CHKDG shares at $20 today and have 5.5 times more shares short in the common stock."
This is how the trade developed: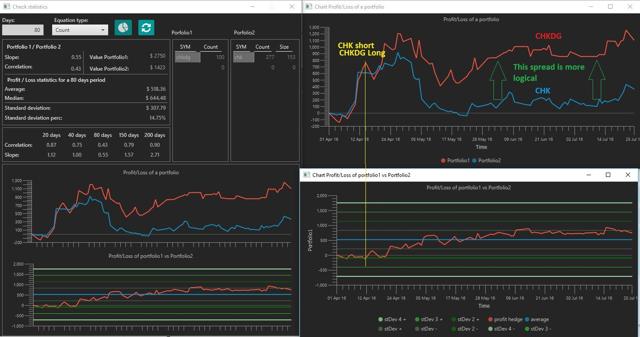 Click to enlarge
Source: Author's software.
Let's look at percentage returns to make the picture clearer: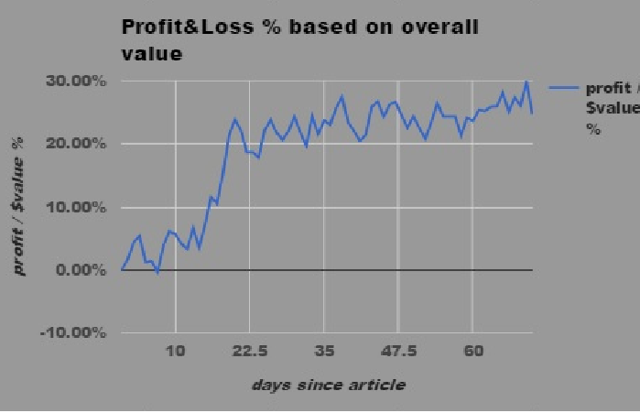 Click to enlarge
Source: Author's software.
The most important consideration to me is risk and potential drawdown. As I said at the start of the article, going long on April 12th would have given a drawdown of 40%. A short on April 12th would have been over 20% down before the reversal. The trade above had practically zero drawdown, and a potential profit of 30%.
The breakdown of the two separate trades is shown below. In fact, CHKDG hardly went negative for me, but I could not have known that at the time and the hedge worked as well as I could have hoped for.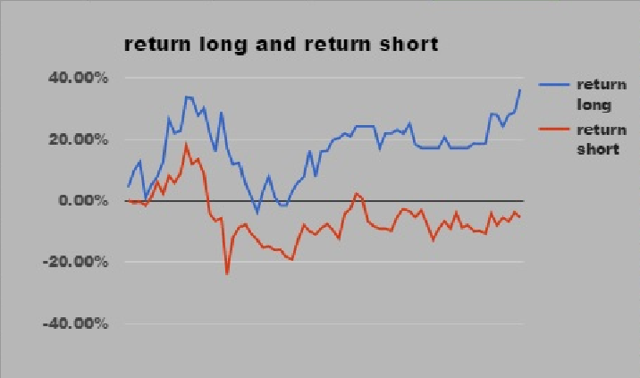 Click to enlarge
Source: Author's software.
When you have a pair trade consisting of a common stock and preferred stock, it would be not fair to calculate your return on the overall dollar value of the two positions. Depending on the ratio of long vs. short, the position might eliminate directional risk at all.
I use a very simple calculation that is return on the naked part of the position. This is something that simply illustrates that this is not a directional trade. It is not the same to buy a stock and make 100% and to have a pair trade and make 100%. The risk in the second trade is much lower, and this trade can be leveraged. Another interesting thing seen on the chart below is that, after awhile, the two stocks move in a range. The arbitrage did not last very long.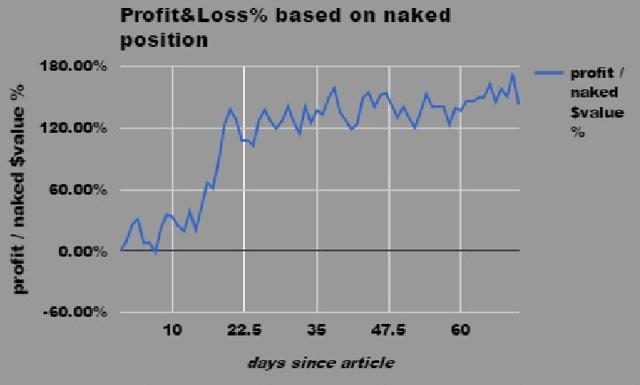 Click to enlarge
Source: Author's software.
Conclusions
Shorting the CHK rally in April was dangerous. Going long CHK in April was dangerous. CHK is a dangerous stock! But there are ways to be involved that don't carry so much risk.
CHKDG was undervalued no matter which way you looked at it. There were various ways to play the inefficiency. I chose the shorter-term bearish trade. I could have traded it better, but I can at least say, "I shorted the April rally and survived to tell the tale."
Disclosure: I/we have no positions in any stocks mentioned, and no plans to initiate any positions within the next 72 hours.
I wrote this article myself, and it expresses my own opinions. I am not receiving compensation for it (other than from Seeking Alpha). I have no business relationship with any company whose stock is mentioned in this article.