Statistical arbitrages do not come along all that often. When Seaspan Corporation (SSW) provided three arbitrages, I was pleasantly surprised. The market gave us a rare gift.
This article revisits the trades and the theory behind them. Volatility will return to the market at some point, and it will create similar opportunities. Reviewing past lessons helps us prepare for the future.
The Trades
The first trade was based on a mispricing of the SSWN 6.375% senior notes. It is a similar concept to the trade I recently reviewed regarding Vanguard Resources (VNR). The notes are senior to SSW's 3 preferred stocks (and, of course, the common stock) and have a maturity date of April 30, 2019. When I wrote the article, the yield to maturity was 10.34%. Compare this with the preferred stocks with no stated maturity:

The above is taken from the original article. The uninitiated might look at the nominal yield and pick the higher 8.25% coupon of SSW-E. This would be a mistake. For starters, the yield to call is nearly 2% lower than SSWN. Plus we must consider risk: A senior note maturing in less than four years vs. a preferred stock that might be a perpetuity is barely comparable in terms of risk.
Instead of going long SSW-E, I actually used this preferred stock to hedge my SSWN long. This is how the trade turned out:
The price spread at the time of the article (Dec. 11, 2015) was SSW-E - SSWN = 24.11-22.2 = 1.91. At one time (Feb. 11, 2016) this spread became 19.90 - 23.25 = -3.35. In trading terms this was a 5-point arbitrage. Here is the chart: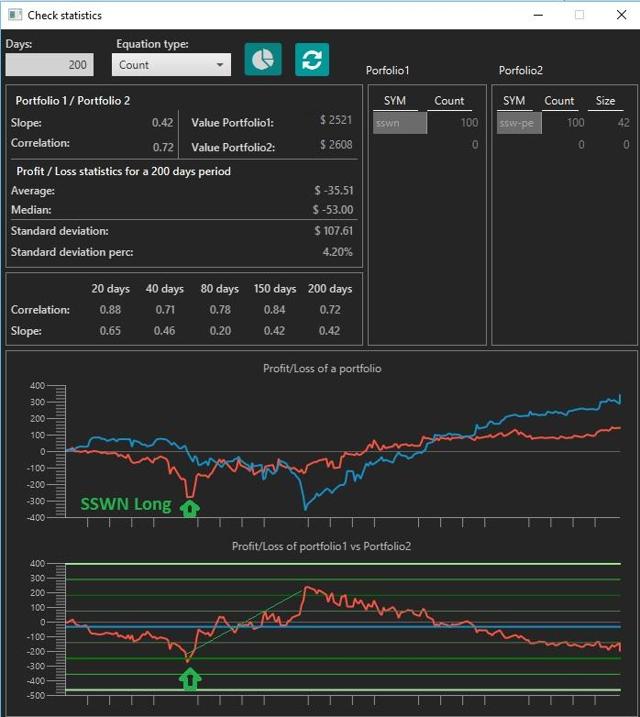 Click to enlarge
The conclusion that has to be made here is that a baby bond should not be the first to lose value vs. the preferred stock. If this happens, and yields to worst are comparable, the bond will always be the better investment at the time.
The second trade focused on the preferred stock SSW-C. It is a good example of why reading the prospectus and doing your research can be worthwhile. I uncovered a failure to redeem clause in the prospectus which made SSW-C a good buy, with the potential to short the common stock as a hedge. Here is what was stated in the prospectus:
(iv) the Series C Preferred Shares are not redeemed in whole by January 30, 2017 (a 'Failure to Redeem'), the dividend rate payable on the Series C Preferred Shares shall increase, subject to aggregate maximum rate per annum of 25% prior to January 30, 2016 and 30% thereafter, to a rate that is 1.25 times the dividend rate payable on the Series C Preferred Shares as of the close of business on the day immediately preceding the Covenant Default, Cross Default, Divided Payment Default or Failure to Redeem, as applicable, and on each subsequent Dividend Payment Date
And I will repeat what I said at the time:
In other words, this means that the preferred stock either gets redeemed by Jan. 30, 2017, or the company admits it has a serious problem, because the rate on the preferred stock will increase drastically. A company in such a situation will do everything possible to redeem the stock because by not doing so, the costs of financing for the whole entity will rise accordingly and the company will probably get a big cut in its credit rating.
One of the reasons I want to review some of this information is so that my readers and followers can spot this kind of opportunity themselves (and hopefully inform the Seeking Alpha community). I cannot read every prospectus and spot every mispricing. I have software to help me, but a well-informed group of traders is a huge edge.
The trade was simply a long of SSW-C. When I bought it, it had a 15% yield to maturity with a one year duration. SSW is a strong company and I decided not to hedge, but it was always an option to short the common stock. The trade was just a simple long near $24 that resulted in $1 profit quite fast.
Later on, the company made a common stock offering to redeem the preferred stock, just as expected. I am more of a trader, so I was out when I made $1 point profit. But anyone who held until redemption made a nice capital gain in such a short period.
The third SSW trade used a mispricing between the two remaining preferred stocks, SSW-E and SSW-D:
SSW-E is simply the better stock to own. The current yield spread is 0.77%. The yield to call is almost 2% better (it is only one consideration, but this be used as a yield to best comparison). The call date on SSW-D is in 1.87 years, and if for some reason SSW-D gets redeemed, you can be sure that the SSW-E will trade at 25 on the logic that it is going to get redeemed as well in the coming year, especially as it's the higher nominal yielder. If this happens, SSW-E's yield to best will be 13% at the call date of SSW-D.
The trade was long SSW-E, hedged with a short in SSW-D. Even if the trade didn't appeal to you, any holder of SSW-D must really switch to the best option. Here is the trade: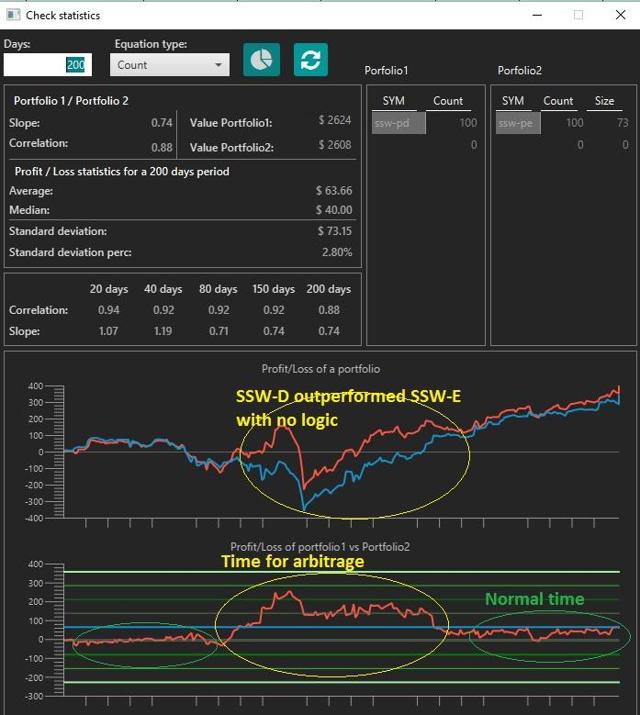 Click to enlarge
source: Author's software.
Volatility in preferred stocks made SSW-D overvalued to SSW-E for around two months. This was the time when any holder of SSW-D had a chance to switch to the better preferred stock. Such abnormal pricing can boost your overall portfolio yield if you are able to find them and switch between alternatives. As an arbitrage trade this was a winner, but a small one as the hard to borrow rate for SSW-D was above 50%.
Conclusion
SSW provided three winning trades, each with a different logic behind it. There will be similar trades out there, but at the moment they are hard to find.
We can learn a lot from previous trades -- both good and bad ones. SSW taught me to look at a family of instruments such as SSW common stock, SSWN, and the preferred stocks in a variety of different ways. There may be more opportunities than first thought.
Disclosure: I/we have no positions in any stocks mentioned, and no plans to initiate any positions within the next 72 hours.
I wrote this article myself, and it expresses my own opinions. I am not receiving compensation for it (other than from Seeking Alpha). I have no business relationship with any company whose stock is mentioned in this article.