The Stock Market Blueprint is building and tracking a shadow stock portfolio for each stock screen available on the site. These portfolios follow strict buy and sell rules and invest based on the qualifying results of the corresponding stock screens.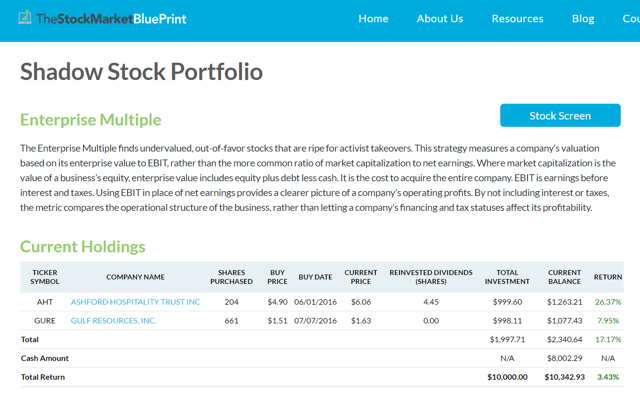 Click to enlarge
The Enterprise Multiple Shadow Stock Portfolio currently owns shares of Ashford Hospitality Trust, Inc. (NYSE:AHT). The stock has made some strong gains since the portfolio initiated a position. Here's a breakdown of how the stock looks today.
Recent Price Movement
Over the past 12 months, shares of AHT have been all over the board. At just over $6.00/share, the stock is currently trading roughly 30% below its 52-week high and nearly 50% above its 52-week low.
With all the instability surrounding AHT's market valuation, how can individual investors know whether the stock is a good investment? Although volatility appears to be inevitable, the company's financial statements indicate it's an attractive long-term investment.
Company Description
AHT is a real estate investment trust (REIT) which focuses on the high-end hospitality industry. Its portfolio consists mostly of upscale hotels; Marriott and Hilton make up the majority of its branded hotels. According to the company's website, AHT owns 129 properties with over 27,000 rooms.
Here's an excerpt from the company's website summarizing the investment trust's strategy:
Our strategy is to invest opportunistically in the hospitality industry in upper upscale, full service hotels and at all levels of the capital structure primarily within the United States. We target assets that are anticipated to generate RevPAR below twice the current U.S. average RevPAR for all hotels as determined by Smith Travel Research and which are located predominantly in the United States, although we may seek to acquire assets outside the U.S. that fit our investment criteria.
Enterprise Multiple
According to the Enterprise Multiple stock screen on TheStockMarketBlueprint.com, AHT's current market valuation is so low that it has a negative enterprise value. Enterprise value is calculated as equity plus debt minus cash & cash equivalents. The formula looks like this:
Enterprise Value = Market Capitalization + Total Debt + Minority Interest + Preferred Shares - (Cash + Short-term Investments)
A negative enterprise value means a company has more cash and short-term investments than its market cap, debt and other obligations combined.
In addition to being valued for less than its net liquid assets, AHT has been producing positive operating income for almost seven straight years. It has a trailing twelve month EBIT (earnings before interest and taxes) of $147 million.
With an enterprise value of -$332M and an EBIT of $147M, AHT is trading at an Enterprise Multiple of -2.26 (closing price on 7/25/16).
Out-of-Favor
The obvious question is: why is the stock so cheap? A closer look at AHT's income statement and balance sheet can help shed some light on why the market is valuing the investment trust the way it is.
Financial statements for REITs are a bit more complicated than typical corporations.
On AHT's balance sheet, there is a line item called Real Estate Investment Properties. Per accounting standards, these are technically short-term investments. However, due to the fact that AHT is a REIT, it can be argued that these investments should be considered operating assets.
These equivocal assets total nearly $4.4 billion. Without these investments, the company's cash and short-term investments would be less than $400 million.
Also notable is the fact that most of these investments are funded by loans. It would make sense that using leverage to fund an operating asset should make the interest on those loans an operating expense.
Since these assets are considered investments and not operating assets, AHT's income statement does not factor interest as an operating expense. If it did, the stock's operating income would be in the red.
So after digging into the numbers a little deeper, AHT's Enterprise Multiple of -2.26 doesn't look as enticing as it does on the surface. It's no wonder the price is so cheap.
Good Investment?
Most investors would simply pass over AHT once they realized the numbers are not exactly what they appear to be. Doing so would be making a mistake. Just because the accounting is a little ambiguous, doesn't mean the assets and revenues are worthless.
The fact remains that AHT's market cap plus debt and other obligations are less than its net assets. That's dirt cheap.
Additionally, after maintaining or raising its dividend every quarter since 2011, it currently has a dividend yield of roughly 8%.
Shadow Stock Portfolio
Since purchasing AHT on June 1, 2016, the Enterprise Multiple Shadow Stock Portfolio is up close to 25% on the investment.
Knowing that most human investors would pass on AHT, it'll be interesting to track the Shadow Stock Portfolio and see how it continues to perform.
Disclosure: I/we have no positions in any stocks mentioned, and no plans to initiate any positions within the next 72 hours.
I wrote this article myself, and it expresses my own opinions. I am not receiving compensation for it (other than from Seeking Alpha). I have no business relationship with any company whose stock is mentioned in this article.
Additional disclosure: I am the founder of TheStockMarketBlueprint.com.