BlackBerry Ltd. (NASDAQ: BBRY) is outperforming the broader market today as it announced the launch of its second Android-powered smartphone, DTEK50, priced at US$299.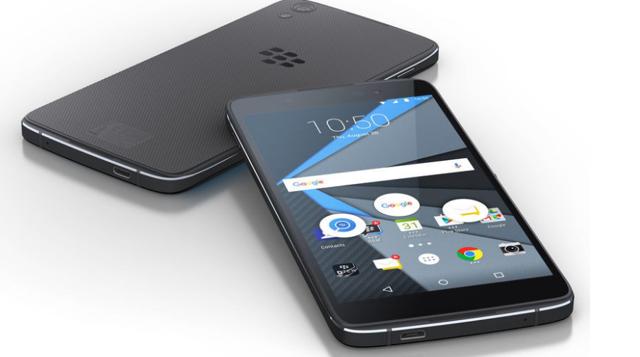 Click to enlarge
The stock is up roughly 2 percent at the time of writing this article, extending the gains post the breakout from a downward sloping resistance. Shorts must consider covering now.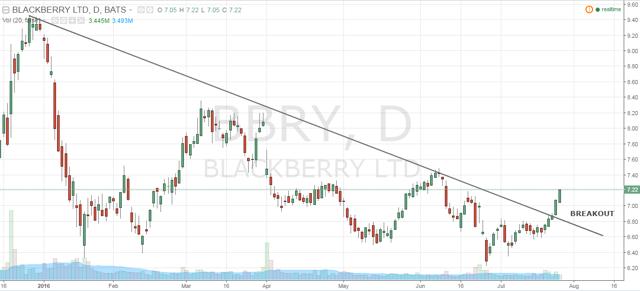 Click to enlarge
Source: TradingView
From the daily BlackBerry price chart above, it can be seen that the stock registered a breakout yesterday, possibly expecting the announcement of the new phone. Positive reviews of the smartphone might help the stock even further up. Technically, BlackBerry should at least test $8 in the coming sessions. If it fails to do so, then it would be an indication that the market expects the Android smartphone to perform poorly.
BlackBerry is marketing the new handset as the most secure Android smartphone with the best camera in the market. The company has done away with the physical keyboard this time. The phone will have a 5.2-inch full HD display, supports 2TB memory card (this is mighty impressive!), has Android 6.0 Marshmallow, 13MP rear camera and 8MP front camera. It measures just 7.4mm thin, 147mm long and 72.5mm wide making it the thinnest BlackBerry smartphone ever. It houses a 2610 mAh battery, 3GB RAM, and a Qualcomm 8952 octa-core processor.
The company is aiming to stem the declining trend in its hardware segment with another Android offering. It expects the low price and a host of security features such as Smudge Resistance, Privacy controls, Full Disk Encryption and ongoing security patches to act as triggers for mass adoption in times when consumers are becoming enormously conscious about their privacy and data. The phone is targeted at mid-level consumers, but another smartphone probably priced around $350 will be launched before September.
DTEK50 also features a convenience key on the right side. A single press of this key opens to the users the most frequently used apps, thereby saving them time.
DTEK50 packs several features for its price. The initial response to this offering may be good, but maintaining the sales momentum would be the key to success. The sales number in the upcoming weeks will tell if the world still cares for BlackBerry's handsets or not. Would you buy DTEK50?
Disclosure: I/we have no positions in any stocks mentioned, and no plans to initiate any positions within the next 72 hours.
I wrote this article myself, and it expresses my own opinions. I am not receiving compensation for it (other than from Seeking Alpha). I have no business relationship with any company whose stock is mentioned in this article.
Additional disclosure: This is a breaking news story. This is not a recommendation to buy or sell this stock.