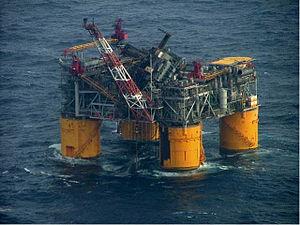 Oil States International (NYSE:OIS) reports Q2 earnings after-hours. Analysts expect revenue of $174.4 million and EPS of -$0.27. The revenue estimate implies a 2.6% increase sequentially. Investors should focus on the following key items.
Earnings Guidance
Oil States' top line has been punished by the decline in oil prices and corresponding E&P. The company provides wellsite services to shale oil plays (26% of revenue) and offshore equipment to deep water drillers. North America land drilling has been the hardest-hit segment of the oilfield services sector. Offshore equipment is now starting to show cracks. Orders for offshore rigs and subsea trees have been hurt by rising costs for deep water development and lower oil prices.
Oil States has experienced revenue declines for five consecutive quarters. Last quarter revenue fell 20% sequentially. If the company can show top line growth in Q2, the stock will likely fly.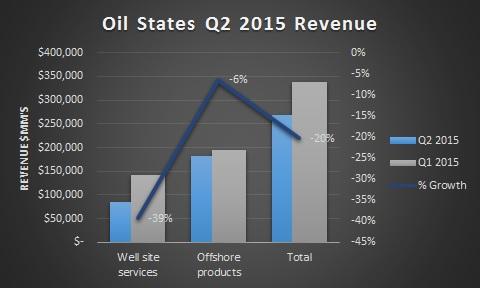 Management's guidance will likely be key. Oil prices have bounced off their January lows, and executives from Halliburton (NYSE:HAL) and Schlumberger (NYSE:SLB) have intimated that North America has bottomed. However, if oil prices re-test $40 or below, then shale plays might face higher operating losses and be forced to pull the reins on further drilling activity.
The Balance Sheet
With over $400 million of working capital and practically no debt, in my opinion, Oil States is better-positioned to survive the oil patch than bigger players like National Oilwell Varco (NYSE:NOV) and Weatherford (NYSE:WFT). As the business has contracted, Oil States has proven to be a cash flow-generating machine. In Q1, it generated free cash flow of about $47 million - something its highly-indebted competitors would be envious of. I expect the same performance in Q2.
Despite Oil States' declining revenue and EBITDA, bulls have been assuaged by its strong balance sheet. Any uptick in E&P could send OIS soaring. That said, despite the prospects for a strong quarter, I expect the company to continue to face headwinds amid a slowing global economy and volatile oil prices.
Disclosure: I am/we are short SLB, WFT, OIS, NOV.
I wrote this article myself, and it expresses my own opinions. I am not receiving compensation for it. I have no business relationship with any company whose stock is mentioned in this article.