I'm not at all surprised that shares of Las Vegas Sands (NYSE:LVS) have gained today (Tuesday) after the company's second quarter earnings report last night. In my opinion, the report wasn't particularly impressive - at least in Asia, as LVS's US operations continue to perform exceedingly well. But it was evident in reviewing the report and listening to the Q2 conference call that the headlines today would reference Sands' disclosure of year-over-year mass market growth in Macau for the month of June, what seems like a notable bit of good news in what has been a gloomy market for two years now.
What I find highly surprising is the gains at peers: Wynn Resorts (NASDAQ:WYNN) and Melco Crown Entertainment (NASDAQ:MPEL) are up 5.5% and 5.3%, respectively, in morning trading. On the Hong Kong markets, Sands China (OTCPK:SCHYY), MGM China (OTCPK:MCHVY), Galaxy Entertainment (OTCPK:GXYEF), Wynn Macau (OTCPK:WYNMY), and SJM Holdings (OTCPK:SJMHF) all traded up at least 4.2% overnight.
Those gains - notably in the case of Galaxy, Melco, and SJM - make little sense from my standpoint. I've long argued that LVS is my favorite of the six major Macau-facing stocks (nine including the Hong Kong- and OTC-listed subsidiaries of Sands, Wynn, and MGM), and Las Vegas Sands' Q2 did little to change that opinion.
But I've also long argued that choosing LVS is damning with faint praise, as optimism toward Macau still seems well ahead of results. Valuations incorporate the benefit from the long-sought but still-unattained 'stabilization' in the market and ignore what should be substantial and fairly obvious risks. From my standpoint, LVS's Q2 supported those arguments, for a number of reasons:
1. The results from Las Vegas Sands should be bearish for its competitors.
Market-wide figures for June already have been released. Gross gaming revenue fell 8.5% year over year, despite the month having the easiest comparison to date. The mass market decline was just 1.1%. In that sense, the June performance isn't really news, implying LVS outperforming the market in mass by a few hundred basis points. From a broader standpoint, if LVS's mass growth in June really is that important, that should read across negatively for peers; by definition, those peers lost share in June.
In this context, the gains at MPEL are particularly perplexing. Melco Crown opened Studio City in October. The bull case then was based on the idea that SC's head start over new projects from Wynn (Wynn Palace), LVS (Parisian), and MGM Resorts International (NYSE:MGM) (MGM Cotai) would allow it to grab share and better position it for a rebound in Macau.
That hasn't happened, and now Melco Crown is facing hugely publicized and highly awaited openings from its two largest (and I'd argue two best) peers. The same is true for SJM and Galaxy. But there's one more point about LVS's June gains: they came in the same mass market that Melco targeted with Studio City. Studio City has no VIP tables; it's a mass only casino. The newest property in the most desirable area (Cotai) is mass-only, and it's already losing share to a competitor who is opening one of the most expensive casinos in the world seven weeks from now. How that is bullish for MPEL simply is beyond me.
2. June was a particularly easy comparison.
This is true for the market as a whole: June 2016 was the first month that compared against two negative months, as the Macau decline began in June 2014. I was surprised investors reacted positively to the -8.5% figure on that front, but it's even more true in the case of LVS. The company specifically called out June 2014 as a very weak month for mass, which it blamed on the World Cup, yet didn't see much benefit the year later, with overall revenue in China down nearly 26% in Q2. If market conditions were stable throughout the quarter, June should have been the best month regardless.
The narrative around Macau has moved towards 'stabilization', with some analysts citing relatively flat absolute monthly figures starting in December. But there's also been, in my opinion, some 'cherry-picking' around the monthly trends. When they increase, seasonality's positive impact is ignored, when they decrease, external impacts (like Euro 2016) are cited. It looks to me - pretty clearly - like this still is a declining market: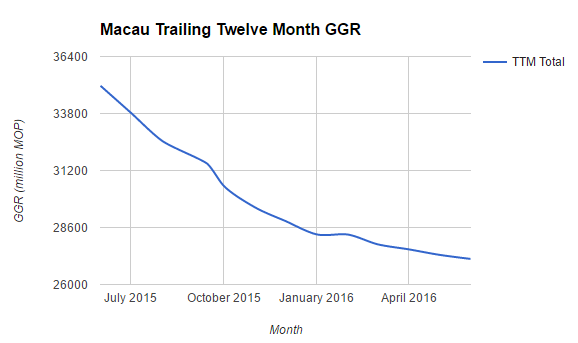 Source: author from Macau DICJ figures
3. It's one month, in one segment (that, oh by the way, still is less than half the market).
Comparisons, seasonality, and soccer tournaments aside, there's now 25 consecutive months of market-wide decline, an economy no one trusts, a one-party government, and massive amounts of supply coming online. Against that, LVS had one month where mass market revenue grew.
I'm aware that the market apparently has decided mass market is the future, and thus, VIP revenues don't matter as much. But VIP baccarat still is over half of the total market, and 'stabilization' in mass market still portends mid single-digit declines going forward as VIP revenues fall plus added margin pressure as bad debt expenses increase and hotel competition heats up. LVS's June is a "data point," as Sheldon Adelson put it on the Q2 call - but it's one of many, and most still look rather bearish to me.
4. Yes, Adelson seemed to call a bottom - but he's done that before.
Adelson basically called June as the "bottom" for LVS (not necessarily the market), but he made similar statements about December and January on the Q4 2015 conference call. In December, he said at a press conference that the market was "at the bottom or near the bottom" and would "turn around in the near future, certainly within 2016."
From a market-wide standpoint, a current bottom requires that the Parisian and Wynn Palace expand the market - something which Studio City didn't do. I'm still far from convinced that the openings are going to provide the growth many seem to expect, and I don't see anything other than Adelson's opinion to change the focus on post-Parisian and post-Palace figures. If they grow, then maybe Macau truly has stabilized. If not, it's 'look out below' for Macau-facing shares.
But again, even assuming that Adelson's opinion implies a greater chance of success for Wynn and LVS seems to read across very poorly to the other four operators. At the very least, there's nothing in the LVS report to suggest a "rising tide lifts all boats" scenario in the near term. In fact...
5. Oversupply concerns seem even more pressing, particularly beyond LVS and WYNN.
Macau at the moment is moving towards a weekend-heavy model, with midweek traffic much more difficult to come by. That's raised questions about exactly what will happen when the new supply of rooms from Wynn and Sands - 4,700 in total, raising market-wide capacity by over 15 percent - comes online.
Sands' hotel numbers actually weren't quite as bad as I feared, and seemed in general a sequential improvement from what I saw as a very poor Q1. But competition already is eroding rates and occupancy, with RevPAR figures down at all four of Sands China's properties: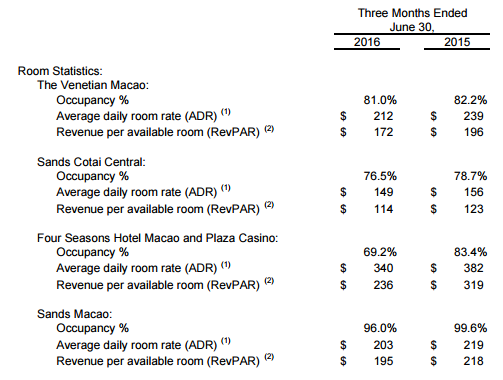 Source: LVS Q2 earnings release
Similar pressures have been seen elsewhere, and it raises the question of what competitors will do - or what they will have to do - to fill rooms once the Parisian and the Wynn Palace open.
Still Worried
All told, I didn't see much in the report to imply any notable improvement in the Macau market as a whole. June figures already have been reported (July numbers should be released next week), so LVS's mass experience in that month doesn't strike me as the wonderfully bullish event many investors perceive it to be.
Relative to LVS's competitors, the quarter looks bearish. We know the market still is reasonably weak, yet the biggest, baddest company in that market is seeing relative strength in mass and premium mass, and it has what certainly will be one of the two best properties in the market (and possibly in the world) opening in seven weeks. I can see how investors would take the quarter as a positive for LVS (even though the headline numbers missed consensus) and I can see it as a lesser plus for WYNN (in which I still have a small short position, possibly out of sheer stubbornness at this point).
But for Melco Crown in particular (where I covered my short too early, above $14), and Galaxy and SJM, I simply can't understand why investors would bid shares up. In terms of market share for those companies, Sands' relative strength looks concerning. In terms of the overall market, there's not enough to think that the bottom is in. If Parisian and Wynn Palace grow the market - but take all of that growth for themselves - its competitors are in a tough spot. MGM (whose valuation is less Macau-weighted than WYNN and LVS to begin with) and SJM at least have new projects opening next year. Galaxy and Melco don't have an answer; as to why their shares are up today, neither do I.
Disclosure: I am/we are short WYNN.
I wrote this article myself, and it expresses my own opinions. I am not receiving compensation for it (other than from Seeking Alpha). I have no business relationship with any company whose stock is mentioned in this article.
Editor's Note: This article covers one or more stocks trading at less than $1 per share and/or with less than a $100 million market cap. Please be aware of the risks associated with these stocks.