Introduction
Polymetal International PLC (OTCPK:AUCOY, OTC:POYYF) (primary ticker in London is POLY) is a gold & silver mining company operating in Russia, Kazakhstan, and Armenia. Polymetal is registered in Jersey and operates out of offices in London and St. Petersburg.
Polymetal is transitioning from a 50/50 gold & silver producer to a primary gold producer. In 2011, 55% of its gold equivalent production was gold, whereas in 2015, 68% of gold equivalent production was from gold (assuming a gold-to-silver ratio of 80). Given the limited mine life of its silver reserves (< 7 years) and its project development plans, gold will likely assume about 80% of the company's production profile by the end of this decade.
I recently completed an extensive review of the 15 largest, publicly traded gold minors ("gold majors") using my methodology for analyzing the cost effectiveness of their operations. The total costs per gold equivalent ("GE") ounce of production metric incorporates all cash costs, including development and expansionary capital expenditures. Here is how these majors ranked for 2015: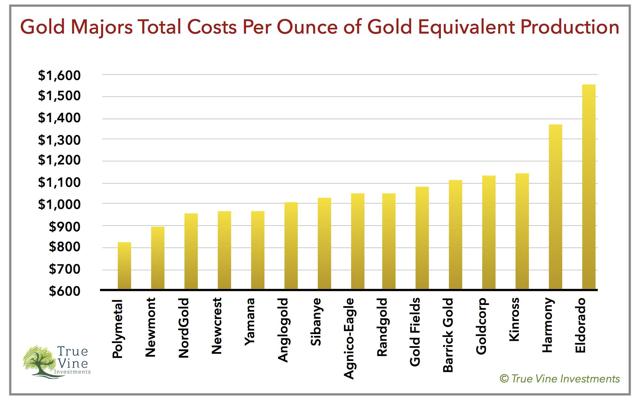 Click to enlarge
(note: GE production for companies who do not report it was calculated using a gold-to-silver ratio of 60.)
As you can see here, Polymetal's total costs of $820 per gold equivalent ounce had them leading the pack. At an average realized gold price of $1,127 in 2015 this yielded free cash flow ("FCF") per gold equivalent ounce of $307 and equated to a FCF margin of 27.6%. This strong FCF generation led Polymetal paying shareholders a dividend of $232 per GE ounce, equating to a yield of 8.2% based on the year end share price.
This article will focus on the sustainability of Polymetal's low cost advantage.
Overview of Key Mining Operations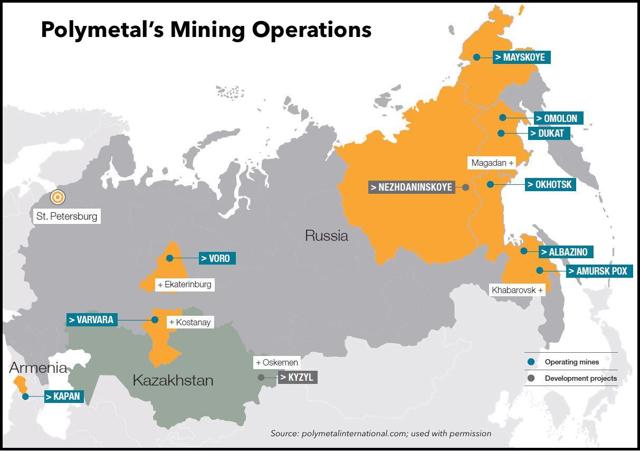 Click to enlarge
Dukat is Polymetal's flagship mine. It is the largest of six mines that comprise the company's Dukat hub in the Magadan Region of the Russian Far East. The company describes it as the third largest silver deposit in the world, but this is not accurate. It may be the third largest primary silver producing mine or third in overall silver production (in 2015), but with only 186 million ounces of proven and probable ("P&P") reserves, it is dwarfed by many other large silver deposits where silver is mined as a by-product or co-product of primary gold or copper operations.
The Dukat hub's contribution to Polymetal's overall revenues declined from 45% in 2005 to 32% in 2015. The following chart reveals the impact that the gold to silver ratio has had on Dukat's revenue contribution: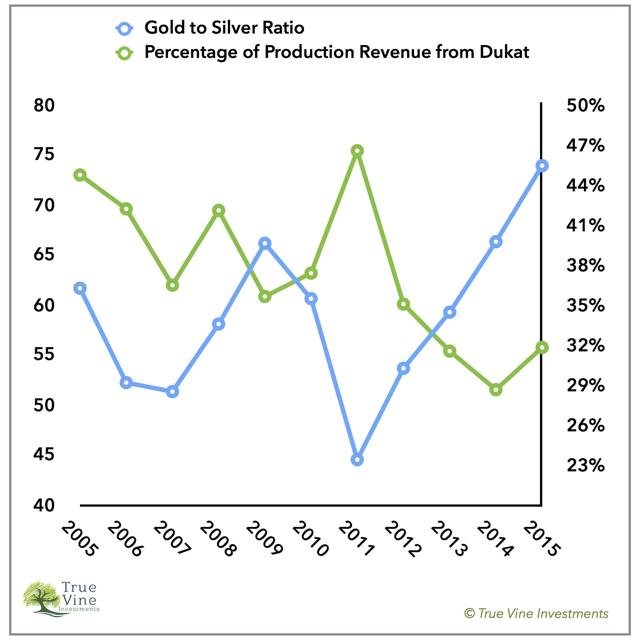 Click to enlarge
Since the breakdown of the Bretton Woods system, the gold to silver ratio has generally ranged between 30 to 80. It averaged 73.9 in 2015, which was near the high end of the range. The following chart shows the history of this ratio over the last 50 years: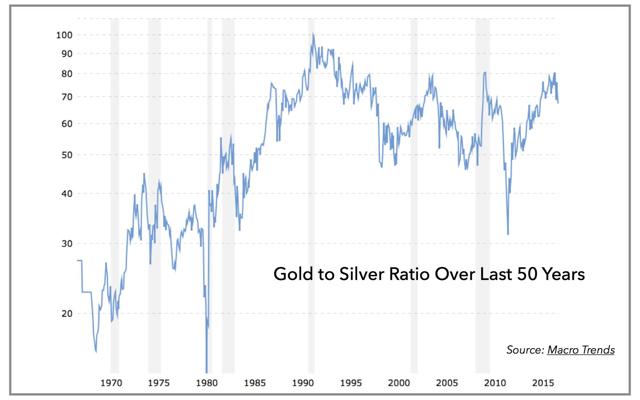 Click to enlarge
As can be seen on this chart, 80 has been a resistance level that has not been breached on an annual basis since the early 1990's. The last three times the ratio has approached 80 it has turned down hard. This bodes well for Polymetal, since a declining gold to silver ratio can potentially boost their revenues without the price of gold going higher. At present, the ratio is around 67 so the company is already benefiting on a year-over-year basis. Based on 2015 production levels, if this ratio were to average 60 on an annual basis, revenues would climb 13.2%, while an average annual ratio of 50 would boost revenues by 17.5%.
However, looking closer at the previous chart, it is important to note that the ratio rose during all the recessionary periods (grey shaded areas) over the last 50 years. This is likely due to the fact that silver has been more of an industrial metal than gold over this 50 year period. Economic downturns pressure silver's industrial demand. This is an important distinction. Even though the present trend appears to favor a lower gold to silver ratio, a global economic downturn could cause this ratio to continue to trend higher, which has been the longer term trend since 2011.
The following table shows the breakdown of Polymetal's gold equivalent production in 2015 and the importance of Dukat's low cost contribution: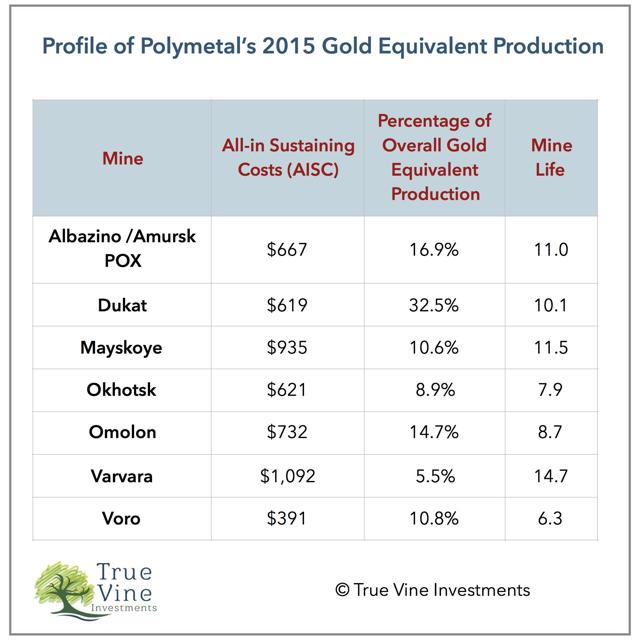 Click to enlarge
Dukat's gold equivalent All-in Sustaining Costs (AISC) of $619 per ounce were 32% below the 2015 average of $908 for the 15 largest gold majors (excluding Randgold which did not report AISC). The mine's silver equivalent AISC in 2015 were $7.80 per ounce, which was exactly half of the $15.70 average silver price.
On the surface, investors may look at Dukat's cost advantages and attribute them solely to the declining ruble, which fell from 38.1 against the U.S. dollar in 2014 to 61 in 2015. However, Dukat has historically had stronger margins, even when the ruble was much stronger. The following chart reveals this: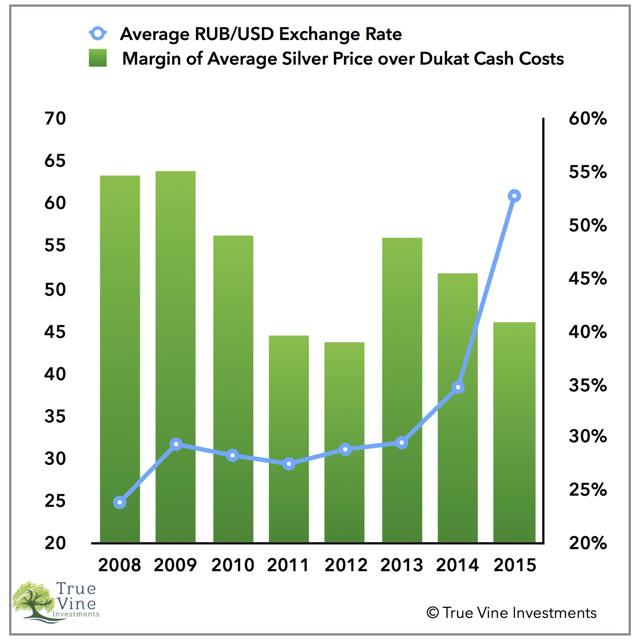 Click to enlarge
From 2008 to 2010, when the average silver price was $15 (2008), $14.7 (2009), and $20.2 (2010)-similar to the current price environment-the margin of the average silver price over Dukat's cash costs averaged 53%. Yet, even with a plunging ruble, this margin was only 41% in 2015.
What is the explanation for Dukat's declining margins? I think the following chart holds the key: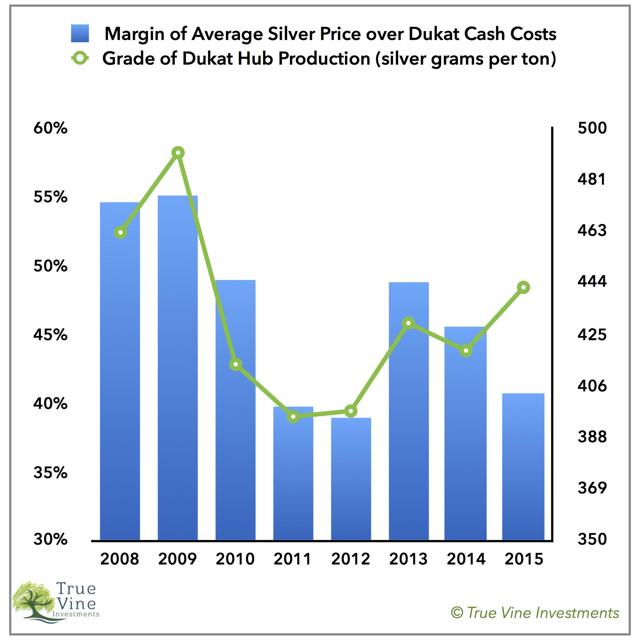 Click to enlarge
Most of the silver processed by the Dukat hub comes from the Dukat mine. A decade ago, the grade of the mine's 226.5 million ounces of P&P reserves was 561 grams of silver per ton (g/t). At the end of 2015, the grade of the mine's remaining 129.5 million ounces of silver was down to 367 silver g/t. The previous chart reveals how the margins coming out of the Dukat hub have declined along with the drop in grade. In recent years, as the price of silver has come down sharply, Polymetal appears to be "high grading" the mine to maintain margins. 2015 production came in at 442 silver g/t, despite the fact that the combined grade of all the mines in the hub is roughly 20% lower. Management may be targeting the richest veins in these underground mines to enhance margins.
Dukat's silver equivalent cash costs have historically had a very strong inverse relationship with the richness of silver in the ore being mined. The following chart reveals this relationship: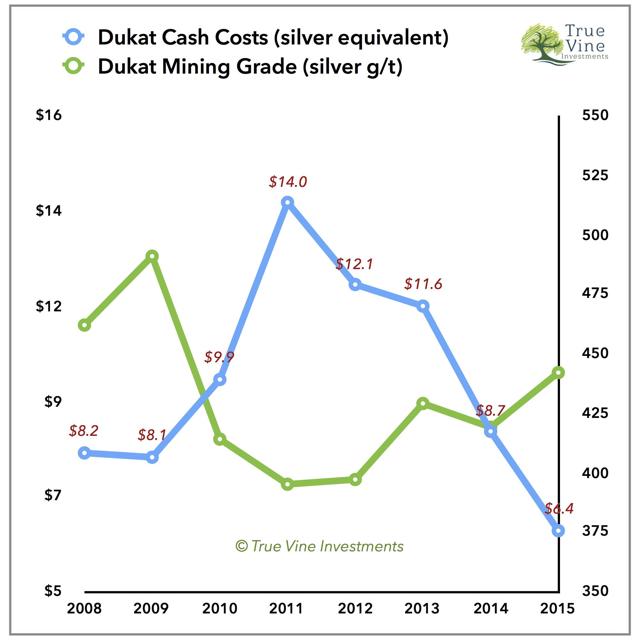 Click to enlarge
The significance of this potential high grading at Dukat is important for investors to grasp, because the Dukat mine has an estimated remaining mine life of only about 6.5 years, based on current production levels. We should expect to see declining production grades and lower margins (higher costs) coming out of the Dukat hub in the near future.
Sure enough, Polymetal's Q2 2016 production report reveals that Dukat's production grade declined by 20% on a y-o-y basis during the 1st half of 2016. The grade of the ore mined during the 1st half of 2016 was 368 g/t (356 g/t during the 1st quarter). Furthermore, 12% more ore was mined during the 1st half of 2016 and silver production still declined by 8%. This is how the lower grade leads to higher cash costs, as more ore has to be extracted to produce less silver. The company has yet to report any cost figures for 2016. I would expect to see higher cash costs from the Dukat hub when they release their 1st half 2016 financials in late August.
Considering the importance of the Dukat hub's contribution to Polymetal's overall revenue and structural low cost advantages, this could have a surprisingly negative impact over the next few years as the company transitions the majority of its production to other hubs.
Polymetal Financial Forecast
I recently published a forecast for gold prices through 2019, where I predicted that prices will continue to decline for a couple more years due to deteriorating supply and demand fundamentals. Alongside of my expectations for a slow rise in oil prices, before an acceleration higher after 2018, Polymetal will be facing significant revenue and cost headwinds. The low cost leadership of Polymetal and other miners operating in Russia will prove fleeting as the cost tailwinds from a depreciating ruble become headwinds.
Without accounting for higher costs at Dukat, here is how I see some of the key financial variables for Polymetal playing out over the remainder of the decade: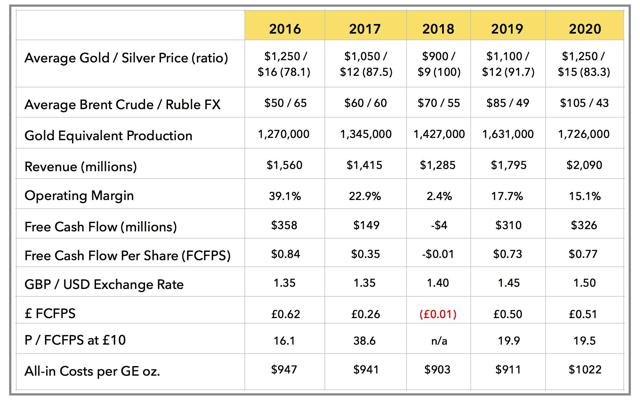 Click to enlarge
These projections assume a higher gold to silver ratio, due to recessionary impacts on silver's industrial demand, and slightly lower production than forecast due to additional cutbacks resulting from a lower price environment. My brent crude and ruble forecast is taken directly from what I am currently using to forecast LUKOIL's (OTCPK:LUKOY) financials.
Conclusion
At around £10 per share, Polymetal is priced at about 16 times my estimated 2016 FCF. The critical variable here is the gold price. At present, market enthusiasm for gold miners is high and the consensus view seems to be that gold has bottomed. This is evidenced by the popular VanEck Vectors Gold Miners ETF (NYSEARCA:GDX) is currently trading for 67 times last 12 month earnings. I disagree and I look for the stock to close in on, and probably take out, its all time low over the next few years.
Important Regulatory Disclosure
I am an investment adviser and owner of True Vine Investments, a Registered Investment Advisor in the State of Pennsylvania (U.S.A.). I screen electronic communications from prospective clients in other states to ensure that I do not communicate directly with any prospect in another state where I have not met the registration requirements or do not have an applicable exemption.
Any investment advice or recommendations involving securities referenced in this article is general in nature and geared towards a readership of sophisticated investors. This article does not involve an attempt to effect transactions in a specific security nor constitute specific investment advice to any particular individual. It does not take into the account the specific financial situation, investment objectives, or particular needs of any specific person who may read this article. Individual investors are encouraged to independently evaluate specific investments and consult a licensed professional before making any investment decisions.
All data presented by the author is regarded as factual, however, its accuracy is not guaranteed. Investors are encouraged to conduct their own comprehensive analysis.
Positive comments made regarding this article should not be construed by readers to be an endorsement of my abilities to act as an investment adviser.
Disclosure: I/we have no positions in any stocks mentioned, and no plans to initiate any positions within the next 72 hours.
I wrote this article myself, and it expresses my own opinions. I am not receiving compensation for it (other than from Seeking Alpha). I have no business relationship with any company whose stock is mentioned in this article.
Editor's Note: This article discusses one or more securities that do not trade on a major U.S. exchange. Please be aware of the risks associated with these stocks.