Pacific Ethanol (NASDAQ:PEIX) will release its 2016 Q2 earnings after the market close on July 27th, 2016. Our expectation is that PEIX will report Q2 earnings near $0.245 per share, substantially beating the consensus estimates of a $0.025 per share loss.
Some reasons for the forecast earnings beat include:
Average ethanol production margins have improved substantially from Q1;
We expect PEIX will show improving synergies from the Aventine acquisition; and
The company did not record income tax benefits from its Q1 loss, and this may offset Q2 income tax liability.
Earnings forecast details and comments
Average ethanol crush margins averaged nearly $0.11/gal for Q1 and nearly $0.30/gal for Q2 of 2016 (as below). The "crush margin" is the gross variable margin that a producer enjoys from selling ethanol and distiller's dried grains after purchasing corn, natural gas and other consumables.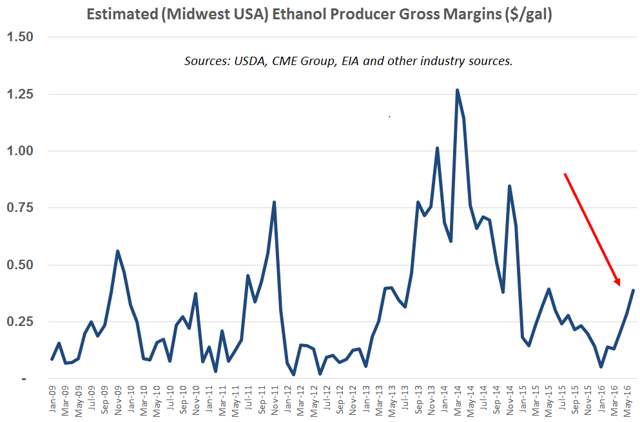 Click to enlarge
Aventine Acquisition
The acquisition of Aventine was completed over a year ago on July 1st, 2015. This acquisition increased Pacific Ethanol's production capacity from 200 million gallons to 515 million gallons per year and expanded PEIX from West Coast production into Midwest production assets. Unfortunately for PEIX, ethanol production margins declined over the next several months, pressuring the company's overall profitability. In addition, PEIX had to absorb restructuring charges of $8.7 million and $2.0 million in Q3 and Q4 of 2015, respectively. Lastly, profit margins for ethanol producers were near historical lows during Q1 2016.
The company has endured three straight quarters of anemic ethanol production margins, while digesting a large acquisition. Therefore, we believe analysts have become too bearish on PEIX earnings forecasts, and may want to see positive results from the combined PEIX/Aventine entity before raising their forward estimates. We believe the analysts will get what they are looking for in this quarter's earnings release.
California Low Carbon Fuel Standard (LCFS)
The California LCFS was established to reduce California carbon emissions over time. Carbon emitters can either reduce actual emissions or purchase carbon offsets called LCFS credits. While the program has been in place for a few years, it was re-adopted with a revised program in January 2016.
PEIX benefits from the LCFS program by registering each of its facilities for the generation of LCFS credits. Each facility is rated by its ability to reduce overall carbon emissions. The company has high relative scores for its West Coast facilities due to its proximity to the end consumer of the renewable fuel. It is working to improve its LCFS scores by installing co-generation and other improvements at some facilities.
PEIX reported an increase in LCFS credit inventory from $6.9 million to $16.9 million from Q4 2015 to Q1 2016, which is an increase of 242%. Over the same period, the market value of the LCFS credits increased by only 5% (roughly $115/tonne to $120/tonne). Therefore, it is possible that PEIX was holding a larger inventory of LCFS credits than it normally might at the end of Q1. If the (presumed) excess inventory of LCFS credits was sold beneficially during Q2, we might see an even bigger upside surprise for PEIX Q2 earnings than our current forecast.
Macro Comments and Enterprise Value
Demand for ethanol is growing worldwide as more and more governments seek to reduce the carbon intensity of their transportation fuels. US ethanol producers are benefiting from this demand growth, and the country's exports of ethanol are rising.
In addition, gasoline and ethanol have seen record demand in the US in 2016. As demand continues to grow, and supply remains relatively flat, we anticipate ethanol plant asset values will continue to improve.
At the time of writing, PEIX enterprise value was near $0.85/gal, which is substantially below the $2.0/gal replacement value of a modern ethanol facility, as below.

Technicals are Supportive
In addition to the fundamentals being favorable, PEIX is trending upward, with potential support from the 200-day and 50-day moving averages.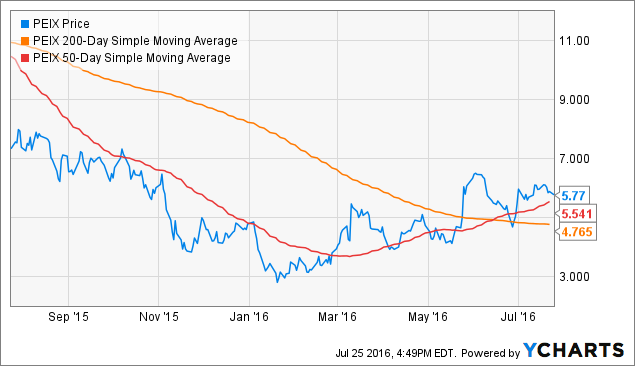 Summary
Ethanol is enjoying record demand, and US production margins have recently improved substantially. After three straight quarters of low or disappointing earnings, we expect PEIX will surprise to the upside for 2016 Q2. At a recent share price near $6/share, the company's enterprise value is $0.85/gal of installed capacity, which is significantly less than a $2.0/gal replacement value for its assets. We have a one-year price target of $12/share for PEIX.
Disclosure: I am/we are long PEIX.
I wrote this article myself, and it expresses my own opinions. I am not receiving compensation for it (other than from Seeking Alpha). I have no business relationship with any company whose stock is mentioned in this article.