Injection figures currently range between 17 Bcf and 25 Bcf. We think it's 20 Bcf, or slightly under the average. Power burn averaged close to 40 Bcf/d last week. Canadian gas imports averaged over 7 Bcf/d, but overall supply was partially offset by the REX pipeline going on maintenance. Production is back to normal now.
How will this compare to historical builds? Last year saw a build of +49 Bcf, and the five-year average was +49 Bcf. Storage would end at 3.297 Tcf, or 425 Bcf higher over the same period last week and 524 Bcf higher over the five-year average. (Note: There's a discrepancy with the "same week" as last year in EIA's storage report.)
Power burn was strong throughout all of last week. Power burn demand was around 40 Bcf/d. Canadian gas imports have fallen from hitting 8.1 Bcf/d to 6.9 Bcf/d. The reason for the large decrease is thanks to the AECO basis differential narrowing close to the $0.75/Mcf mark we talked about.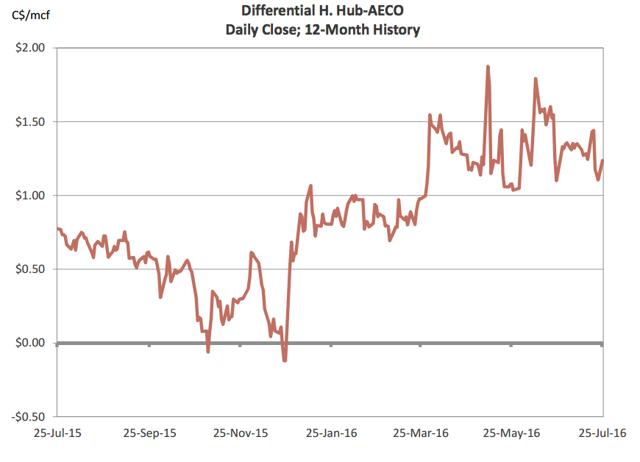 With the Canadian dollar weakening on the back of weak oil prices, we could see the differential widen again, leading to higher Canadian gas imports. Yesterday, AECO spot fell off C$0.18/Mcf, as lower exports to the U.S. would make the storage situation in Canada particularly difficult to deal with. Last week saw another record low injection figure in Western Canada, and storage there currently sits at 93.4% full.
Overall, we should see a very low injection figure for this week's EIA natural gas (NYSEARCA:UNG) storage report.
Eight- to 14-Day Outlook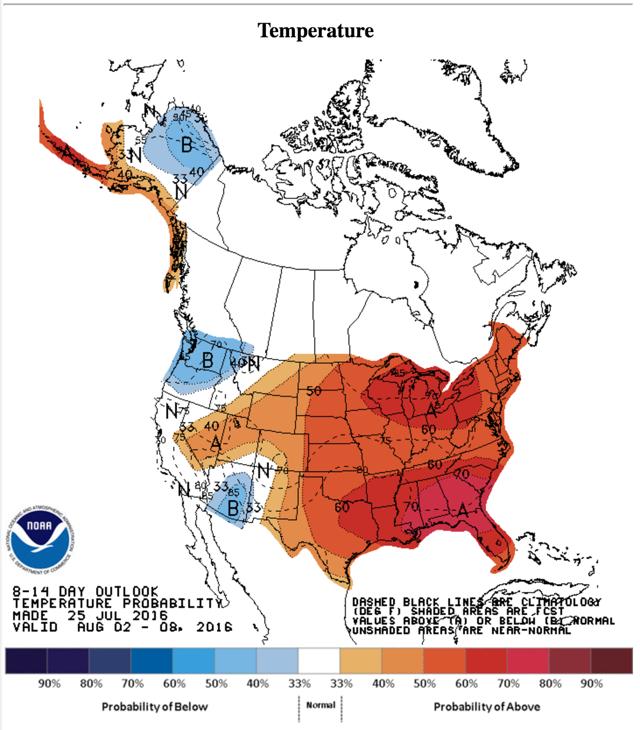 Natural Gas Prices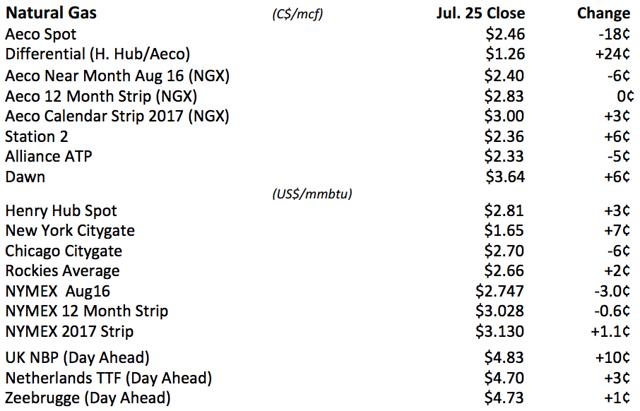 Thank you for reading our Natural Gas Daily article. If you want to read more of our articles, please be sure to hit the "Follow" button above. We also write a weekly HFI portfolio update for premium subscribers. You can read a sample weekly update here and view our delayed one-month portfolio update here. We hope you can join the HFI community.
Disclosure: I/we have no positions in any stocks mentioned, and no plans to initiate any positions within the next 72 hours.
I wrote this article myself, and it expresses my own opinions. I am not receiving compensation for it (other than from Seeking Alpha). I have no business relationship with any company whose stock is mentioned in this article.