Something not talked about in the mainstream financial news - the nuances of Brexit. The markets seem to think that Brexit is a 'done deal' - the people voted, and that's it. But what if Brexit didn't happen?
Giuliano Amato, who wrote the article 50 clause, says that it wasn't intended to actually be used:
The treaty clause that triggers exit from the European Union was not actually designed to be used, its author has said. Giuliano Amato, a former prime minister of Italy, who later worked with the European Commission, helped draft the European Constitution, which became the Lisbon Treaty. He said he had written the now infamous Article 50 but that it was largely for show.
And Britain has a new Prime Minister, who also was part of the 'remain' camp, and only regurgitates vague phrases, not standing firm on a solid plan to enact Brexit.
Ms May has signalled that the clause will not be invoked until 2017. She has also said it will not be used until Scotland's position in negotiations is clear. Patrick McLoughlin, the Tory chairman, said the process would be started before the next general election, but gave no further details. The process of invoking Article 50 is said to be irreversible. Once it has been used it is expected to take between two years and a decade for the secession to complete.
The 2 year to 10 year window, is once Article 50 has been enacted - which could be still years away. They are saying 2017, which in political speak means maybe 2018 or 2019. Maybe never. Maybe politicians are just biding their time so the public will change their mind or for some 'event' that could significantly change the demographic landscape.
Take a look at the drop in GBP/USD: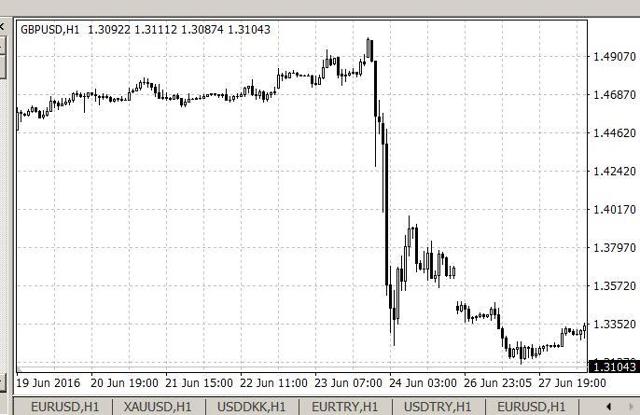 Click to enlarge
If there's a surprise 'reversal' of Brexit, would we see a reversal in GBP/USD (NYSEARCA:GBB) ?
We'll see, but at the moment, the market needs to understand that the above chart is about expectations and perceptions - not about change, not about Brexit, not about action. That's because Brexit only happens when Article 50 is invoked, and even then - actual 'Brexit' is years away at best.
The market sells off on news - but this referendum, while a surprise news event, was not actually "Brexit" it was "referendum for Brexit." Of course, politicians don't want to directly go against the will of the people, who technically they work for; but they control the situation. It is the British MPs, big business leaders in London, and the Crown, that rule Britain.
The UK's former attorney general says that Parliament needs to vote on Article 50 for it to be seriously considered:
The UK's former attorney general has said the Government would need Parliament's approval to trigger Article 50. Dominic Grieve said it is "extremely farfetched" to believe the Government could "take a decision of such massive importance to the United Kingdom" without getting the approval of Parliament.
A referendum, is not legally binding. There's quite a number of scenarios, in which Brexit might not happen:
A petition to re-run the referendum has taken off, with over three million signatures already. More than a few Bremorsers voice regret over their vote for Leave, in the wake of the financial and political chaos unleashed on the U.K. A referendum is not legally binding. In pure constitutional terms it is merely advisory. You can repeat the exercise as wanted, as long as the irrevocable Article 50 formalizing the U.K.'s divorce from Brussels hasn't been invoked. Cameron said it would be up to the next prime minister, whoever that may be, to apply for the decree nisi.
And although unlikely, even Tony Blair says 'why rule anything out right now?' Here's another 3 crazy scenarios where Brexit may not happen:
Parliament refuses to ratify the referendum
Scotland vetoes Brexit
Prime Minister David Cameron ignores the vote
Just like betting companies convinced most of the world, most of 'smart money' that Brexit was only a 1 in 10 or 1 in 15 chance, they're now saying that about the chances of remain. If we weren't so surprised by the Brexit referendum, we might think it's unlikely.
But just as the have-nots surprised the world with their vote for freedom, so can the haves surprise us with their votes (which counts much more). Now the tables have turned - the Elite are in check - but not checkmate.
Disclosure: I/we have no positions in any stocks mentioned, and no plans to initiate any positions within the next 72 hours.
I wrote this article myself, and it expresses my own opinions. I am not receiving compensation for it (other than from Seeking Alpha). I have no business relationship with any company whose stock is mentioned in this article.