By Jacob Wolinsky
David Einhorn's letter for the second quarter ended June 30, 2016.
ValueWalk has obtained David Einhorn's Q2 letter to investors. Below readers can find a full copy - below is a brief summary.
David Einhorn sold Macy's (NYSE:M), as well as "several material positions" during the quarter.
He states:
In the long book, Apple (NASDAQ:AAPL) and Macy's were material losers. The earnings estimates for AAPL continue to fall. We mitigated our loss by trading AAPL well - though the stock is down about 9% for the year, we have been nearly break-even on the position in 2016. We sold Macy's for a loss after the company announced a significant reduction in full-year 2016 guidance. This announcement invalidated our thesis that 2016 earnings would benefit from easy comparisons later in the year. We exited the position at $32.08.
Einhorn states further:
We used the dip created in the aftermath of the Brexit vote to cover several short positions:
Intuitive Surgical at a loss where we overestimated how quickly competition would materialize.
Under Amour where we took a second shot at shorting last fall. This time it worked better and we earned a nice profit.
United Rentals, which was a sizable winner over the last couple years, as the rental rates and demand for heavy equipment rentals fell and the company missed estimates.
David ends the note with a cryptic comment about Tesla (NASDAQ:TSLA) from long time bull Adam Jonas of Morgan Stanley (NYSE:MS) - is he short?
"We believe Tesla's most valuable asset may be the trust it has built with its providers of capital."
And some other shorts in frackers and Amazon.com
Most of the quarterly losses came from the short book. An undisclosed oil fracking short (not the Mother-Fracker) was our biggest loser, followed by Amazon, which reported a stronger quarter than we expected.
- Adam Jonas (not one of the Jonas Brothers)
See the full letter below.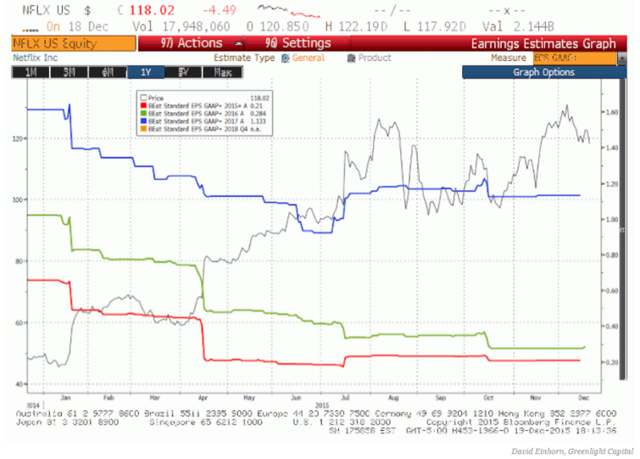 Disclosure: None