AMD's (NYSE:AMD) massive surge on the stock market after its quarterly earnings is nothing short of spectacular. Strong IP revenue and updates to its progress developing the Zen architecture fueled bulls. Optimism already improved two months ago in May, when investors began factoring the product refresh from its graphics card ("GPU") division. Still, just a small proportion of revenue came from GPU sales last quarter. Does that mean AMD's sales levels at a positive inflection point or is the stock up due to short covering?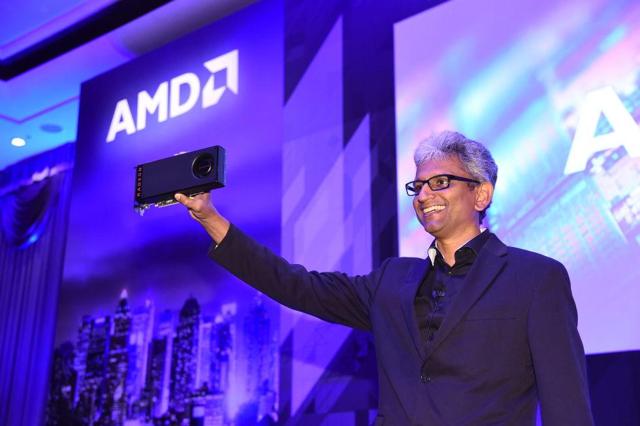 Click to enlarge
As at June 30, short interest stood at 76.4 million shares. This is a nearly 50 percent drop from the start of the year. Some of AMD's 143 percent return this year is a result of short covering.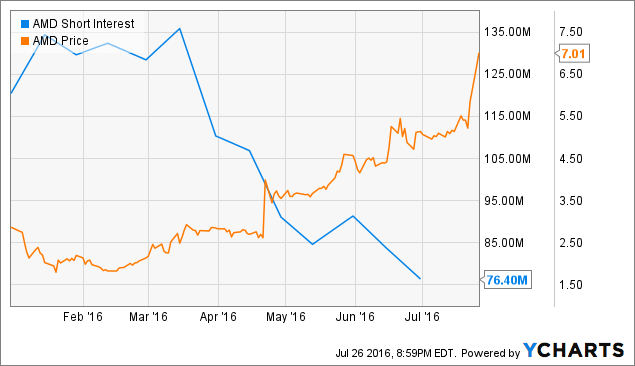 AMD Short Interest data by YCharts
Speculators betting against AMD are clearly wrong. The short float still stands at 9.68, which suggests the short squeeze on the stock will continue. Unless analysts downgrade the stock soon, bears will lose more on the trade as the stock marches higher.
Analysts too bearish
Per TipRanks, the average target price on AMD is $4.98, while the median is slightly higher at $5.50. Some of the updated ratings have a more realistic price target in the $5.50 - $6.75 range. This is below my price target of $7.00 established on July 17.
| | | | | | |
| --- | --- | --- | --- | --- | --- |
| Analyst Name | Firm | Position | Price Target | Action | Date |
| Harlan Sur | J.P. Morgan | Hold | $6.00 | Reiterated | Yesterday |
| Ambrish Srivastava | BMO Capital | Hold | $5.00 | Reiterated | 4 days ago |
| Ian Ing | MKM Partners | Buy | $6.30 | Reiterated | 4 days ago |
| John Pitzer | Credit Suisse | Sell | $5.50 | Reiterated | 4 days ago |
| Mark Lipacis | Jefferies | Buy | $6.75 | Reiterated | 4 days ago |
| Matt Ramsay | Canaccord Genuity | Buy | $6.50 | Reiterated | 4 days ago |
| Rick Schafer | Oppenheimer | Sell | | Reiterated | 4 days ago |
| Ross Seymore | Deutsche Bank | Hold | $4.00 | Reiterated | 4 days ago |
| Stephen Chin | UBS | Sell | $3.00 | Reiterated | 4 days ago |
| Vijay Rakesh | Mizuho Securities | Hold | $5.50 | Reiterated | 4 days ago |
| Vivek Arya | Merrill Lynch | Sell | $5.00 | Reiterated | 5 days ago |
| Stacy Rasgon | Bernstein | Sell | $3.00 | Downgraded | 18 days ago |
| David Wong | Wells Fargo | Buy | $6.00 | Reiterated | 1 month ago |
| Joseph Moore | Morgan Stanley | Sell | $2.65 | Reiterated | 1 month ago |
| Betsy Van Hees | Wedbush | Hold | $3.50 | Reiterated | 3 months ago |
| Christian Schwab | Craig-Hallum | Buy | $6.00 | Upgraded | 3 months ago |
Source: TipRanks
The consensus view on AMD is still too low. The quarterly results show the company's turnaround is progressing on schedule, but ignore two recent developments. First, Sammy Corporation, based in Japan, announced on July 25 that it chose AMD to power its new 3D gaming machine. Sales for AMD's computing segment is much brighter now. This company is strongly positioned in the Japanese market. AMD's R-series APU technology also faces little to no competitive pressures from Intel (NASDAQ:INTC). AMD built a moat in this segment of the gaming thanks to its decision a few years ago to specialize in the console market.
Building from its positive momentum from media coverage for Polaris, AMD announced a high-end workstation graphics chip. Nvidia (NASDAQ:NVDA) shares barely reacted. The stock continued its ascent:
The RX 480 Polaris GPU will likely contribute the most to AMD's growth in the computing and graphics segment. It should still expect decent high-end graphics solutions, but Nvidia still dominates. In Nvidia's first quarter, its Quadro professional visualization solution made $189 million in revenue. The company also has a head start over AMD with the M6000 24GB. Toyota Motor (NYSE:TM) and Pixar are noteworthy customers.
Third quarter an inflection point
The market already baked GPU sales in AMD's third quarter. AMD said it expects GPU sales growing, helped also by the RX 470, RX 460, and GPUs for notebooks. Investors may reasonably expect higher revenue and positive profits. AMD has a balanced product mix for GPU. This includes continued strong sales for the high-end FirePro chips.
Fourth quarter and beyond
AMD is developing the APU for Microsoft's (NASDAQ:MSFT) next-generation game console, codenamed Project Scorpio. Its release in 2017 will introduce console gamers to VR and 4K gaming.
AMD's CEO Lisa Su said on the second quarter conference call that customers started sampling Zen-based processors. Zen sales will start in 2017:
I'm excited to report that in addition to conducting the first public demonstration of our next Generation Zen-based processors at COMPUTEX in June, priority server customer sampling began in the quarter and dual socket server platforms are now running at both our labs and our customers' labs. We are pleased with the performance we are seeing with Zen hardware, which is helping to expand our customer engagements and accelerating design win momentum across multiple OEMs and ODMs. We remain on track for volume shipments of our Zen server CPU in the first half of 2017.
Valuation
Using a 5-year discounted cash flow ("DCF") growth exit model, AMD's fair value falls between $7.15 and $10.89.
AMD at $7.15:

Click to enlargeSource: Finbox.IO
AMD at $10.89:

Click to enlarge
For its stock fair value in the double digits, AMD would need its EBITDA as a percentage of revenue in the double digits. I would have no hesitation assigning those percentages for Intel. Intel historically reports consistently high profits every year.
Intel EBITDA forecast:

Click to enlarge
Your takeaway
AMD is firing on all cylinders, starting with a ramp in GPU card production. Expect steady cash flow from IP monetization. Zen chip sales and a refresh for Microsoft's console will give AMD continued growth heading into 2017. Please [+] Follow me for continued coverage on AMD. Click on my name next to my avatar at the top of the article. Thank you for reading.
Disclosure: I am/we are long AMD.
I wrote this article myself, and it expresses my own opinions. I am not receiving compensation for it (other than from Seeking Alpha). I have no business relationship with any company whose stock is mentioned in this article.