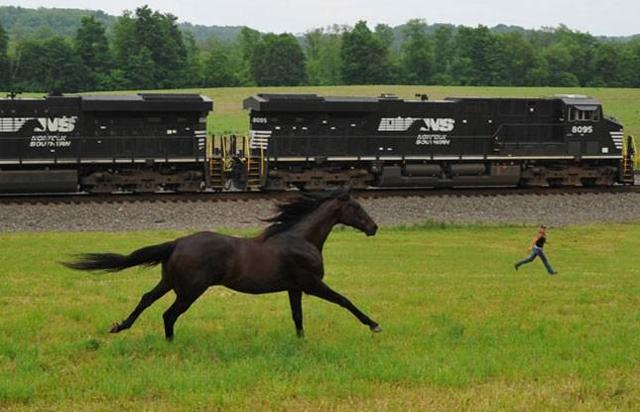 Click to enlarge
Norfolk Southern (NYSE:NSC) reports Q2 earnings Wednesday. Analysts expect revenue of $2.48 billion and eps of $1.34. The revenue estimate implies flat sequential growth. Investors should focus on the following key items:
Declining Revenue
Norfolk Southern's Q1 revenue declined 6% Y/Y -- hardly a reason to get excited. The two biggest decliners were Coal (down 23%) and Intermodal (down 12%). The biggest gainer was Automotive (up 16%) which continues to defy gravity amid the anemic U.S. economy. Auto sales have been booming, yet have been partially fueled by subprime credit used to finance such sales.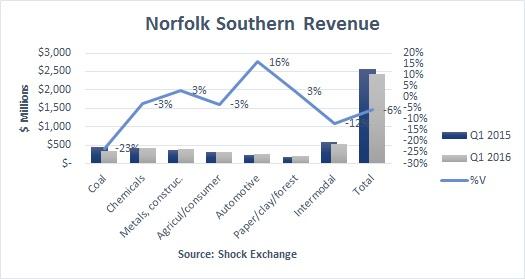 Coal is practically a dirty word when comes to railroads. It has been declining in price due to the country's push for cleaner energy and the fact that low natural gas prices have provided competitive pressures. Coal and Intermodal represent about 35% of revenue and 65% of carloads. As these two product segments go, so goes NSC.
Of note is that carloads and revenue per carload fell Y/Y by 2% and 3%, respectively. Falling carloads are a function of economic activity, and the need for companies to ship products cross country. Declining revenue/carload implies a lack of pricing power. I do not foresee either situation abating any time soon. In fact, rail activity is down across the industry. For the first 28 weeks of 2016 cumulative U.S. carloads fell 12% Y/Y.
Improving EBITDA Margins
Norfolk Southern was previously the target of a hostile takeover by Canadian Pacific (NYSE:CP). The back and forth between the two went on for months and tied up a largest chunk of management's time. That said, every cloud has a silver lining. The public fight put a spotlight on how inefficient Norfolk Southern was and how its EBITDA margins paled in comparison to Canadian Pacific's (north of 50%).
Norfolk Southern recently implemented cost cutting initiatives. Management expects to achieve annual productivity savings of $650 million, of which $130 million is expected to be realized in 2016. The decline in fuel costs from 8% in Q1 2015 of revenue to 6% this quarter, and cuts in material costs (decline from 10% of revenue to 8%) helped the company improve EBITDA margins; margins fell from 33% in Q1 2015 to 40% in Q1 2016. I expect margins to continue to improve in spite of weak top line growth.
Disclosure: I am/we are short NSC.
I wrote this article myself, and it expresses my own opinions. I am not receiving compensation for it. I have no business relationship with any company whose stock is mentioned in this article.