Last week, General Motors (NYSE:GM) reported solid earnings and operational results. That's 5 "beats" in a row. CEO Mary Barra and her senior leaders have continued to execute well.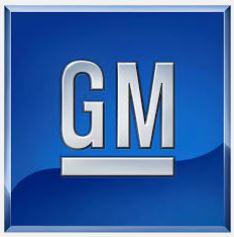 Nonetheless, during Ms. Barra's tenure, the GM stock chart has been uninspiring, to say the least.
GM: Weekly Price and Volume (January 2014-to-Date)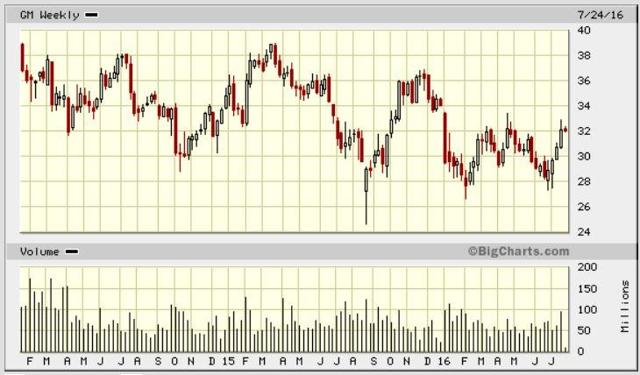 Click to enlarge
courtesy of bigcharts.marketwatch.com
It appears a major issue facing the Company is the "peak auto" argument. Despite improving fundamentals, the shares refuse to levitate; in large measure because Mr. Market believes vehicle sales are about to roll over.
Aligned with the aforementioned view, fellow Seeking Alpha contributor James Brumley offers readers a plausible case outlining why peak auto sales are upon us.
Fair enough. Clearly, General Motors operates within the highly cyclical automotive industry. Indeed, at some point, auto sales ARE going to crest and fall along with the economy.
Therefore, investors must ask who's taking away the punch bowl just yet? Can't we party on just a little longer?
"Peak Auto Sales:" Legit Fear or Seeing Spooks!
Let's limit our focus to domestic auto sales. Despite broad international span, General Motors generates over 90% of its EBIT through its North American operations.
Let's begin by viewing a chart highlighting the 3 most recent domestic automobile sales cycles.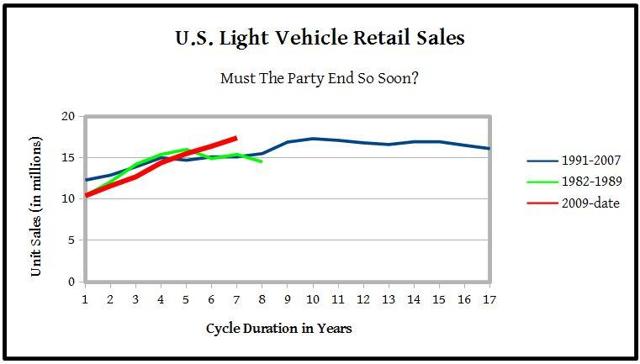 Click to enlarge
Data source: statista.com
Each cycle begins with a trough-year; low-ebb sales figures.
Specifically, the beginning points were 1982, 1991, and 2009. Each followed a recession.
The 1982 cycle (green line) ran a total of 8 years. From the low, "peak auto" was reached 5 years later. Sales then retreated gradually until finally rolling over in 1989. Thereafter, sales continued to decline significantly until the 1991 nadir; marking the start of a new cycle.
The 1991 cycle (blue line) did not crest for a full 10 years. The party lasted another 7 years until falling down at the doorstep of the Great Recession. For 9 years, between 1999 and 2007, annual U.S. retail vehicle sales never fell below 16 million. Notably, the 2000-01 recession didn't seriously affect the auto industry.
Peak sales occurred in 2000, topping 17.3 million vehicles sold. Over the next 3 years, annual sales fell in conjunction with the "dot-com" bust, but only modestly. After cresting in 2000, business eased by a total of 4.0%....to 16.8 million units in 2003. Figures rebounded the following year. then stayed solid for another 4 seasons.
Which brings us to the current post-2009 expansion (the heavy red line).
Despite a significant population increase since 1982, full-year 2009 domestic auto sales fell back to levels not seen in the previous 27 years; a reminder of the depth of the Great Recession. Since that time, retail sales snapped back sharply. In 2015, we returned to the previous peak last reached in 2000.
In June, J.D. Power forecast 2016 domestic sales to be 17.0 million vehicles. General Motors management agrees with this view. With 2016 auto fears unfounded, Mr. Market has turned his hand-wringing to 2017.
However, given current economic data and the historical backdrop, I wonder why Mr. Market appears so sure U.S. auto sales are about to roll over.
Mr. Negative Scenario: We Are All Going Down the Chute
Weakness throughout the global economy will drag down the United States economy with it. "Globalization" has changed the calculus versus past episodes whereby the U.S. economy could stand alone and weather the storm. We are on the verge of the next recession, and it will be a bad one.
Consumers have stretched credit limits to get into new vehicles; with the banks and automakers only too eager to oblige. The most recent wave of sub-prime loans are setting up the next bust. More Americans than ever are falling behind on auto payments. This may in part be due to the energy bust; which is a double-edged sword. The same low energy prices are driving up automotive sales.
No matter: we are doomed.
Mr. Positive Scenario: It's Not Bad, This Looks Like 2000
The United States economy is holding up. While not robust, economic indicators suggest modest growth. A recession isn't imminent.
As the energy industry recovers, so will many Americans' paychecks; and with it their ability to borrow and maintain auto loans for new cars. Yes, higher energy prices may press new vehicle sales growth, but the boost to the overall economy is likely to offset it.
U.S. interest rates are not going to rise quickly. Low interest rates spur car sales. While interest rates will rise eventually, significant increases are not imminent. The Fed has been struggling to raise the federal funds rate even a quarter of point. Meanwhile, much of the rest of the globe is struggling. One-third of the world's sovereign debt outstanding is offered at negative interest rates. This forces the "carry-trade" to the United States, thereby containing our own long rates.
A stable energy industry, low interest rates, and the need to replace an aged retail automobile fleet will permit manufacturers to enjoy a recovery cycle similar to 1991. Back then, "peak sales" lasted 7 years.
During the 2000 to 2007 "high times" period, U.S. auto sales remained robust despite a garden variety recession in 2001-02. Sure, we may have hit peak auto sales, but we can rock on for several years; until the next recession.
General Motors Continues To Execute
Once an investor has made up his / her mind about the direction of the industry, it's time to turn to General Motors' performance.
Perhaps there something about GM specifically that's causing distress?
I encourage interested investors to peruse the entire 2Q 2016 press release, presentation slide deck, and conference call transcript for details.
Boiling it down, here's the big picture: GM management is running for margins and cash, not unit sales and revenue. In addition, the Company wants to drive automotive technology, not react to it.
Margins
Consolidated adjusted-EBIT (operating earnings) margins rose to 9.3% in the second quarter. This was up from a 7.1% mark in 1Q 2016, and a similar 7.1% margin for all of 2015. CEO Mary Barra has set a 10% corporate target by the end of the decade.
North American 2Q adjusted-EBIT margins were 12.3%. This set a new record. Through the first half of 2016, NA generated 10.5% margins. Full-year 2015 results settled at a 10.3%. The North American 10% hurdle rate was set back in 2014, when EBIT margin was 6.5%. Adjusting for recall-related expenses, 2014 EBIT margin was 8.8%.
Second quarter 2016 consolidated automotive gross margin was 14.1%. First-half 2016 gross margin was 13.6%. These are significant improvements versus 12.1% margins for full-year 2015 results. Company-wide supply-chain management initiatives are taking effect.
Cash Flow
CEO Mary Barra has focused the company's energy upon generating cash flows. Including the ignition-recall expenses and pension-fund contributions, a F.A.S.T. graph illustrates quarterly consolidated operating cash flow results since 4Q 2013: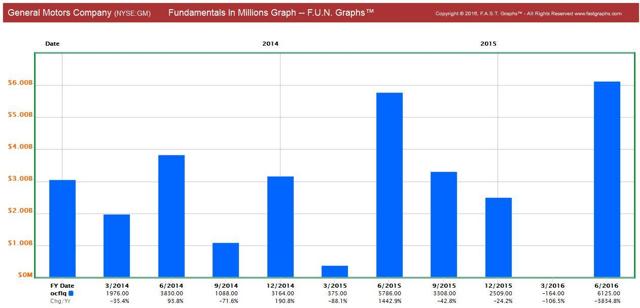 Click to enlarge
courtesy of fastgraphs.com
A picture speaks a thousand words. Bottom-line: the trend is up.
Please note included in 1H 2016 results are $2.78 billion for voluntary pension-fund contributions.
First-half adjusted automotive cash flow was $6.3 billion. This compares favorably with 2015 when GM automotive generated $5.1 billion.
This year, GM Financial tacked on another net $1.7 billion cash flow. In 1H 2015, the financing arm added $1 billion. Savvy investors note the Company is placing greater emphasis upon the GMF franchise than in past years. General Motors Financial recorded 38% sales penetration in 2016 versus 31% in the prior period.
The following chart from the GM 2Q 2016 slide deck adds additional color and depth to the discussion: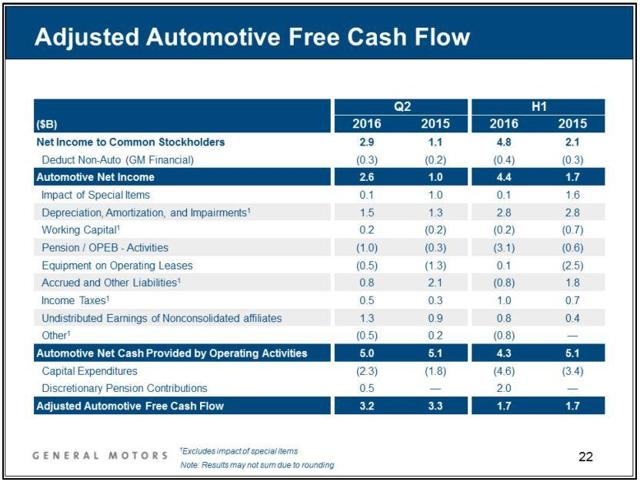 Click to enlarge
General Motors management states the Company is on track to generate approximately $6 billion in adjusted automotive free cash flow for the year. This portends a big second half; despite EU Brexit headwinds.
Automotive Technology and Innovation
GM hasn't shied away from cutting-edge technology and revolutionary transportation concepts. CEO Mary Barra has encouraged development of EVs, autonomous vehicles, ride-sharing and vehicle connectivity. General Motors isn't trying to protect the status-quo, it's trying to be a disruptive force.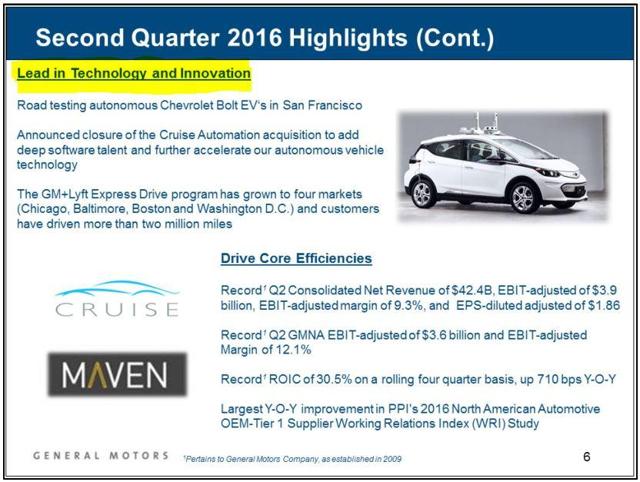 Click to enlarge
Conclusion
As outlined in my May 24 article, " Your General Motors Shares Trade Below Fair Value: Here's Why," GM stock certainly appears cheap enough. A safe dividend with a current 4.75% yield pays investors to wait.
Mr. Market appears to be pricing shares as if the automobile industry is already in a recession, and attempting to climb out of it. Yet, cash flow and margins remain robust. Nor is the Company playing defense: it is forging ahead on new automotive technology and innovation.
The concept of "peak auto sales" is a reasonable concern. It certainly appears to be a major drag on the stock. However, reviewing over 30 years' history reveals two distinctly different cycle outcomes after a peak-sales top. This investor questions why the market seems so confident we are heading for a 1982-cycle rerun instead of an extended, more investor-friendly 1991-cycle.
The Company continues to execute well on the salient metrics set out in accordance with management's strategic direction. It is difficult to make a case GM isn't executing, obtaining results, or getting defensive versus peers.
Of course, General Motors investors must recognize the recent "half-win, half-lose" court ruling regarding the ignition switch tragedy. It partially, but not fully, absolves GM from a host of diminution of vehicle value lawsuits. My view is GM should attempt to settle quickly.
Nonetheless, this case has a long way to go; it just doesn't seem this overhang has enough clout to compress valuation metrics to such low multiples. Current trailing P/E and P/CF ratios are 4.1x (5.3x operating EPS) and 2.2x, respectively. General Motors' earnings have beat the Street 5 times in a row.
On balance, I believe investors have become just too dour on this ticker. I look forward to your comments and questions.
Please do your own careful due diligence before making any investment decision. This article is not a recommendation to buy or sell any stock. Good luck with all your 2016 investments.
Disclosure: I am/we are long GM.
I wrote this article myself, and it expresses my own opinions. I am not receiving compensation for it (other than from Seeking Alpha). I have no business relationship with any company whose stock is mentioned in this article.