The French CAC 40 index has largely been trending downwards since June 2015.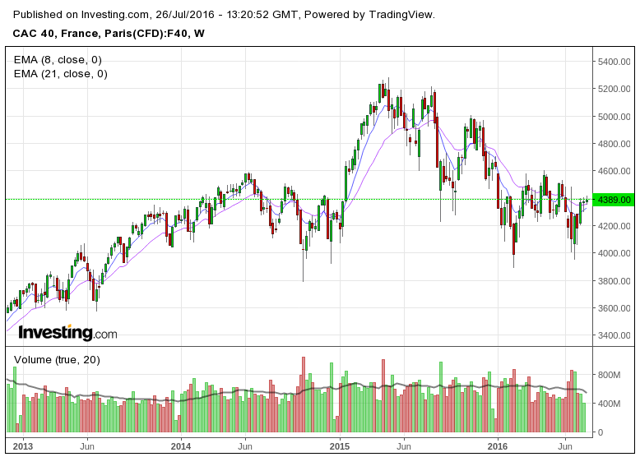 Click to enlarge
On a valuation basis, France's cyclically adjusted price-earnings ratio is 15.5, while the ratio for developed markets as a whole is 20. Surprisingly, while the French economy in general has been growing, having just overtaken the United Kingdom as the world's fifth-largest economy and expected to show 1.5 percent GDP growth in 2016, falling manufacturing rates have been hurting performance and weighing in on equity markets. For instance, while there has been an expansion of services activity, the composite Purchasing Managers' Index had fallen to 49.6 in June, which is just below the level of 50 that separates contraction from expansion. Moreover, there is speculation that Brexit along with recent security concerns in France could harm exports in this regard and further hinder manufacturing.
As regards performance on the equity index itself, the banking sector has been by far the worst hit. For instance, as an internationally-oriented index, France has significant exposure to Spanish and Italian banks such as Bankco Popular (POP) and Banca Monte Dei Paschi di Siena SpA (BMPS), both of which had declined -71.99% and -58.77% respectively by June of this year. Given the issues that Italy has been having and taking into account the exposure of the index to such institutions, a long position on the CAC 40 remains a risk right now, even if France's economy itself is doing well.
Moreover, while there is speculation that Paris could usurp London as a European banking hub amid mounting speculation that banks may redeploy workers and offices to Paris, this does not mitigate the fact that the banking system in general is on shaky ground right now as a result of the United Kingdom's decision to leave the European Union.
Longer term, the CAC 40 index may well be a good value play. For the short-term oriented investor however, I would avoid it at this time.
Disclosure: I/we have no positions in any stocks mentioned, and no plans to initiate any positions within the next 72 hours.
I wrote this article myself, and it expresses my own opinions. I am not receiving compensation for it (other than from Seeking Alpha). I have no business relationship with any company whose stock is mentioned in this article.