This time last year, the most pressing question for Greece was whether it would default on its debt obligations and end up leaving the Eurozone. Meanwhile, with the European Union having many other problems of its own as a result of Brexit, the question of Greece's financial situation relating to the wider Eurozone has been put on the backburner for now.
Lately, Greece has been having significant problems of its own. Tourism concerns have began to weigh in on the economy, as the country continues to contend with a refugee crisis on the shores of its islands. As a tourism-oriented economy, this has inevitably had implications for the overall stock market in that country, with the ATHEX Large Cap Index (ATF) having fallen by over 30 percent since this time last year: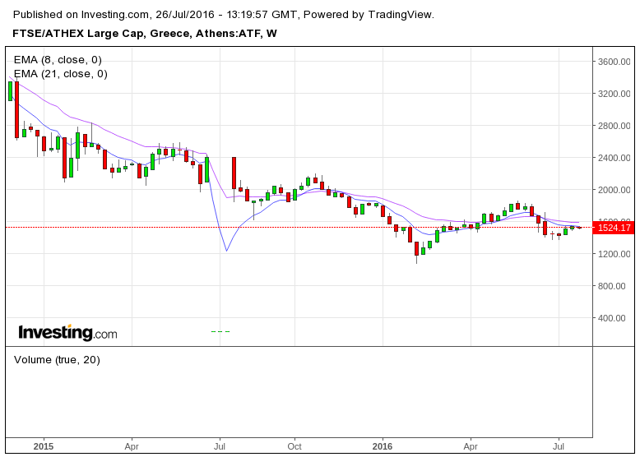 Click to enlarge
Significantly, Aegean Airlines (AGNR), one of Greece's national carriers, is down 24 percent since mid-May. Given the falls we have been seeing across the equity markets, it is especially surprising that on the basis of the cyclically adjusted P/E ratio of 38.2, Greece apparently has one of the most overvalued stock indexes in the world when compared to the average ratio of 20 across developed markets.
In order to curb economic decline and to attract finances to Greece once more, the Greek government have decided to relax capital controls in the country in order to win back deposits and boost confidence in the banking system as a whole. While this is a viable strategy long-term, it will likely do little to address economic concerns in other areas, especially as tourism continues to be affected as a result of events in neighboring Turkey.
Overall, while equities as a whole in Greece have been falling, the evidence suggests that Greece is still significantly overvalued and economic concerns have not abated by any means.
Disclosure: I/we have no positions in any stocks mentioned, and no plans to initiate any positions within the next 72 hours.
I wrote this article myself, and it expresses my own opinions. I am not receiving compensation for it (other than from Seeking Alpha). I have no business relationship with any company whose stock is mentioned in this article.