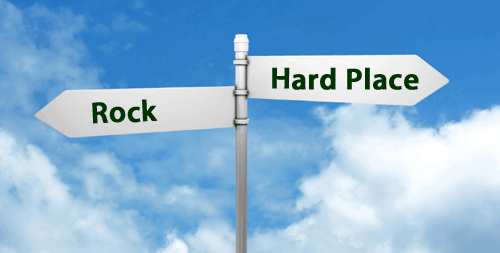 US citizens will be given the choice alluded to in the title as the Democrats are finalizing their side of the 2016 presidential equation while we are compiling this week's...
Resource Sector Digest
(Vol. 46 - July 11, 2016)
Brought to you humbly as always by Itinerant and The Investment Doctor.
We shall:
set the scene,
highlight actionable ideas,
comment on news releases, and
link to relevant articles.
Before proceeding any further, please consider our cordial invitation to take advantage of the free two-week trial period for Itinerant Musings for exclusive access to actionable research on mining and energy stocks.
In case you missed out on previous editions of this newsletter, simply click here, here, or here to catch up.
Setting The Scene
Presidential elections will be governing the noise, and will be influencing sentiment in coming months. Befitting the occasion, we would like to offer up some seemingly related gold price trivia. The chart below shows the yearly gold price (NYSEARCA:GLD) performance during election years on the past 10 occasions, with election years marked going back to 1975, the year before Mr. Carter was elected.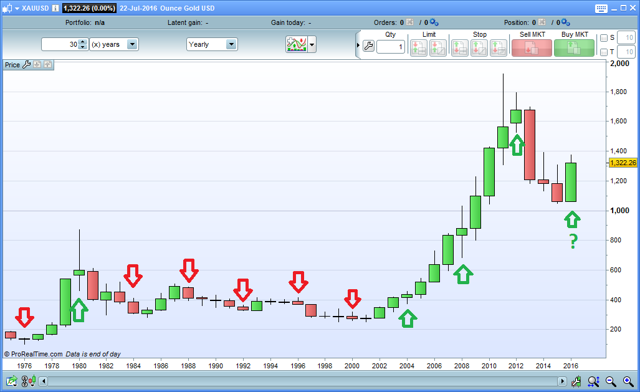 Click to enlarge
Looking at the years before and after an election. we note the following:
6 out of the 10 observed election years were down-years for the gold price, and 4 were up-years.
3 presidents of each party were elected in down-years, and 2 presidents of each parties in up-years.
Election years have been in trend with the previous year 7 out of 10 times.
The 3-year period spanning the year before an election to the year after an election only remained in trend twice.
The Hi-Lo variation within an election year ranged between 11% and 89%.
The chart below shows the gold price performance for the mentioned 3-year spans around election years.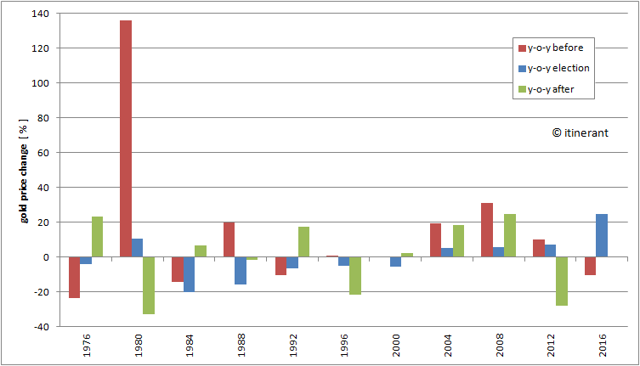 Click to enlarge
If gold was to remain at the current price, it would point towards a novelty for the 2016 election year: it would be the first time in the observed period for the gold price to change trend to bullish in an election year. And using the Hi-Lo variation of the gold price as a measure, the year so far has been significantly less volatile than any other election year. Make of that as you wish.
What we did not find was any gold price pattern pointing to the election of one candidate or the other, and that's no big loss since correlation does not imply causation anyway.
Actionable Ideas
Silver miners are well overbought at the moment, and gold miners are also quite richly valued. Stick with quality if you must buy right now. Here are two picks ticking the quality box, with links to articles by your two humble resource sector digesters:
News Releases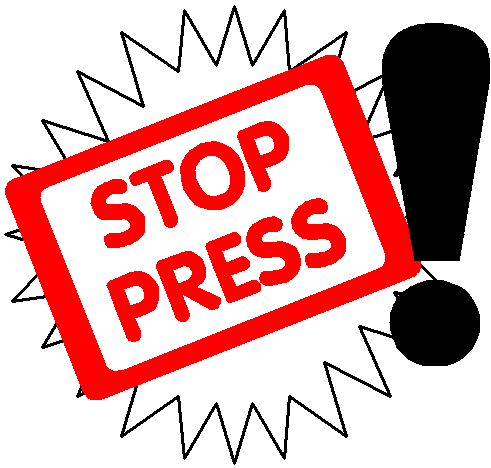 Summer doldrums have arrived well and truly. Trading has thinned to a trickle, and news releases of interest are few and far between. We have scraped the bottom of the barrel for the following selection.
News release of the week goes to Lucara Diamond Corp. (OTCPK:LUCRF) regaling its investors with a bonanza special dividend of C$0.45 per share on top of the usual C$0.015 quarterly dividend. The share price has recovered nicely from its post-failed-auction funk as a result, and the company remains one of the most reliable cash cows among junior miners at this stage.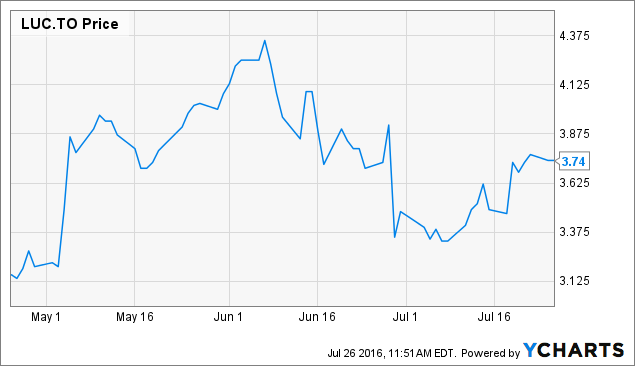 Randgold's (NASDAQ:GOLD) latest news release was titled "New Prospects in Cote d'Ivoire, Dividend Paid" but really it should have read "Production Guidance Cut At Tongon Mine" as various challenges have led to 46 down days at the mill reducing projected annual production to 260,000 ounces, down 30,000 from the original target.
Timmins Gold (NYSEMKT:TGD) completed the sale of its Caballo Blanco project to Candelaria Mining (TSX ticker CXX.V) for $12.5M in cash plus $5M in assumed liabilities. The proceeds will go a long way towards repaying the loan sharks that have been circling the soon-to-be former gold miner.
Lydian International (OTCPK:LYDIF) is proposing to add 33.5M shares to its registry. The placement to the European Bank for Reconstruction and Development is priced at C$0.34 while shares have traded around the C$0.40 mark for the past month or so. This comment coming from a Seeking Alpha user going by the name of the former IR person of the company is worth some consideration.
Trevali Mining (OTCQX:TREVF) has been one of the best base metals performers of late, driven by a rising zinc price. Declaration of commercial production at its Caribou mine certainly also helped, although we remain skeptical with regards to the true performance at this mine. The most recent news release brought further good news, this time from the Santander mine in Peru where high-grade mineralization appears to be expanding at a pleasing rate indeed.
Excelsior Mining (OTCQX:EXMGF) appears serious in its plans targeting commercial copper production at its Gunnison copper project in Arizona. The company is proposing in-situ recovery for this mine and should benefit from the addition of Mr. Robert Washnock to its team.
Midas Gold (OTCQX:MDRPF) has commenced feasibility level metallurgical test work for its Stibnite gold project in Idaho. Unlocking and optimizing the apparently complex metallurgy of the sulphides at this project will be one of the key components of a future feasibility study.
Sabina Gold & Silver (OTCPK:SGSVF) seems to be pinning its hopes on the Minister of Indigenous and Northern Affairs Canada to reject last month's recommendation of the Nunavut Impact Review Board to not proceed to the next phase of permitting for the junior's Back River gold project. Could the company be clutching at straws here? The Investment Doctor appears to have nailed it yet again with his lonely call among a herd of bulls.
NuLegacy Gold (OTCQX:NULGF) reported a first set of drill results from this summer's exploration program at Nevada's greatest Iceberg. This humble scribe most certainly liked what he saw, and will be explaining why in short order for the benefit of Itinerant Musings subscribers. And in the same general area, we also note Columbus Gold (OTCQX:CBGDF) reporting 97.5 meters of 0.68 g/t Gold from its Eastside project.
Pretium Resources (NYSE:PVG) released an update to its mineral resource estimate for its Brucejack project in BC, Canada. Total measured and Indicated ounces increased slightly in comparison to the 2014 FS, while the total of all categories decreased by 1.4M ounces due to a significant reduction of inferred resources. The new resource incorporated additional 367 drill holes for 63,740m of drilling and will form the basis of an updated mine plan. The company assured investors to be on schedule for commissioning of the underground mine in mid-2017.
Eastmain Resources (OTC:EANRF) has announced the initiation of a 63,300m drill program at its Clearwater project following closure of a C$11.1M bought deal a week earlier. It almost seems that Integra Gold (OTCQX:ICGQF) has kissed awake this junior which should be brimming with energy after a rather long slumber. And speaking of Integra Gold investors should also take note of the final drill results from the No. 4 Plug deposit at the company's Lamaque project, which bode well for the resource update scheduled for later this year.
First Mining Finance (OTCQB:FFMGF) has increased a previously announced private placement from C$16M to C$27M. The company has amassed a motley collection of exploration properties paid for mostly in shares. The chart below shows shares outstanding over the past two years, and does not include the latest equity issue of 33.75M shares. The share price has appreciated of late, lifted by a general tide and even heavier than usual marketing. It will be interesting to see if promotion will be scaled back now that the placement seems to be sewn up.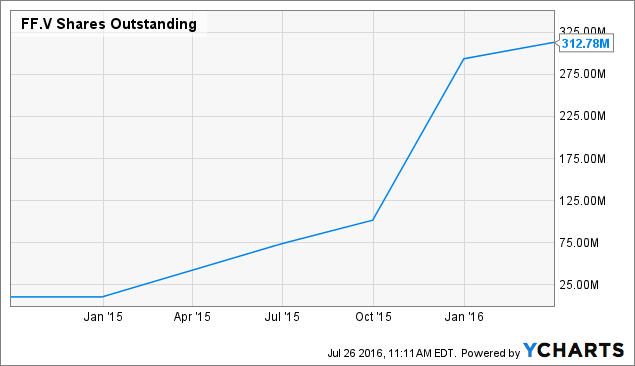 FF Shares Outstanding data by YCharts
Victoria Gold (OTCPK:VITFF) released drill results from its Shamrock zone in close proximity to its Eagle project in the Yukon, Canada. Some of the intercepts have good grades over good thickness, and we are already looking forward to seeing a resource update including the Olive-Shamrock results. The Eagle project needs either a higher gold price or improved economics to replicate Kaminak's (OTCPK:KMKGF) success and the latest results might bode well for the latter. Meanwhile Goldcorp (NYSE:GG) has completed the Kaminak acquisition adding the Coffee project to the major's portfolio.
Teranga Gold (OTC:TGCDF) has inched closer to taking full control of Gryphon Minerals (OTCPK:GPHYF) by making a 5% equity investment in the junior explorer, which will allow development works to continue until the acquisition closes. The promising Banfora heap leach project in Burkina Faso holds much potential for Teranga Gold and might heighten the profile of the miner as a takeover target in its own regard.
Freeport-McMoRan (NYSE:FCX) is still trying to offload its interest in the mighty Tenke Fungurume copper-cobalt mine in the Democratic Republic of Congo onto JV partner Lundin Mining (OTCPK:LUNMF). The decision deadline has been extended to September 15 accordingly.
It's hot and sunny where we are, and taking a break seems like a tempting option. Traders seem to concur as proceedings are slowing down in the markets. The Doc will not sit idle, however, and will digest whatever thin markets put on offer for next week's edition. See youse all again in due time.
Disclosure: I am/we are long NULGF, TREVF, LUCRF, RGRNF.
I wrote this article myself, and it expresses my own opinions. I am not receiving compensation for it (other than from Seeking Alpha). I have no business relationship with any company whose stock is mentioned in this article.
Editor's Note: This article covers one or more stocks trading at less than $1 per share and/or with less than a $100 million market cap. Please be aware of the risks associated with these stocks.