By Scott Tzu
Twitter (NYSE:TWTR) posted a poor report last night, but there are some reasons that we believe the company still has some levers to pull. We believe there are some hidden gems in this report that make us want to buy if Twitter moves lower. We wanted to run through those points and our thought process in this article.
By now, everybody knows that Twitter reported last night and that the results were disappointing. Despite being able to grow monthly active users, which last quarter seemed to be the most important metric, the company's revenue guidance for the upcoming quarter at $600 million was a big disappointment to the street, as Wall Street was expecting closer to $700 million.
Twitter had been on a little bit of a rally over the last few weeks as you can see from the chart below. Axiom was the first to come out and downgrade the stock this morning, and it looks as though the stock is going to open this morning down around 10%.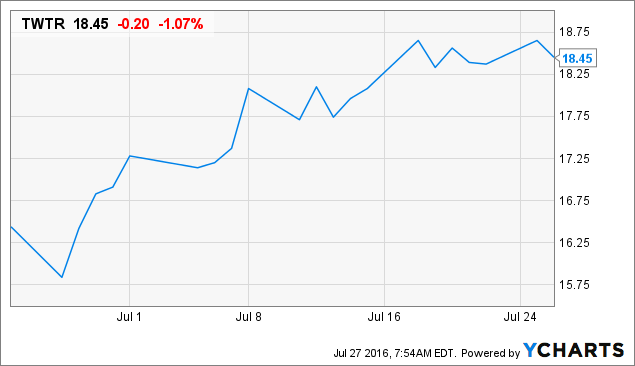 TWTR data by YCharts
Here's Seeking Alpha's wrap up of the report,
Twitter reports a miss on revenue, beat on EPS.
3M MAUs added in Q2 (1M more than expected).
313M total MAUs, 66M in United States (+1% Y/Y) and 247M globally (+4% Y/Y).
+226% Y/Y change in ad engagements.
-64% Y/Y change in cost per ad engagement.
Revenue of $602M (+20% Y/Y) with data licensing and other revenues +35% Y/Y and advertising revenue +18% Y/Y.
Global advertising revenue of $222M (+33% Y/Y), United States advertising revenue of $313M (+10% Y/Y).
Quarterly net loss of $107M vs. $137M Y/Y.
+45% quarterly adjusted EBITDA of $175M.
Q3 projected revenue between $590M-$610M vs. consensus of $678M.
From Twitter's CEO Jack Dorsey: "We've made a lot of progress on our priorities this quarter. We are confident in our product roadmap, and we are seeing the direct benefit of our recent product changes in increased engagement and usage. We remain focused on improving our service to make it fast, simple and easy to use, like the ability to watch live-streaming video events unfold and the commentary around them."
We have been long since the stock was around the $13 level, and when asked last night after the report about what we were going to do with our position, we responded that we would simply hold our already existing long position and potentially add to this position should Twitter move lower, to about the $14 level. We wanted to explain our reasoning for the strategy in an article this morning and talk about why we think the company, despite posting poor guidance could still have levers to pull and runway to go.
We are not going to say that Twitter guided down further than it needed to, but it would really be the smart move on the part of management if they did. If ever there was a quarter to set expectations lower, it would be the upcoming quarter, especially with new streaming initiatives about to give the company some traction heading into the new year. We're not saying that management purposefully sandbagged the guidance, but we're hopeful that this guidance number is very conservative instead of being aggressive. If you are going to come out and lower guidance, you might as well take it down as much as you reasonably can within the confines of what is legal.
Twitter stock has seen pretty consistent support around the $14 level, regardless of what the operating metrics have looked like. Over the last few earnings reports, Twitter tried this level and it wound up holding up both times. You can see this in the chart below.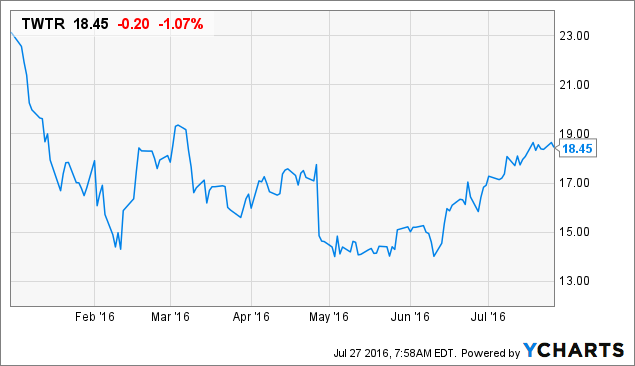 TWTR data by YCharts
One piece of good news that came out of the report was Twitter's beating of expectations for MAUs added. This was the metric that the street was harping over during the last few quarters, but this quarter the street seemed to only want to focus on the revenue guide. Initially, when the report was announced, Twitter actually spiked higher to nearly $20, we are guessing as investors saw the MAU figures.
So while everything is not firing on all cylinders for the company, there are a couple of small nuggets of promise in the report.
The company also posted Non-GAAP earnings of $0.13. Annualized, this would put the company right now at a PE ratio of just between 25X and 30X. This, on an earnings basis, is not at all an unreasonable valuation for a company like Twitter. Obviously the revenue guidance is extremely disappointing, but more important is how the company is managed as a profit center and what it can consistently churn out on the bottom line and in the cash flow statements going forward.
With the addition of new live streaming partnerships that the company has announced over the last month, we expect to see the MAU number continue to grow moving forward. If the company can come out and exceed its hopefully conservative guidance for revenue next quarter and post an MAU gain, the stock should make a push for over $20 yet again.
We still think that Twitter has levers to pull when it comes to monetization as well. When we look at the amount of ads that we see on Twitter versus the amount that we see on Facebook (NASDAQ:FB), it is very easy to realize which of the two platforms is trying to push through as many ads as humanly possible. That platform is Facebook. There are ads on almost every other newsfeed posting, as well as in the trending sections and on other parts of the site. Twitter's ads are far more difficult to find, and are fewer and far between. While it makes for a nice browsing experience, the company could probably fill some more space without offending its users.
Facebook has also now taken on live broadcasting, but the interface is clunky and we do not like it as much as Twitter's Periscope. We are hoping that the next iteration of Periscope again pushes Twitter clearly into the lead for live streaming video broadcast. While Facebook now offers the same product, Twitter should be well ahead in terms of how developed and useful the product it is. Periscope remains one of Twitter's biggest assets.
Management simply needs to do a better job of monetizing where it can. Twitter needs a CEO that is going to take on the task full-time and not somebody that is distracted between several companies. We think if this were to happen, the stock would probably appreciate 10% or more simply on the news that Jack Dorsey had moved on.
Finally, the buyout narrative will probably be back and rightfully so.
We have already seen stories about why Twitter should be a private company instead of a public company, and this is likely to see the buyout narrative come back into the mainstream. As we have said before in other articles, we do believe the Twitter is a takeout candidate and we do believe a deal for the company is going to get done this year. The company's conservative valuation now would make it easier for an acquirer to come in and make a bid in the mid $20 range that would likely be hard for the company and its shareholders to ignore at this point.
Twitter makes far too much sense to us as an acquisition for it not to be considered as a very real prospect and a material part of the long thesis.
So we think Twitter has a few more levers to pull and that things aren't as bad as they seem. The company will have some support at $14, it showed its first promise in MAUs in several quarters, the bottom line was respectable and the company has innovation prospects going forward in Periscope. All of this for a PE that may wind up being 25X to 30X. For these reasons, we definitely will look to add Twitter if it moves lower from here.
Disclosure: I am/we are long TWTR.
I wrote this article myself, and it expresses my own opinions. I am not receiving compensation for it (other than from Seeking Alpha). I have no business relationship with any company whose stock is mentioned in this article.