"Diversification is protection against ignorance. It makes little sense if you know what you are doing."
- Warren Buffett
"It's not whether you're right or wrong, but how much money you make when you're right, and how much you lose when you're wrong."
- George Soros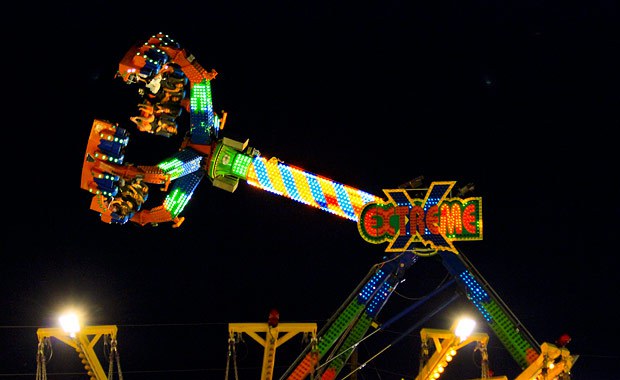 Introduction
2016 has seen a historic reversal in out-of-favor stocks as the bull market shrugs off concerns, such as the fallout over Brexit, and resolutely rolls on, in one of the longest, and most distrusted bull markets on record. Building on this resiliency narrative, the S&P 500 index has made new all-time highs in the face of overvaluations across almost all asset classes.
In the first article in this series, I highlighted active managers, including some of my favorites, who struggled from 2011-2015, discussed their investment styles, and why these managers might see better days ahead. I also took a candid look at my own investment history over this time frame, during which I made the biggest investment mistakes of my career, getting caught up in value traps that seemed like golden opportunities.
The environment has finally changed in 2016, and in this reversal year, laggards have become leaders. This is true for individual sectors of the stock market, styles of investing, and even portfolio managers who have been out-of-favor. The change of leadership has widened the dispersion of returns in the stock market, and created a new wave of opportunities for active, concentrated investors.
Thesis
Most investors are too passively invested, overweight the same large capitalization companies that dominate nameplate indexes, and they could benefit from having a modest allocation to a concentrated portfolio.
Value Stocks Outperform Growth Stocks
Warren Buffett famously pointed out in 1984 that it is not a coincidence that value investors have delivered the best returns.
Contrary to those long-term expectations, the iShares Russell 1000 Value ETF (NYSEARCA:IWD) has trailed the iShares Russell 1000 Growth ETF (NYSEARCA:IWF) over the past five years. Now, do not get me wrong, IWD has still gained a robust 75.3%, compared to IWF's 80.7% return, as U.S. large-cap stocks have been the world's leading asset class, but the underperformance of large-cap value stocks versus their large-cap growth counterparts is simply the tip of the iceberg.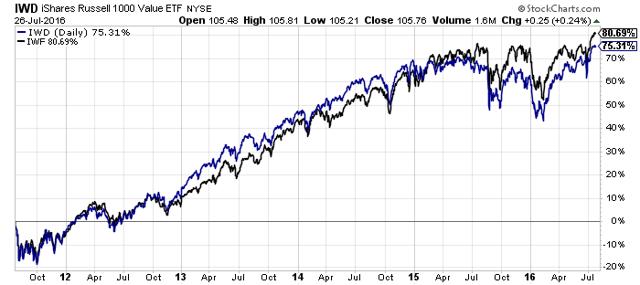 Click to enlarge
Notably, the five-year performance gap has been closed in 2016, as large-cap value stocks like International Business Machines (NYSE:IBM) have started to outperform their large-cap growth counterparts, like Netflix (NASDAQ:NFLX). This has led to the IWD gaining 9.4%, outperforming the S&P 500 Index's gain of 7.4%, while IWF trails the broader market with a gain of 5.4% year to date.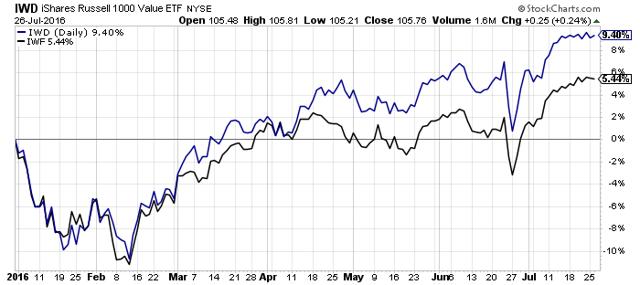 Click to enlarge
Smaller capitalization stocks have echoed their larger capitalization peers, with the iShares Russell 2000 Value ETF (NYSEARCA:IWN) up 12.1% YTD, compared to the iShares Russell 2000 Growth ETF's (NYSEARCA:IWO) gain of 4.4%.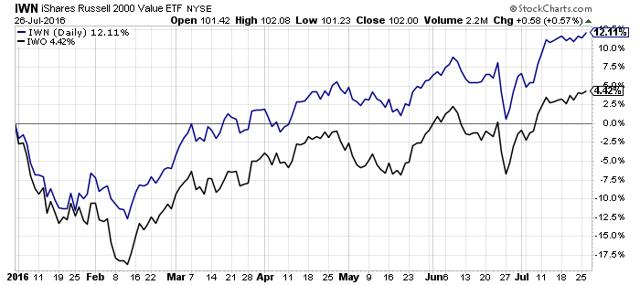 Click to enlarge
The strong performance by small-cap value stocks has narrowed the performance gap relative to their small-cap growth peers over the past five years, with the Russell 2000 Value ETF up 55.7%, and the Russell 2000 Growth ETF up 60.7%.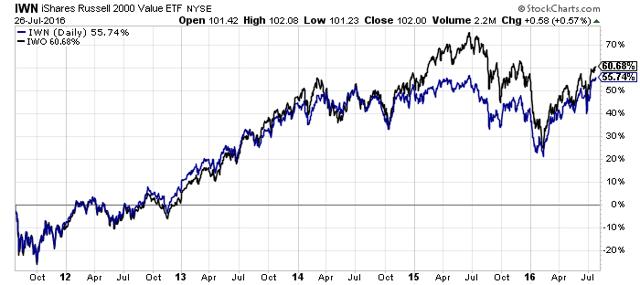 Click to enlarge
In summary, the reversion-to-the-mean trade is occurring, as value stocks underperformed growth stocks from 2011-2015, but they are now outperforming significantly in 2016.
Out-Of-Favor Portfolio Managers Bounce Back
One of my favorite concentrated investors is Mason Hawkins of Southeastern Asset Management, and Southeastern's flagship mutual fund, the Longleaf Partners Fund (MUTF:LLPFX), provides a telling example of how much respected active manages have fallen out-of-favor.
After accumulating a stellar 15-year track record, Longleaf Partners Fund stumbled during the 2011-2015 time frame, culminating in a dismal 2015, where LLPFX returned a negative 18.8%, compared to a positive S&P 500 Index return of positive 1.4%. This significant bout of underperformance earned LLPFX an undesirable "One Star" Rating from Morningstar.

As is often the case when long-tenured, disciplined portfolio managers underperform, Longleaf Partners has bounced back in 2016, returning 12.3% through Friday, July 22nd, handily outpacing the S&P 500 Index's return of 7.7%, and this outperformance has occurred with a portfolio that includes roughly 20% in cash, as analysts at Southeastern Asset Management remain uncomfortable with the overall market's valuation.
Looking through the current holdings of LLPFX reveals a non-traditional group of securities for a large-blend fund, including roughly 28% of assets in international equities, and roughly 62% of the fund's assets concentrated in its portfolio's top-ten holdings.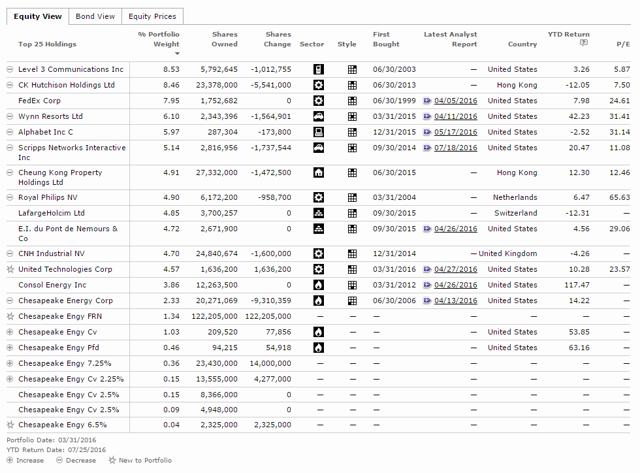 Click to enlarge
Level 3 Communications (NASDAQ:LVLT) continues to be Longleaf Partners Fund's largest holding, followed by CK Hutchison Holdings Limited (OTCPK:CKHUY) (OTCPK:CKHUF); FedEx (NYSE:FDX); Wynn Resorts (NASDAQ:WYNN), which was one of my favorite out-of-favor stocks; Alphabet (NASDAQ:GOOGL) (NASDAQ:GOOG); Scripps Networks Interactive (NYSE:SNI); Cheung Kong Property Holdings Limited (OTC:CNGKY); Royal Phillips (OTCPK:RYLPF); LafargeHolcim Limited (OTCPK:HCMLY) (OTCPK:HCMLF); E.I. du Pont de Nemours & Co. (NYSE:DD); CNH Industrial NV (NYSE:CNHI); United Technologies (NYSE:UTX), one of my favorite U.S. large-cap stocks; CONSOL Energy (NYSE:CNX); and Chesapeake Energy (NYSE:CHK), which I profiled earlier this year in my "Too Cheap To Ignore" series of articles.
Clearly, Longleaf Partners Fund's portfolio is different than the S&P 500 Index, whose top-ten current holdings comprise roughly 18% of the index fund's assets (remember LLPFX had 62% of assets in its top ten). The top-ten holdings in the S&P 500 Index are Apple (NASDAQ:AAPL), Microsoft (NASDAQ:MSFT), Exxon Mobil (NYSE:XOM), Johnson & Johnson (NYSE:JNJ), General Electric (NYSE:GE), Amazon (NASDAQ:AMZN), Facebook (NASDAQ:FB), Berkshire Hathaway (NYSE:BRK.A) (NYSE:BRK.B), AT&T (NYSE:T), and JPMorgan Chase (NYSE:JPM).
International Stocks Have Fallen Out-Of-Favor
It is not surprising that the Longleaf Partners Fund continues to find bargains in international stocks, particularly Chinese related equities, as international stocks, as measured by the iShares MSCI EAFE ETF (NYSEARCA:EFA), have only returned 11.0% over the last five years, while the S&P 500 Index, as measured by the SPDR S&P 500 Trust ETF (NYSEARCA:SPY), has gained a remarkable 80.1% over this time frame, demonstrating the superiority of U.S. equities as a safe haven in a disinflationary, growth starved world.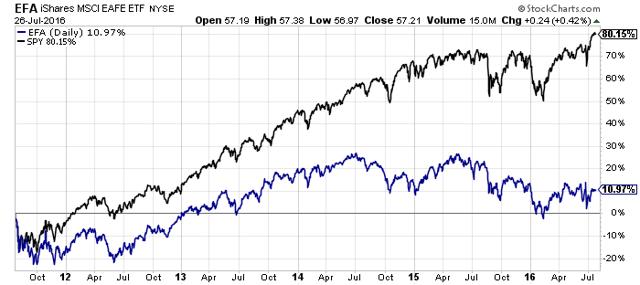 Click to enlarge
Unlike the other reversion-to-the-mean trades, the MSCI EAFE Index still trails the S&P 500 Index in 2016, as investors simply feel more comfortable with U.S. stocks at this juncture.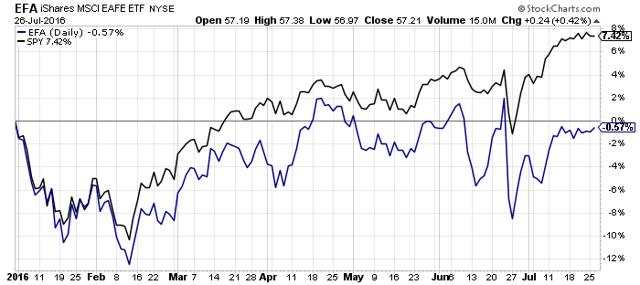 Click to enlarge
While it has not started yet, I would expect the reversion-to-the-mean trade to work its magic, as international stocks are simply cheaper, and offer more compelling valuations, than their U.S. counterparts at this point in time.
The Contrarians Best Ideas Portfolio Is Having A Remarkable Year
In December of 2015, I launched a premium research service on Seeking Alpha, called "The Contrarian", to take advantage of an opportunity set that I believed had the potential to rival the fortuitous 2008 and 2009 "heavenly years", and the timing has worked out perfectly, thus far.
The most aggressive portfolio in The Contrarian, the "Bet The Farm" Portfolio, which is an options focused portfolio, has risen 293% since its December 7th, 2015 inception through the close of the markets on Friday, July 22nd, 2016. Past performance is no guarantee of future performance, but the remarkable reversal of out-of-favor equities in 2016 signals a changing of the investing landscape, in my opinion.
The Contrarian's "Best Ideas" Portfolio is a concentrated equity strategy, and it too has had a terrific move higher in 2016, gaining 56% through July 22nd, and outpacing SPY's 8% gain over this time frame.
Subscribers to The Contrarian get live updates when new positions are taken, or existing positions are closed, received exclusive research reports, and have access to the historical archive or research, which details every transaction for all of The Contrarian's portfolios. There have been some new recommendations in June, and over the last several months. Thus, to give a preview, while still preserving the exclusive information for subscribers, I am pulling the performance update from three months ago that shows The Contrarian's "Best Ideas" Portfolio as of April 25th, 2016.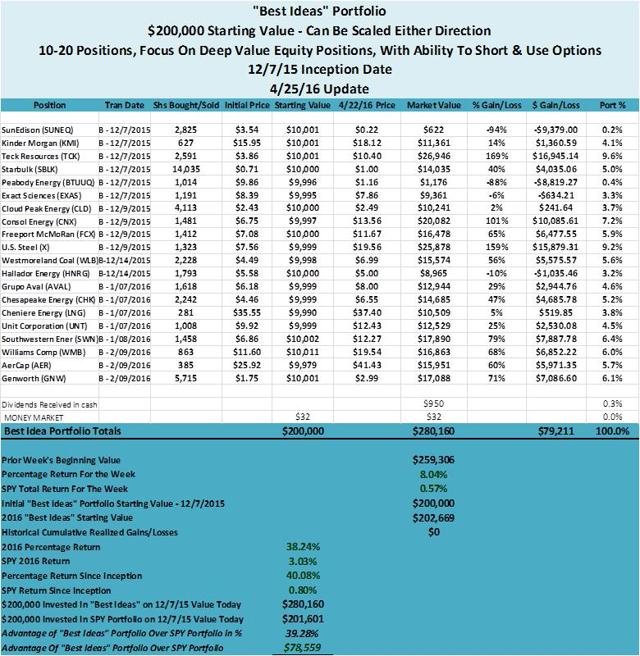 Click to enlarge
Through April 25th, 2016, The Contrarian's "Best Ideas" Portfolio had risen 38.2% in 2016, compared to a 3.0% advance by SPY. As of July 22nd, 2016, the "Best Ideas" Portfolio is up 56.2%, and that is before the strong gains that have accrued this week.
As of April 25th, 2016, the "Best Ideas" Portfolio held SunEdison (OTCPK:SUNEQ), Kinder Morgan (NYSE:KMI), Teck Resources (NYSE:TCK), Star Bulk Carriers (NASDAQ:SBLK), Peabody Energy (OTCPK:BTUUQ), Exact Sciences (NASDAQ:EXAS), Cloud Peak Energy (NYSE:CLD), CONSOL Energy, Freeport-McMoRan (NYSE:FCX), U.S. Steel (NYSE:X), Westmoreland Coal (NASDAQ:WLB), Hallador Energy (NASDAQ:HNRG), Grupo Aval (NYSE:AVAL), Chesapeake Energy, Cheniere Energy (NYSEMKT:LNG), Unit Corporation (NYSE:UNT), Southwestern Energy (NYSE:SWN), Williams Companies (NYSE:WMB), AerCap Holdings (NYSE:AER), and Genworth (NYSE:GNW).
The "Best Ideas" Portfolio, like the rest of The Contrarian portfolios, is not static. In fact, there is a whole new round of companies that I am ready to invest in over the coming months, as shares that have appreciated towards my intrinsic value price targets are trimmed, and cash is raised to redeploy into more attractively valued opportunities.
Conclusion - Undervalued Assets Are Harder To Find
Over time, all asset classes and investment strategies rotate from in-favor to out-of-favor, and these secular bull and bear markets can last seven plus years, like the current equity secular bull market, or thirty plus years, like the current bond secular bull market. Like night follows day, though, no matter how long an investment strategy is in-favor, there will come a time when it is out-of-favor.
This means that the current infatuation with dividend growth investing, including an emphasis on REITs, and utility shares, will eventually fall out-of-favor, as a long string of outperformance stretches valuations and makes future return objectives harder to achieve.
2016 is a unique year, in that many out-of-favor asset classes, and investment strategies, including commodities, commodity stocks, and emerging markets equities, are taking the baton of market leadership, while the old leaders start their long journey to the back of the line.
When an asset class is out-of-favor for a long period of time, like value stocks, smaller-cap stocks, international stocks, emerging market stocks, and commodity stocks have been since 2011, there is typically a reversion-to-the-mean trade, and that has been a powerful investing theme in 2016.
Look for the reversion-to-the-mean trade to continue in the years ahead. In this environment, market veterans with a long-term track record, like Mason Hawkins of Southeastern Asset Management, should have a leg up on the competition.
To close, in my opinion, investors would be wise to consider studying the Longleaf Fund Family, including the Longleaf Partners Fund, the Longleaf Partners Small-Cap Fund, (MUTF:LLSCX), the Longleaf Partners International Fund (MUTF:LLINX), and the Longleaf Partners Global Fund (MUTF:LLGLX) to learn their criteria, and investment process, for concentrated out-of-favor stock selection, in order to improve the performance of their own portfolios.
Disclosure: I am/we are long AAPL, AER, AVAL, BTUUQ, CHK, CLD, CNX, EXAS, FCX, GNW, HNRG, IBM, KMI, LNG, SBLK, SWN, TCK, UNT, WLB, WMB, WYNN, X.
I wrote this article myself, and it expresses my own opinions. I am not receiving compensation for it (other than from Seeking Alpha). I have no business relationship with any company whose stock is mentioned in this article.
Additional disclosure: Every investor's situation is different. Positions can change at any time without warning. Please do your own due diligence and consult with your financial advisor, if you have one, before making any investment decisions. The author is not acting in an investment adviser capacity. The author's opinions expressed herein address only select aspects of potential investment in securities of the companies mentioned and cannot be a substitute for comprehensive investment analysis. The author recommends that potential and existing investors conduct thorough investment research of their own, including detailed review of the companies' SEC filings. Any opinions or estimates constitute the author's best judgment as of the date of publication, and are subject to change without notice.
Editor's Note: This article covers one or more stocks trading at less than $1 per share and/or with less than a $100 million market cap. Please be aware of the risks associated with these stocks.