Summary
About eight months ago, I wrote an article about ARES Dynamic Credit Allocation Fund (NYSE: ARDC) a closed-end fund that invests in leveraged finance vehicles including high yield bonds, senior loans and CLOs.
At that time, the discount to NAV was trading at near record highs of -17%. Since then, the discount of ARDC has narrowed to -14%. But most of the peers of ARDC have seen their discounts narrow even more than that. ARDC currently stands out as one of the few fixed income closed-end funds with a discount close to -15%.
In my last article, I mentioned that the fund announced a share buyback program in November, 2015, and I will discuss their share repurchase activity later in this report.
ARDC is a closed-end fund that was formed in November 2012. It is run by Ares Management L.P., a global alternative asset manager with $92 billion in total assets under management. The management company trades under the ticker (NYSE: ARES) and they also manage a $9 billion business development corporation that trades under the ticker (NASDAQ: ARCC).
The main objective of the fund is to generate an attractive total returns through current income and capital appreciation. The fund invests primarily in a broad dynamically managed portfolio of:
senior secured loans made to companies whose debt is below investment grade high yield corporate bonds other fixed income of a similar nature that may be represented by derivatives collateralized loan obligations (or CLOs)- both fixed income and equity.
(Data below is sourced from the ARES Capital website unless otherwise stated.)
In my last report on ARDC, I provided some details on their dynamic credit strategy which changes the asset allocation of the fund based on projected interest rates and default levels. Basically they increase the allocation to bank loans when they expect rising interest rates or increasing default levels. They overweight high yield bonds and underweight bank loans when they expect falling interest rates or decreasing default levels.
This is the security type breakdown and fixed versus floating breakdown as of June 30, 2016:
Portfolio Mix
| | |
| --- | --- |
| Bonds | 47.36% |
| Loans | 29.71% |
| CLO Debt | 19.22% |
| CLO Equity | 5.67% |
Fixed Versus Floating Rate
| | |
| --- | --- |
| Fixed | 46.90% |
| Floating | 49.39% |
| CLO Equity | 5.67% |
ARDC had an inception share price of $20, and an original net asset value of $19.10 reflecting the sales commission and expenses of the IPO. Since inception in 2012, the NAV has dropped to $16.47 and the market price to the current $14.18. Some of the decreases in NAV and market price have been caused by the above average distributions that have been paid out over time.
The NAV and market price performance is given below:
| | | |
| --- | --- | --- |
| Year | NAV Performance | Price Performance |
| 2013 | +9.28% | -3.21% |
| 2014 | +0.24% | -4.71% |
| 2015 | -7.06% | -7.38% |
| YTD | +10.89% | +12.47% |
There is a big difference between NAV performance and price performance because ARDC traded at a 4.7% premium at its IPO, and now trades at a 14% discount.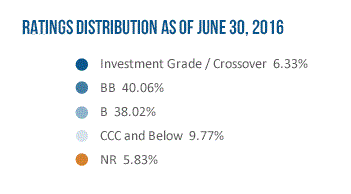 The fund is well diversified across industries. Right now, energy companies are the biggest risk within the high yield universe. But ARDC has a fairly small 5.74% allocation to the energy sector, and most of their riskier energy holdings have already been marked down to low prices.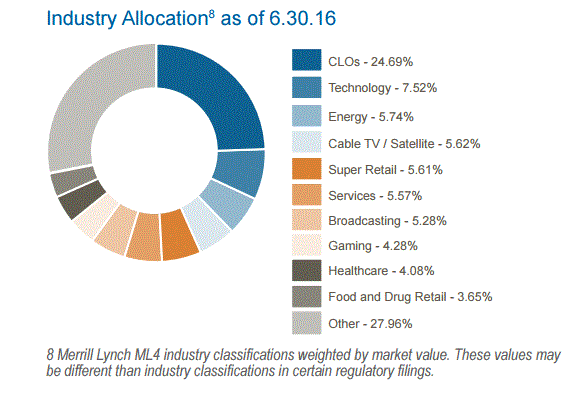 Here are some summary statistics on ARDC:
ARES Dynamic Credit Allocation Fund
-Total Common assets: $386.7 Million
-Total Net Assets: $555.5 Million
-Annual Distribution (Market) Rate= 8.67%
-Last Regular Monthly Distribution= $0.1025 (Annual= $1.23)
-Fund Expense ratio: 2.36%
-Discount to NAV= -13.90%
-Weighted Average Floating Coupon: 5.54%
-Weighted Average Bond Coupon: 7.97%
-% of Assets with LIBOR Floors: 58.71%
-Effective Duration: 2.15
-Effective Leverage: 31.08%
-Average Daily Volume (shares)= 67,000
-Average Dollar Volume = $950,000
ARDC is currently selling at a discount to NAV of -13.90% compared to the six month average discount of -14.24%. Here are the Z-Statistics for the discount from NAV:
-The 1-Year Z-Statistic is +0.84. This means the current discount to net asset value is almost one standard deviations above the one year mean of -15.08%.
-The 6 month Z-Statistic is +0.29. The current discount is near the six month average.
-The 3 month Z-Statistic is -0.26. The current discount is near the three month average.
Because of the big rally in closed-end funds this year, most of the closed-end peers of ARDC are trading with much higher positive Z-statistics than ARDC.
Source: cefanalyzer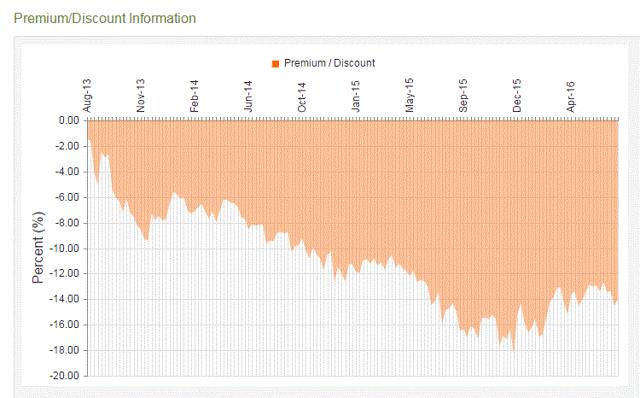 Click to enlarge
Source: cefconnect
Alpha is Generated by High Discount + Distributions
The distribution rate of 8.67% along with the 13.90% discount allows investors to capture alpha by recovering a portion of the discount whenever a distribution is paid out.
Whenever you recover NAV from a fund selling at a 13.90% discount, the percentage return is 1.00/ 0.861 or about 16.14%. So the alpha generated by the 8.67% distribution is computed as:
(0.0867)*(0.1614)=0.0140 or about 1.40% a year in discount capture alpha.
This helps to reduce the high 2.36% annualized baseline expense ratio (Source: cefanalyzer). There is also some additional "alpha" produced from the recent share buck activity. Note that this alpha capture occurs even if the discount remains the same, so long as the fund keeps paying out a high distribution rate and continues the share buybacks.
ARDC has decent trading liquidity since its merger last year with ARMF. It sometimes trades with a bid-asked spread of one cent, although the spread can widen to two or three cents during slow market periods.
ARDC may be an attractive purchase at current levels for investors looking for a higher risk fixed income investment with some exposure to CLOs. The expense ratio is quite high, and management is overpaid (this is common in the leveraged finance space). But the high distributions, share repurchases and current high discount provide some alpha which partially compensates investors for the high expense ratio.
On November 17, the board of directors authorized the repurchase of common shares on the open market when the discount is 10% or more. This has been helping to support the market price and reduce the discount.
Share Buybacks of ARDC Since November, 2015
| | | | | |
| --- | --- | --- | --- | --- |
| Start Date | End Date | # shares | Avg. Price | Discount |
| 11/17/2015 | 4/30/2016 | 462,205 | $12.89 | -15.4% |
These buybacks have been accretive to NAV and are definitely constructive, but the number of shares that have been repurchased is still quite modest. I would like to see management increase the share buybacks over time as their holdings mature instead of automatically redeploying funds into new investments.
We are approaching the time of the year when closed-end discounts sometimes tend to widen because of tax loss selling. But because of the strong rally in ARDC this year, I believe tax loss selling this year will be limited.
Over the longer term, if the ARDC discount does not narrow, I believe there may be pressure on management from closed-end fund activists to offer tender offers near NAV, or perhaps offer an exchange of shares of ARDC into ARCC at net asset value.
Disclosure: I am/we are long ARDC.
I wrote this article myself, and it expresses my own opinions. I am not receiving compensation for it (other than from Seeking Alpha). I have no business relationship with any company whose stock is mentioned in this article.