The very first article I wrote on Seeking Alpha set out the case for a major Apple (AAPL) rally. This thesis wasn't based on fundamentals, or standard technical analysis, but on fractal theory. Apple is repeating Amazon's (AMZN) price action: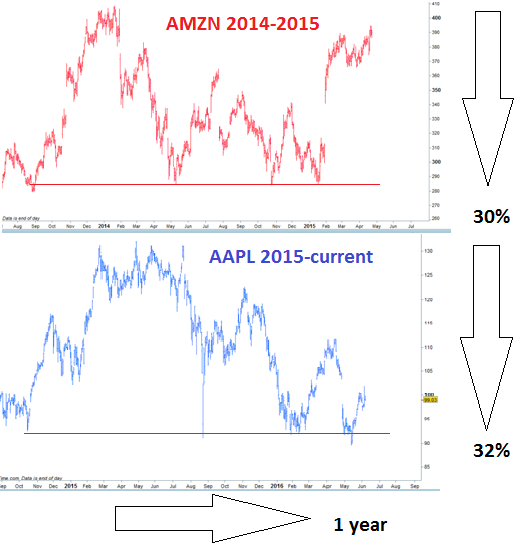 The year long consolidation and decline in Apple since the 2015 highs matched Amazon's from 2014-2015 in size, duration, and every of the six major pivots matched, with the lower support tested three times before rallying strongly away: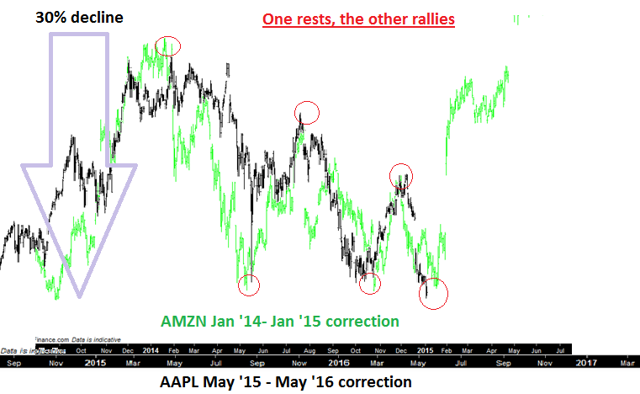 Click to enlarge
And it's not just the consolidation period that is repeating.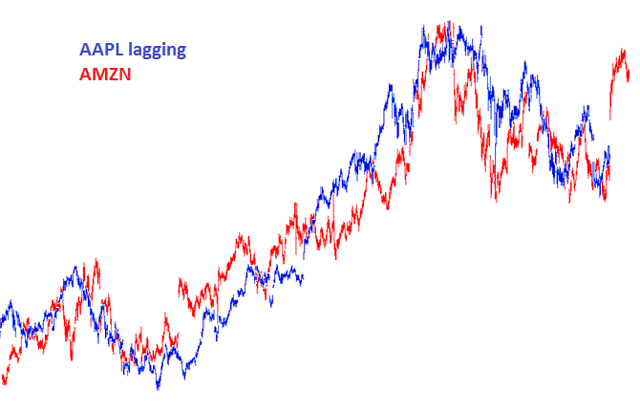 Click to enlarge
The price action and rallies in Apple appear to be lagging Amazon by around a year, meaning that Apple 2012-2016 equates to Amazon 2011-2015. It also means when one rests, the other rallies. Are funds flowing from one to the other?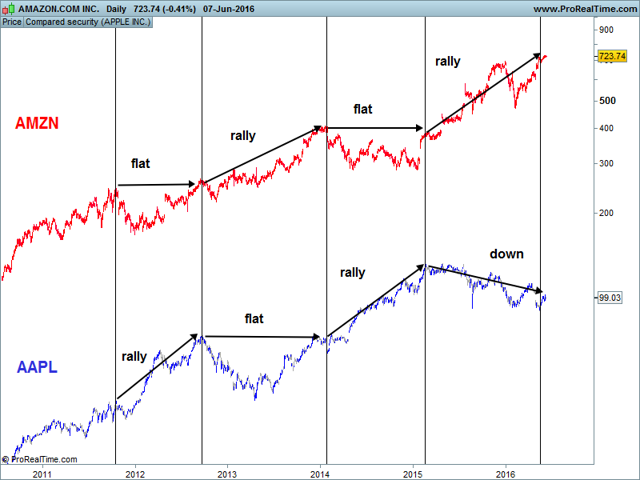 Click to enlarge
These fractals framed the trade idea. Apple is due a large rally, echoing Amazon's rally in early 2015.
Why the similarity?
I'm sure many would say the similarities are co-incidence. The call at the May lows, and the tweet on 12th July stating Apple will 'go up big on earnings' could just be luck.
The similarities aren't easy to explain. As I said in the original article, 'Each stock has its own drivers of price. These are complex and in many cases hard to pin down. What we can say is there are two general types of driver or narrative: positive drivers for when the stock is rallying (e.g. growth and good earnings) and negative drivers for when the stock is correcting.
The specifics of the narrative do not concern me too much. All stocks go through periods of growth and consolidation and we hear a slightly different story each time. What is more predictable and repetitive is the behavior of the stock's participants.'
Perhaps the active participants in Apple and Amazon are the same institutions and firms. Decisions on when to sell and buy may be technical, and Apple and Amazon or obviously very similar technically. Maybe they use the same algorithms. As mentioned above, maybe the same large investors move money from one stock to the other in similar patterns, causing the rally / rest pattern shown in the chart above.
To be completely honest, after trading so many fractals and repeating price behavior I hardly think of the reasons 'why?'. Look at my previous articles and you will see plenty examples, and will also see that the results are very good.
Now what?
Earnings took Apple straight into resistance after hours. The rally closed right on the trendline from the 2015 highs, and the 200 day moving average: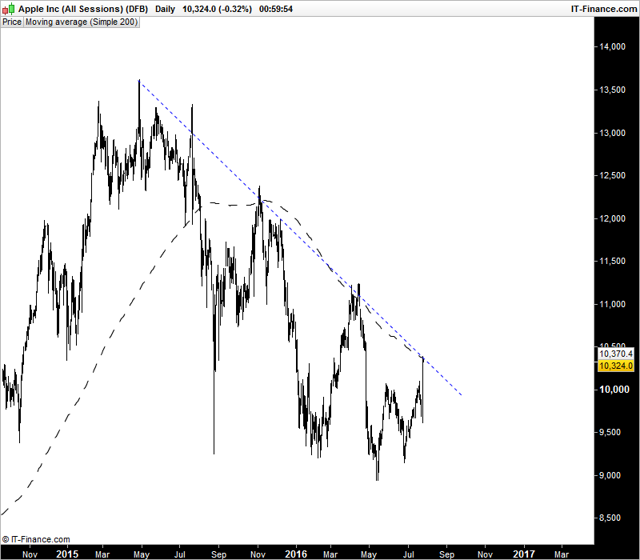 Click to enlarge
This is perhaps reason to take profits. Many will short. I think they are wrong. This is the third test of the trendline and moving average; when resistance is tested too many times it usually breaks. Also look how stretched price was in the first two attempts at a break out. Price is not currently stretched as it has pulled back several times and has not traveled so far.
Also bear in mind what the fractal says. Amazon's rally in early 2015 after earnings was very strong. Apple's results may not be earth shattering, but Bret Kenwell described it well in his article,
'Of course, the results overall were not spectacular. It's just the power of reduced expectations.'
And don't forget positioning. Apple has been correcting for a whole year. It is on the verge of a huge technical breakout. There is plenty money on the sidelines to drive a rally. If the same numbers had been released at all time highs, the response would be significantly different.
If the Amazon lead continues, Apple should continue to a new high above $136. If it takes out the earnings low, the similarity has likely ended. It's as simple as that.
Conclusions
The large rally in Apple is not a surprise; the similarity with previous Amazon price action continues, and suggests higher prices to come.
Apple is a rather obvious technical short at $104. There is potential resistance, but given the evidence I think it will break. If and when it does, Apple will have broken the downtrend.
Disclosure: I/we have no positions in any stocks mentioned, but may initiate a long position in AAPL over the next 72 hours.
I wrote this article myself, and it expresses my own opinions. I am not receiving compensation for it (other than from Seeking Alpha). I have no business relationship with any company whose stock is mentioned in this article.
Additional disclosure: I am long Aug 98 calls, and intend to buy stock in the next 72 hours.