Shares of Twitter (NYSE:TWTR) are off more than 10% in trading Wednesday, 7/27, following a disappointing Q2 ER. While revenue narrowly missed and earnings actually beat, the company gave a considerably weak Q3 guide and continued its multi-quarter trend of decelerating user growth. We believe the quarter offers few reasons for investors to own the stock here, and think the bull thesis relies on speculative buyout rumors.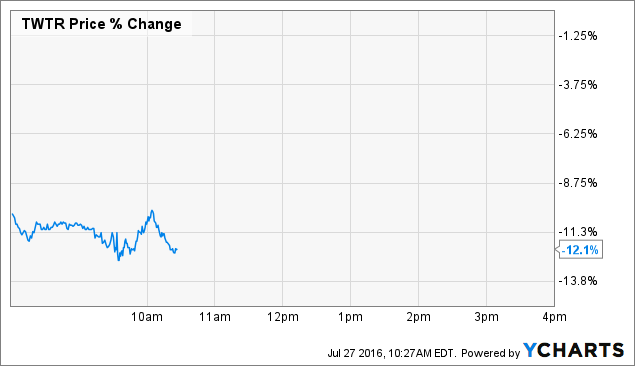 TWTR Price data by YCharts
The company added only 3 million worldwide MAUs in the quarter, continuing a multi-quarter trend of decelerating user growth. This stands in stark contrast to Facebook's (NASDAQ:FB) 63 million new MAUs last quarter. TWTR's 1 million net adds in the US illustrates domestic market saturation, but this is to be expected. FB only added 3 million MAUs in the US and Canada last quarter. At 66 million US MAUs, TWTR now has roughly 20% of the US population on its platform. Recent quarterly trends show that this is approaching TWTR's US TAM, and we think user growth in the US is limited to 1-2 million new users per quarter at best.
The surprise, though, comes with how slowly the international story is playing out. TWTR added only 2 million new MAUs internationally to FB's 60 million ex-US and Canada new MAUs last quarter. TWTR's international struggles are nothing new. Since 2014, TWTR has added only roughly 5.5 million new international users per quarter while FB has added almost 45 million new international users per quarter. For whatever reason, the platform is having serious trouble gaining an international audience. This problem has persisted for several quarters and we do not identify a catalyst to turn the trend around.
Without strong international growth, TWTR's turnaround story looks bleak at best. The domestic market is largely saturated for both FB and TWTR, but FB is finding ways to significantly expand its international audience while TWTR's international growth looks only slightly stronger than its pedestrian domestic growth. While we remain cautiously optimistic on TWTR sports' ability to re-engage users, the Q3 guide clearly points to that re-engagement not happening any time soon.
To make matters worse, the discrepancy between FB and TWTR growth has only grown over the past few quarters. Whereas TWTR was adding around 13-16 million new MAUs per quarter in 2014, new user growth per quarter hasn't exceeded 5 million over the past 5 quarters. This is in stark contrast to FB's growth, which has accelerated over the past year. In 2014, the platform was adding anywhere between 33 and 43 million new MAUs per quarter. Last quarter, FB added 63 million new MAUs, on top of 46 million in the prior quarter and 55 million in the quarter before that.
Since 2014, TWTR has added roughly 6.5 million new MAUs per quarter. FB has added more than 47 million new MAUs per quarter in the same time frame. That means, on average, over the past 9-10 quarters, FB has been growing at more than 7x the rate of TWTR. But that discrepancy is growing, and investors can see in the chart below that FB's new user growth trajectory is trending up while TWTR's is trending down. Over the past several quarters, FB has grown >10x TWTR.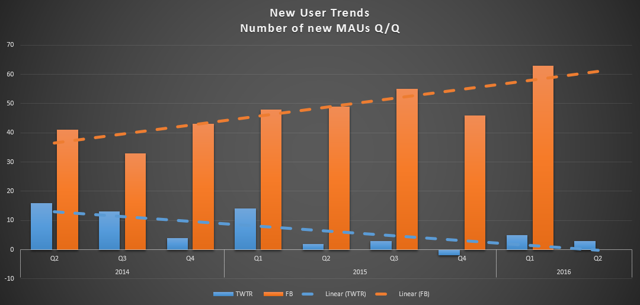 Click to enlarge
We do not think this accelerating discrepancy is fully accounted for in the valuation. FB's non-GAAP LTM net income of $7.6 billion is 20.1x that of TWTR's non-GAAP LTM net income of $377.3 million. This means FB is trading around 45-46x LTM non-GAAP earnings, a near 50% premium to TWTR's 30-31x LTM non-GAAP P/E multiple. FB's user growth, though, has been more than 10x that of TWTR's user growth recently. Why should a company growing its user base 10x that of a peer only trade at a 50% premium?
We don't see much value in owning TWTR here outside of a potential buyout. While these rumors are very real and became more tangible with the LinkedIn (NYSE:LNKD) acquisition, we think owning the stock here is pure speculation on a buyout. Without a buyout, we do not see shares as offering investors an attractive return potential here.
Disclosure: I am/we are long FB.
I wrote this article myself, and it expresses my own opinions. I am not receiving compensation for it (other than from Seeking Alpha). I have no business relationship with any company whose stock is mentioned in this article.