Business development companies are somewhat controversial: They make debt (and sometimes equity) investments in middle market companies with stable revenues and EBITDAs, and pay most of their earnings out to their shareholders. Since they are required by law to distribute their profits to shareholders, they are high-yield investment vehicles. The flip side is that business development companies are always at risk of being forced to slash their dividends if their investments don't throw off the expected yield.
One such business development company was Triangle Capital Corporation (NYSE:TCAP), which reduced its dividend payout by 17 percent from $0.54/share to $0.45/share on the back of lower debt investment yields in May. After the company cut its dividend, and its shares went into a tailspin as a result, I recommended Triangle Capital to more risk-loving income investors because 1. Triangle Capital was oversold, and 2. The BDC was unlikely to have to report another dividend cut any time soon since its distribution coverage improved dramatically.
See for yourself: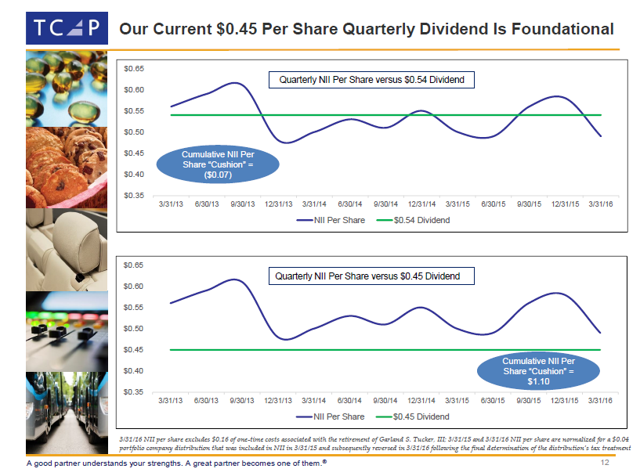 Click to enlarge
Source: Triangle Capital Corporation
Latest Equity Offering
Not only did Triangle Capital recover quickly from the emotionally-fueled sell-off in May, but the company is in a position to sell more equity.
That's right. On Tuesday Triangle Capital said that it was selling 6,250,000 shares of common stock for an offering price of $19.90/share. Triangle Capital expects to raise ~$120 million from the offering, and "intends to use the net proceeds of this public offering to make additional investments in lower middle market companies in accordance with its investment objective and strategies, and for working capital and general corporate purposes", the standard explanation that BDCs usually give when they want to increase their asset base.
Triangle Capital's capital raise is noteworthy for one particular reason, though: The company offered its equity at a significant premium to Net Asset Value (which is a good thing!).
Since Triangle Capital said it had a NAV of $15.02/share at the end of the March quarter, the newest equity offering comes at a ~32 premium to the BDC's last reported Net Asset Value, which has two positive implications for shareholders: 1. The new offering obviously comes at a great price, way above NAV; 2. Investors have great confidence that the BDC will be able to put new funds to good use.
And they have good reason to think that. Triangle Capital has returned a boatload of cash to shareholders, and earned high internal rate of returns since its IPO in 2007.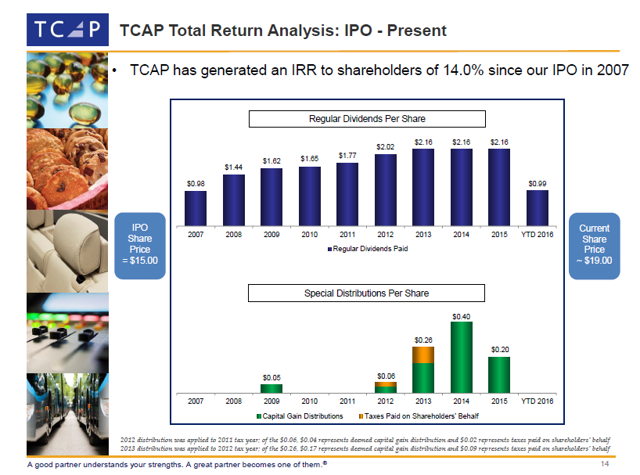 Click to enlarge
As a result, Triangle Capital remains a 'Buy' after the latest equity offer.
Your Takeaway
Triangle Capital shocked investors in May when it announced a rather significant dividend cut of 17 percent on the back of contracting investment yields. However, the BDC's shares have rebounded, and the company is raising new equity at a significant premium to Net Asset Value, a strong indication that investor confidence in the BDC remains high. As far as I am concerned, income investors may want to stay invested here. An investment in TCAP yields 9.1 percent. Buy for income and long term capital appreciation.
Disclosure: I/we have no positions in any stocks mentioned, and no plans to initiate any positions within the next 72 hours.
I wrote this article myself, and it expresses my own opinions. I am not receiving compensation for it (other than from Seeking Alpha). I have no business relationship with any company whose stock is mentioned in this article.