Not too long ago I wrote about WestJet Airlines Ltd. (OTC:WJAFF) (OTC:WJAVF) and its recent record load factors in June. I laid out some of the virtues and issues facing the company and called for a long-term hold on the stock. Now with the release of WestJet's Q2 report we can take a better look at the current state of the company and see if now is a good time to buy.
Profits waiting on standby
With the continued downturn in the Western Canadian energy sector and the Canadian dollars' current range of $0.75 to $0.77 there was undoubtedly going to be some bad news in the Q2 2016 report. The worst of this news was on WestJet's bottom line as net earnings dropped by 40.5% to C$36.6 million from C$61.5 million during Q2 2015. This breaks down to an earnings per share of C$0.30, which was down from C$0.49 last year, but still managed to beat analyst expectations of C$0.29. This loss wasn't from a lack of trying however as mentioned above WestJet set a new record load factor June this year and revenues did manage to rise marginally to C$946 million from C$941 million.
The real culprit behind the loss was the increase in operating expenses which rose to C$887 million in the quarter from C$841 million, which is at least down from C$908 million in Q1 2016. Expenses have been higher in part to the fact that WestJet purchases the majority of its fuel in U.S. currency. Although fuel costs were down 23% year over year in Q2, fuel consumption was up by 10.1% while the Loonie remained near $0.77.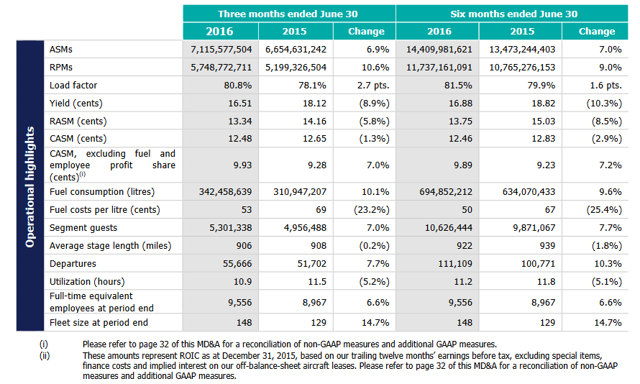 Click to enlarge
Source Q2 2016 report (glossary can be found here)
These factors helped in dragging down WestJet's operating margin to 6.5% from 10.7%. Which is still better than the operating margin of 4.6% that Air Canada (OTCQX:ACDVF) reached in its Q1 report (Q2 report due out July 29).
New growth
In all year to date net earnings have now fallen to C$124 million from C$202 million a drop of 38.6%. While these are troubling numbers there is still some optimism for the company which remains the second largest airline in Canada. It is believed that this trend may continue throughout the year as WestJet has decided to accelerate the maintenance schedule on several of its wide body aircrafts into Q4 2016, in order to prepare for its 2017 expansion program.
WestJet is also still dealing with added expenses from its newly launched service to London, England which has garnered a number of problems and complaints from customers. Issues that WestJet management have referred to stating that "Teething pains are teething pains" and "It was a blip and the blip is behind us". There is hope within the company that Brexit could work in WestJet's favor as well, stating that "to the extent that the Brits become more price sensitive, that plays really to the strength of our model". It is still too early to tell how WestJet's European trinity of London, Dublin, and Glasgow will react to the current markets but there remains satisfaction from many that WestJet has finally been able to open itself up to the European market.
Back at home WestJet is looking to expand its operations by 41 flights per week, with an emphasis on tropical destinations with flights from Toronto going to Honolulu, Myrtle Beach, Jamaica and Costa Rica. Plus added flights from Vancouver to Toronto, Honolulu, Cancun and Cabo San Lucas. Also people from Regina, Saskatchewan will be able travel directly to Orlando for the first time. There will also be added flights connecting Canadian cities more frequently, including shorter trips such as Vancouver to Kelowna in B.C. and added service in Nova Scotia connecting Halifax to Sydney.
Waiting for stock growth by the baggage belt
With all of these coming expansions on top of Encore's push into Eastern Canada WestJet has shown that it is not afraid to grow even in difficult times such as these. It has also shown that its recent expansions outside of Western Canada under its main brand has help it to offset what could have once been a company crippling scenario with its once sole dependency on Albertan revenues. WestJet remains a solid company with much to offer once the Canadian economy gets out of its current rut. This was seen recently with the success its $400 million "investment grade" unsecured debt offering which it made available to U.S. markets with an aggregate principal amount of 3.50%. The company pointed to this successful debt offering as a vote of confidence that its "fundamentals remain strong", as it is the first debt offering of its kind in the airline industry in the past decade. This still leaves WestJet with a modest amount of long-term debt which should be easily manageable.

Click to enlarge
Source Q2 2016 report
In terms of the stock there is still a tail wind of optimism as WestJet has already been named by Canadian Business as on of its "Top 10 Best Value Stocks For 2016". Given these recent results that should become even more true as the net loss could push down the stock in the short-term. Personally I haven't altered my own position in WestJet even as it sunk down to C$14.67 earlier this year as the long-term potential enticed me along with the knowledge that the markets would eventually recover. Since then the stock has peaked at C$25.77 this year and closed July 26 at C$22.81. Any drop in price right now might be welcome for investors as the average price target is only C$21.94, with a range of $21.00 to $28.00.
The dividend is a nice plus although it only comes in at C$0.56 (annualized) with a yield of 2.45%, which gives it an advantage over Air Canada which lacks a dividend and has a more volatile stock. All of these factors cements my belief that WestJet is my preferred option in the Canadian aviation industry.
Author's note: If you enjoyed this article and found it helpful, please "Follow" me on Seeking Alpha to receive notification whenever I publish a new article.
You may also be interested in other recent articles I have written for Seeking Alpha with my Canadian point of view that focus on stocks and stories that I have found compelling. You can also find my previous articles here for further study.
Disclosure: I am/we are long WJAFF.
I wrote this article myself, and it expresses my own opinions. I am not receiving compensation for it (other than from Seeking Alpha). I have no business relationship with any company whose stock is mentioned in this article.
Editor's Note: This article discusses one or more securities that do not trade on a major U.S. exchange. Please be aware of the risks associated with these stocks.