Markets closed virtually flat on Tuesday, and things are off to a slow start on Wednesday as well. Markets tried to rally on Apple's (NASDAQ:AAPL) earnings number. However, while they were fine, it wasn't enough to sustain the rally, and a new move lower in crude oil (NYSEARCA:USO) dragged the broader market into the red.
Of course, this all could change following the Fed decision. The market is only pricing around 2% odds of a rate hike today, and I'd be as surprised as most people if they in fact hike today. However, I wouldn't be shocked if they show a strong desire to hike before the year is out.
The conditions the Fed spoke of that blocked a hike have largely lifted. If the Fed wants to hike, this is about as good a time as they are going to get - global markets are calm, US economic numbers look okay, and there's a legitimate reason (housing strength) to argue for a hawkish position at the moment. The general consensus is that the Fed wouldn't dare hike ahead of the US presidential election. That's a valid concern, but I wouldn't totally discount hikes merely based on that factor.
Unless the Fed shocks the market, the most important factors at the moment are the ones we've been watching for a while: The US Dollar, oil, and earnings.
Earnings: Mixed Bag, Generally Leaning Towards The Soft End
Wall Street seemed a bit unsure how to react to Tuesday's batch of earnings. It sent some stocks with seemingly weak results up, while leaving others virtually unmoved.
Caterpillar (NYSE:CAT) led the Dow Jones (NYSEARCA:DIA) stocks higher on what seemed to me like a fairly bad set of results. Yes, the company beat on earnings and revenues, however the numbers weren't by any stretch good. Revenues dropped by more than 16%.
On top of that, the company cut revenues and earnings guidance, and the CEO had some less than encouraging comments:
Over the past quarter, economic risks have persisted [...] World economic growth remains subdued and is not sufficient to drive improvement in most of the industries and markets we serve.
I'm a Caterpillar shareholder and happily bought more stock when it was depressed earlier this year. But I'm not sure why people are chasing it up to 52-week highs now. The commodity cycle doesn't appear to have turned for them yet: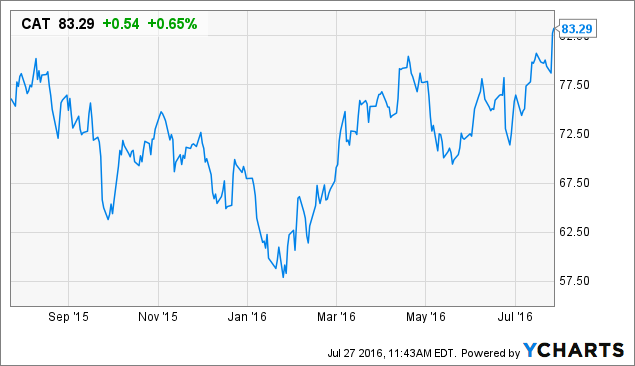 McDonald's (NYSE:MCD) led those companies falling on earnings. The stock is down from $128 to around $120 today. Results were just so-so, and it appears Wall Street's infatuation with breakfast as a transformational lever simply wasn't warranted. SA's Vince Martin sums up that company's generally spotty outlook:
In fact, McDonald's strategy going forward seems to be to limit its exposure to its own business as much as possible.
Other big names such as DuPont (NYSE:DD) and Verizon (NYSE:VZ) reported generally soft results and saw their stocks not move much in either direction. In the tech space, Twitter (NYSE:TWTR) monumentally missed the mark, but people are used to that by now.
Apple beat expectations, though with still bland numbers led off by double-digit top line revenue declines. However, it was good enough to get the stock a nice pop. That stock is priced at a low enough relative valuation that anything other than a real stinker of a quarter should be at least a mild positive for the share price.
This earnings season isn't going great by any means. However, it seems expectations were low enough coming in that even these generally mediocre numbers won't disturb the market.
Semiconductors Surge; Texas Instruments Leads The Way
The big story in tech stocks, as of late, has been the remarkable strength in semiconductor stocks. Just look at the semiconductor index in recent weeks: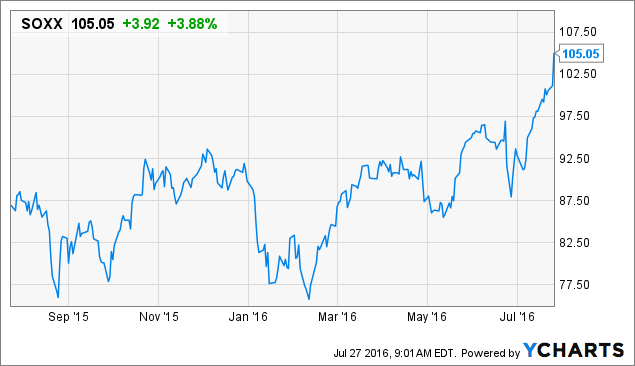 A huge move was already underway, and that was before yesterday's festivities. The sector, as a whole, surged nearly four percent, driven by both earnings and merger activity.
The top story is the proposed merger between Analog Devices (NASDAQ:ADI) and Linear Technology (NASDAQ:LLTC). Linear shares surged almost 30% following reports that Analog is prepared to pay $14.8 billion for the company. This is a large merger at a nice premium.
Besides being good for the sector generally, this is specifically positive, since it may reorient more investor eyes towards the automotive space. Linear in particular derives the vast majority of its business from the industrial, automotive, and networking segments.
Over the past few years, it seems much of popular analysis of semiconductors has been reduced to mere speculation about who will win the most from the next iPhone model. Smartphones presented a great growth platform for the semiconductor industry. However, there's much more to the space than just consumer electronics. In fact, business outside of consumer products tends to be higher-margin and stickier. Automotive, for example, is a great opportunity.
Caught up in the excitement over self-driving cars and the first level firms that support them such as Mobileye (NYSE:MBLY) are the semiconductor firms that will almost certainly make a fortune supplying the chips and sensors that go into futuristic cars.
My favorite tech company, for quite a while now, has been Texas Instruments (NASDAQ:TXN). They have a nice combination of features. Among them, a huge patent library, niche specialized products largely safe from competition, intelligent capital allocation, a robust dividend, and a big presence in the automotive space.
While it is too early to forecast with great confidence which automaker will win the next generation of cars, it's easier to deduce which semiconductor firms are positioned to profit. Texas Instruments is one of the strongest players. Automotive currently accounts for 15% of the firm's revenues (just under $1 billion annually), and combined with industrial, those two segments represent nearly half the company's sales.
Texas Instruments reported a blowout quarter yesterday, and shares soared almost 10% capping a rather impressive run over the past couple of years: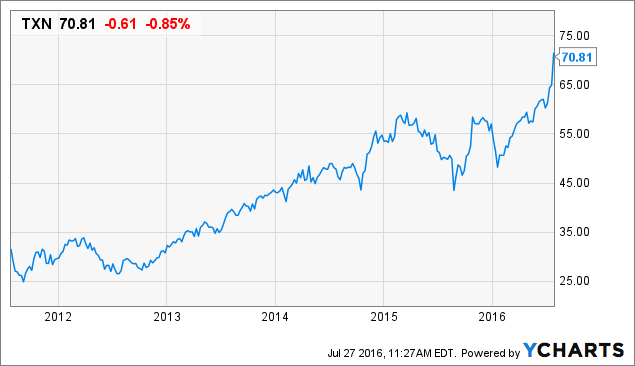 Texas Instruments is on a 12-year streak of increasing its dividend annually. Combined with an aggressive share buyback that has reduced the share count almost 40% since 2005, and you have all the fuel you need for an impressive conservative buy-and-hold tech position.
Semiconductors are a great sector at the moment, and for once, it represents broader strength in the economy, rather than ebbs and flows tied to the ephemeral swings of the smartphone market.
Disclosure: I am/we are long CAT, TXN.
I wrote this article myself, and it expresses my own opinions. I am not receiving compensation for it (other than from Seeking Alpha). I have no business relationship with any company whose stock is mentioned in this article.