Another week, another build in gasoline stocks. At a time when Americans should be coming together to burn fuel and reduce stocks of crude oil and gasoline via trips to the beach and propane-fueled barbecues, this weekly report brings us another build in crude oil and gasoline stocks. In addition, domestic production in the Lower 48 seems to be flattening out and by now, producers have had more than enough time to hedge future production guaranteeing sustained volumes during the coming months.
Exports of refined products to Europe, which during the $100/barrel days helped fuel crude oil prices during the summer, are nowhere to be seen this year, given a narrowing of the WTI/Brent differential and lower crude oil prices in absolute terms.
Our fear at this point is a repeat of 2015 markets, when crude oil prices rallied in anticipation of the driving season only to fall back once the data started to come in.
Crude oil prices (NYSEARCA: USO) dropped by about $1.20/barrel after the report was released.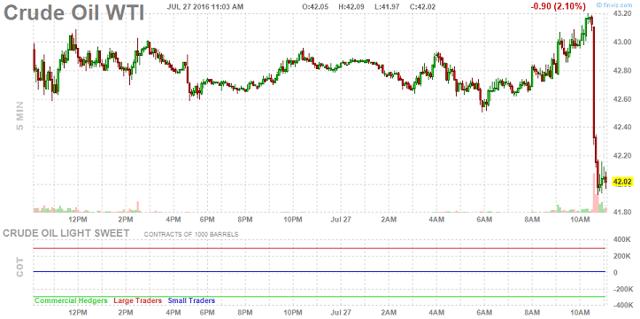 Source: Finviz.com
Stocks:
* Crude oil inventories increased by 1.7 million barrels.
* Gasoline inventories increased by 500,000 barrels.
* Distillate inventories decreased by 800,000 barrels.
An increase of crude oil stocks and gasoline at a time when inventories should be decreasing given the peak of the driving season. On a combined basis, inventories of crude oil, gasoline and distillates are 94.8 million barrels higher than last year.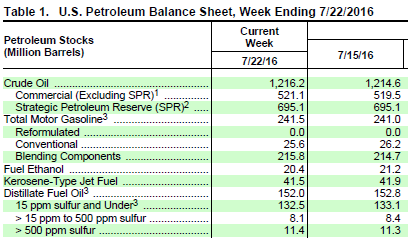 Source: EIA
Production and Refinery Utilization:
* Domestic production increased by 21,000 barrels per day driven by a recovery of Alaska production after the big outage three weeks ago and a flattening of the production curve in the Lower 48.
* Production in the Contiguous United States (excluding Alaska) flattened a bit with a decrease of 12,000 barrels per day. We expect domestic production to level out before the end of the year.
* Production in Alaska increased by 33,000 barrels per day. There are still about 20,000 bpd of production that need to come back online to get back to a normal production level.
* Imports increased by 303,000 barrels per day.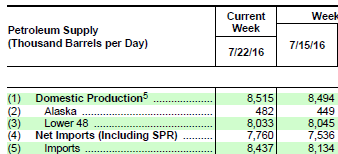 Source: EIA
* Refinery utilization fell 80 basis points which is still at the normal level for this time of the year, although inventories of refined products continue to accumulate signaling demand weakness. While in previous years the WTI/Brent differential allowed refiners to export a large quantity of refined products (mostly diesel) during the summer, the narrowing of the differential after the collapse in crude oil prices has eliminated this price advantage. In addition, China has an excess of refining capacity and has begun exporting to the rest of the world.

Source: EIA
Cushing, Oklahoma:
* Cushing, OK inventories increased by 1.1 million barrels. A very troubling development, since Cushing is at already at maximum operating capacity and should be reducing stocks during the driving season.
* More importantly, Gulf Coast inventories increased by 1.5 million barrels. To date, there has been limited progress in de-stocking the Gulf Coast this driving season. In addition, inventories of gasoline and other refined products are also at record highs.

Source: EIA
Conclusion:
A bearish inventory report with an increase in crude oil and gasoline stocks and a flattening of the production curve in the Lower 48. At a time when inventories should be dropping, we see a rather large increase in crude oil stocks. Inventories at Cushing are also at maximum level and domestic production seems to be flattening out. Overall, not a comforting sight for crude oil markets in the coming weeks.
Disclosure: I/we have no positions in any stocks mentioned, and no plans to initiate any positions within the next 72 hours.
I wrote this article myself, and it expresses my own opinions. I am not receiving compensation for it (other than from Seeking Alpha). I have no business relationship with any company whose stock is mentioned in this article.